Shannon and Brian Persse have been busy the past few weeks. They're scrambling to finish up tiny homes that will be showcased at this year's B.C. Home and Garden Show, which runs Feb. 21 to 25.
The couple, who founded Mint Tiny House Company out of Delta in 2014, are creating a "tiny home village" with three homes of different styles, ranging in size from 150 to 280 square feet.
The Courier talked to Shannon Persse about the business and the growing popularity of living small.
How many tiny homes have you built since you founded your company?
I haven't counted them up but I'd say we're at 100 at this point. Right now, we're finishing one every other week or so.
How long does it take to build one?
The build itself is between eight to 10 weeks. That would be from start to finish… from when the trailer comes in and when it goes out as a home basically. All the homes get built on the flat-deck trailer. They're typically two-by-four construction, wood or metal frame.
What's the smallest and largest tiny house your company has built?
The smallest home is typically about 210 square feet. That square footage includes a loft. The largest is just under 400.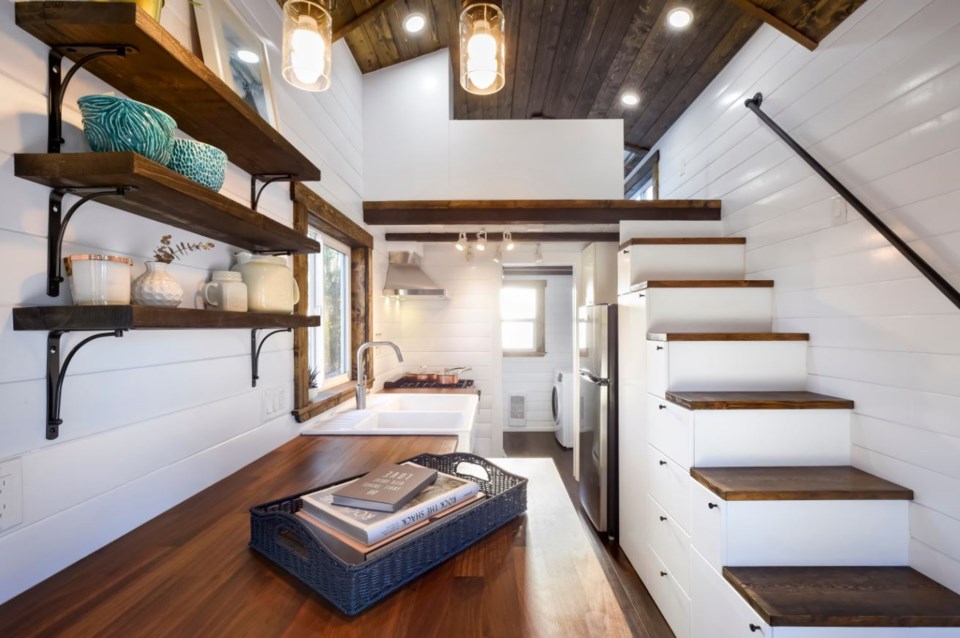 What would be the cost range?
The smallest would start around $50,500 and they go up to $100,000 or so. Obviously, at that end, you've got yourself a gorgeous tiny home.
What's the most expensive one you've built?
I think $120,000 including tax.
What would that include to make it so pricey?
That would include granite counter tops. I think it had a wood-burning fireplace. Having said that, we don't offer [wood-burning fireplaces] as much anymore. That one had all sorts of stuff in it. It actually had a [hydraulic] slide-out.
What would a basic model include?
That would include everything you'd need in the home. That would have a little shower, your kitchen cabinetry, your kitchen sink and a little fridge. It would have a traditional flush toilet that you'd hook up to septic, all your heating, your lighting and ladders to your loft. The only thing you'd probably want to put in at that point is your appliances… if you want a cook top or an oven, that sort of thing.
What's the most unusual request you've had for a custom tiny house?
Probably the most interesting thing that we did recently was for a lady who practised her yoga silks — we put in reinforced steel beams in the ceiling so she could practise that. We also had a lady, although we didn't end up building it for her, but she requested we put in a trapeze.
What do you think are the most important things to include in a tiny house?
I get to know the clients first to see what they need, what their lifestyle is. A lot of it comes down to where they like to spend a lot of time. So we try to focus on that. One of the things that's important is to make the best use out of storage. Sometimes you don't realize how much stuff you're actually bringing. Storage is key — hidden closets. We try and make hidden storage in the staircases, wherever we can.
What are the most common questions you get from people who are interested in buying one?
A lot of it is where to park it. You have to move out towards the more rural areas. We get a lot of people heading out to Maple Ridge, Langley, Abbotsford. A lot of people are also going to Vancouver Island.
Do you have buyers from Vancouver even though the city's regulations don't yet allow them?
We do, but a lot of them are living in the city and have bought or rented land outside of the city. They make their way there on the weekend or a few days a week. Then, they'll probably be selling their homes.
Do any of them call to build a tiny house in the hopes that the city regulations will change?
I don't recommend that they do because I don't want them to have this beautiful home and nowhere to park it. We steer them towards finding land first.
You must hope Vancouver will allow it.
I do, I do. Definitely. But I also see why they have to regulate things. I understand as much as we do want them in the city, there has to be some accountability, too.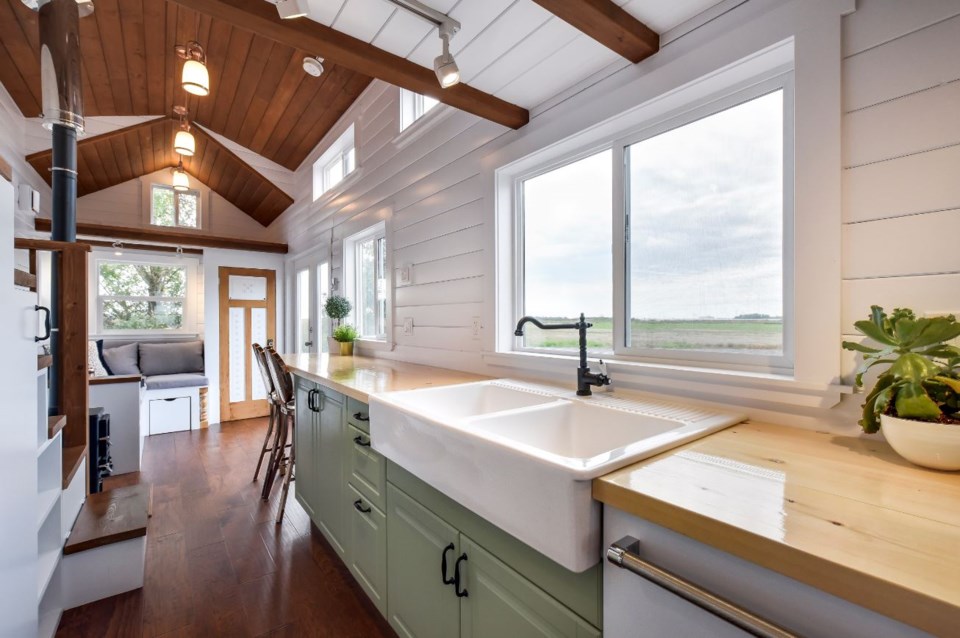 What would you like people to know about tiny houses?
They're not as small as you think. That's one of the reasons we're excited for the show because people will get the chance to walk through them and [hear] them say, "This is not as small as I thought it would be" and "I can envision myself living in it." For some people that might not be a full-time thing, but for a lot of people, they come through and they can see themselves living in them.
It's one thing to envision living in it and it's another thing to actually live in it. Do you ever hear feedback from people who've bought a tiny house from you?
We keep in touch with quite a few of our clients. A lot of them have a social media presence and they talk to our up-and-coming customers. It's nice because they're getting feedback from people living in the homes. Sometimes that's good and bad feedback on what they would do differently. But most people, if they've planned it correctly and gotten into the mindset, they're generally happy. Obviously there's going to be some growing pains, but generally they're happy.
How has your business grown since you started it in 2014?
It's grown quite a bit. We started off with my husband Brian building them. Then we had another full-time carpenter with us. We've now got 14 carpenters and a few other labourers. And we contract in all the trades.
The B.C. Home and Garden Show runs Feb. 21 to Feb. 25 at BC Place. For more information, go to bchomeandgardenshow.com.