As many as 650 affordable non-market housing units could be built on three vacant sites in Yaletown through an agreement between the City of Vancouver, B.C. Housing and Concord Pacific.
The announcement was made Nov. 2 at Gregor Robertson's second-last press conference as mayor of Vancouver.
Concord Pacific owns six sites in the former Expo lands that have been undeveloped for decades. The new memorandum of understanding proposes transferring ownership of three of the sites — 450 Pacific St., 990 Beatty St. and 1050 Expo Blvd. — to the City of Vancouver to build affordable non-market housing, using funding from the provincial government, and rezoning the remaining three sites — 1502 Granville St., 431 Beach Ave. and 900 Cooperage Way — for mixed-use market housing, which Concord Pacific would own and develop.
Any agreement to build affordable housing on these sites is contingent on the City's collaboration with Concord Pacific and B.C. Housing, according to the city. The framework agreement also includes a payment from Concord Pacific that the City expects to invest in infrastructure work in the area, as part of the recently approved Northeast False Creek Plan, which outlines the eventual construction of more than 2,000 affordable homes, including the up to 650 units on these three sites.
Rents for the affordable housing units would be geared towards households earning between $30,000 and $80,000 annually, and 50 per cent targeted to families.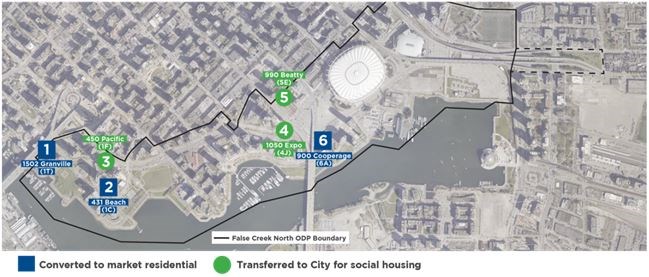 Robertson called it an historic agreement between the three parties.
"These are urgently needed homes in our downtown as the city is booming and growing, and the supply of affordable housing is always a challenge," he said. "We work hard to deliver the housing for people who live here in our city — who work in Vancouver, people who are on average incomes."
Robertson said the delivery of non-market housing is at levels this year that the city hasn't seen since the early 1980s. He said council approved 7,137 new homes in 2017, while 1,702 social and supportive homes were approved that same year.
"This is the single highest year of non-market housing approvals on record in a decade," Robertson added. "But affordable housing remains a massive challenge, not just here in downtown Vancouver, but right across the whole region and across the province."
He said it's critical to address the housing problem with provincial and federal partners.
"Thanks to the agreement we've signed, we will have almost 700 affordable non-market homes built here in Yaletown. This also expedites the implementation of the Northeast False Creek Plan, which will see the viaducts come down and a whole new neighbourhood built between here and Chinatown."
Robertson credited the NDP provincial government for its investments in affordable housing since it was elected.
Selina Robinson, the provincial minister of municipal affairs and housing, said too many people living and working in B.C. can't find an affordable place to live. She then criticized the former Liberal government.
"This crisis was ignored by the previous government for far too long and we are taking swift action to address it together with our partners across the province and that includes the City of Vancouver [through] partnerships like this one today," she said, describing it as an important first step in building hundreds of affordable homes for families and seniors.
Robinson said the province is investing more than $7 billion over 10 years in housing and through those investments it will be able to provide the capital funding required to build the homes on the three sites, which the City of Vancouver would lease to B.C. Housing.
"This partnership will enable us to build a healthy and vibrant community on land that has sat vacant for more than two decades," she said.
Rents for the units still need to be determined, but the housing would be below-market with a mix of different rents, so there will be levels in line with B.C. Housing's funding programs.
"If we have funding from the federal government, and hopefully we do, that increases the affordability. We'll be able to get more affordability into these projects," Robertson said.
Specific development proposals for the sites still have to go through the City of Vancouver's rezoning approval process. If approved, the projects would take another two or three years after that before they're open.
"[Timing of the buildings] will vary on the approval process, as these need to come in through planning and for rezonings at council," Robertson said. "I'm very hopeful that the next council and their mayor are supportive of these rezonings so that we can see this housing built. This is a framework agreement that sets us on that path, but their approval will be required to deliver this affordable social housing here."
@naoibh