Ashley-Mar Housing Co-operative and Intracorp Homes have partnered on a proposal for a three-tower development on the co-op's acre-and-a-half site between Cambie and Ash streets. The property, which includes two parcels separated by a lane, is located just south of Marine Drive, not far from Marine Gateway and the Canada Line station.
A rezoning application for the land at 8460 Ash St. and 8495 Cambie St. was filed recently.
If the application is approved, Ashley-Mar's existing 54 two-storey co-op townhome units would be replaced, and another 71 added, for a total of 125 units in a 14-storey non-market building. The other two buildings — one 24 and the other 27 storeys — would provide 457 market rentals units, with the entire project producing a total of 582 units. Some commercial space is included in the development.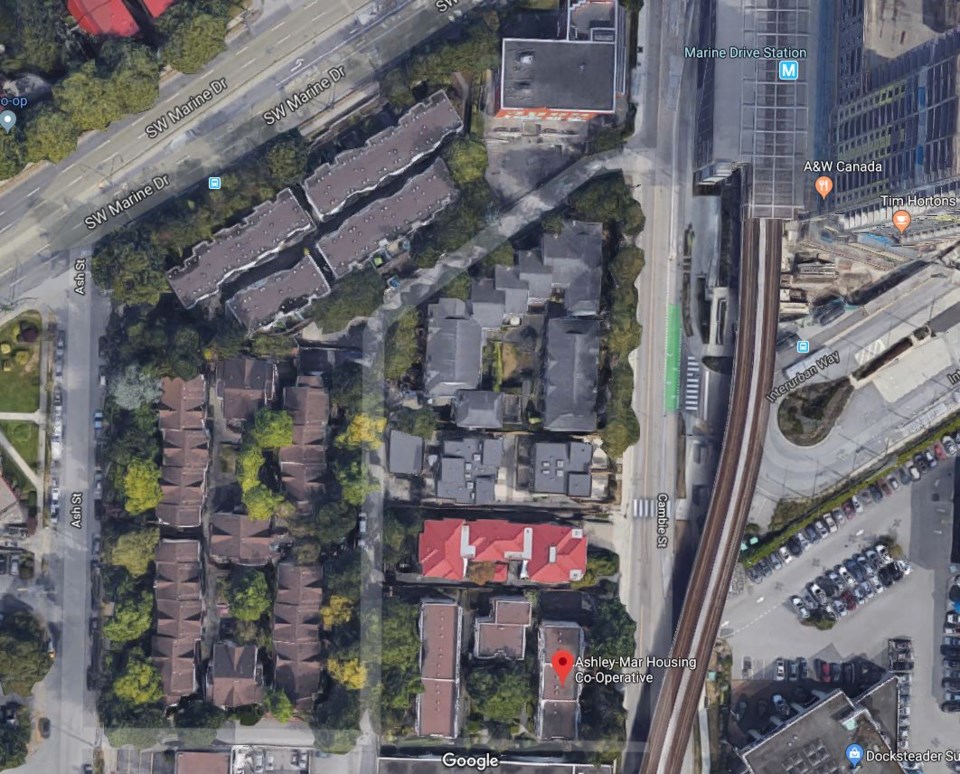 Evan Allegretto, Intracorp's senior vice president of development, thinks it may be the first partnership between a developer and a co-op where funding for the majority of costs is through a rental rather than a condo project.
"It's a good example of [how] the private sector development community can work with a non-market group to try to create a development that hopefully matches council's objectives on [a] transit [line]," he said. "It's the first, essentially co-op and rental-only project on transit at this scale. The co-op, if they wanted to, could just renew their stock today. They could take out a new mortgage to renew their housing. They came forward and wanted to increase the density. It was their decision."
An earlier proposal floated late last year envisioned a development that included two 18-storey market condo buildings, with a 15-storey building to house the 54 co-op replacement units and additional affordable housing units, but city staff advised them to pursue a rental application while maintaining the amount of non-market housing.
"We've used every lever we can, from incentives to other policy directives that we could use, to make the project feasible. The resulting density and tower heights is the result [required] to fund the non-market building," Allegretto said.
"…It's very hard to get the economics to work to support a large non-market building like the one that we're proposing on site because the concrete construction costs are quite high right now."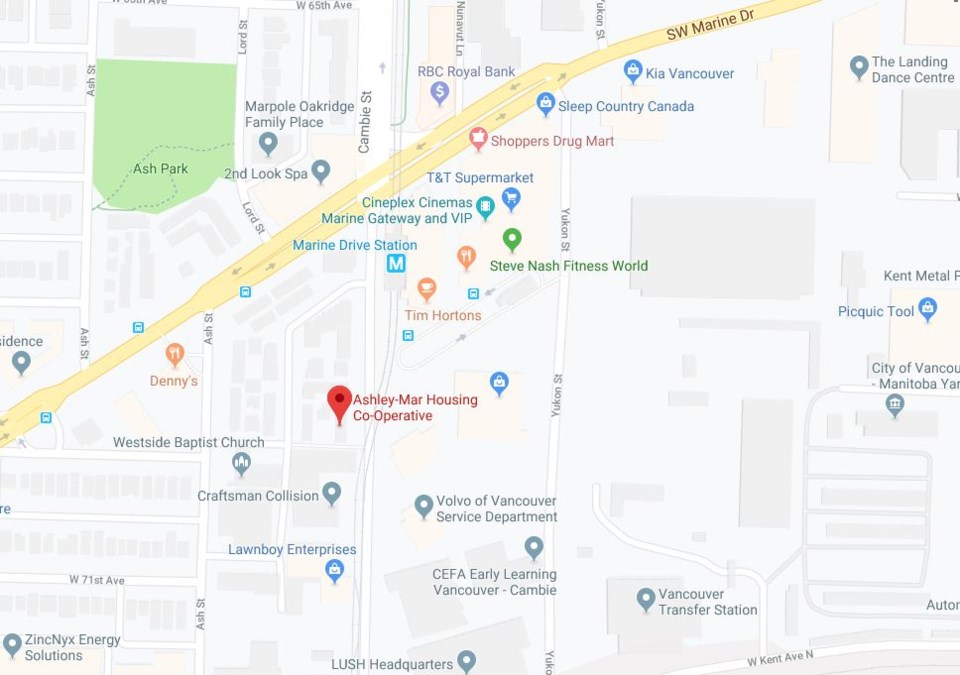 The co-op, which has been working with Intracorp to develop the project for about three-and-a-half years, was established in the 1980s. Although the mortgage was paid off recently, redevelopment plans means the co-op will still have to take on another small mortgage.
Co-op spokesperson Ryuji Kita said members decided to rebuild because the homes were getting older, amenities were lacking and taxes were going up.
"And we thought it was in our best interest to seek out a different style of building," he said.
Some members were initially concerned because the layout will be different, with units in a taller building rather in a townhouse format like what exists now. 
"But, all in all, right now everyone's on board," Kita said. 
Allegretto maintains it's a good location for the development because it's south of Marine Drive. The land south of the site is all industrial, so the impact to the neighbourhood, in his opinion, is minimized.
If council approves the development, and the process is "extremely smooth," construction could start in early 2021. It would take two and a half to three years to complete. The co-op building would be finished first.
The tenant relocation plan that's being proposed would allow existing co-op members to move anywhere and Intracorp would top up their rent to an agreed-upon threshold. They would be able to return to similar units in the new development at their same rates.
"So there's zero displacement and everyone there is treated really well," Allegretto said.
Kita said having to relocate during construction worried some members, especially those with children who want to remain in the same school catchment.
"There were a lot of questions but Intracorp is working well with us. They've got a third party that's going to come an interview all of us and make sure we're all located in an area that works well," he said.
Kita said the membership is also working on how to sustain a community feel in a different style of building. That will include having an amenity room where members can gather.
@naoibh