There are three Vancouver Specials near the old Little Mountain social housing complex on Main Street. The specials were built in 1979 and were assessed at about $1.4 million each. But as a set, they sold for more than $10 million, according to Western Investor in December. That's more than double what they would've fetched if sold separately.
Land assembly is kind of like the board game Monopoly: assemble a bunch of adjacent properties to get more profit. In Vancouver, it's usually the lots of detached houses that are assembled and developed into condo apartments.
But land assembly is a tricky game to play because it involves many players and takes a lot of patience. Neighbouring homeowners not only have to collaborate, but be in consensus when selling their properties as a set to developers.
"It's a long journey," said Michelle Yu, "and they need to work together."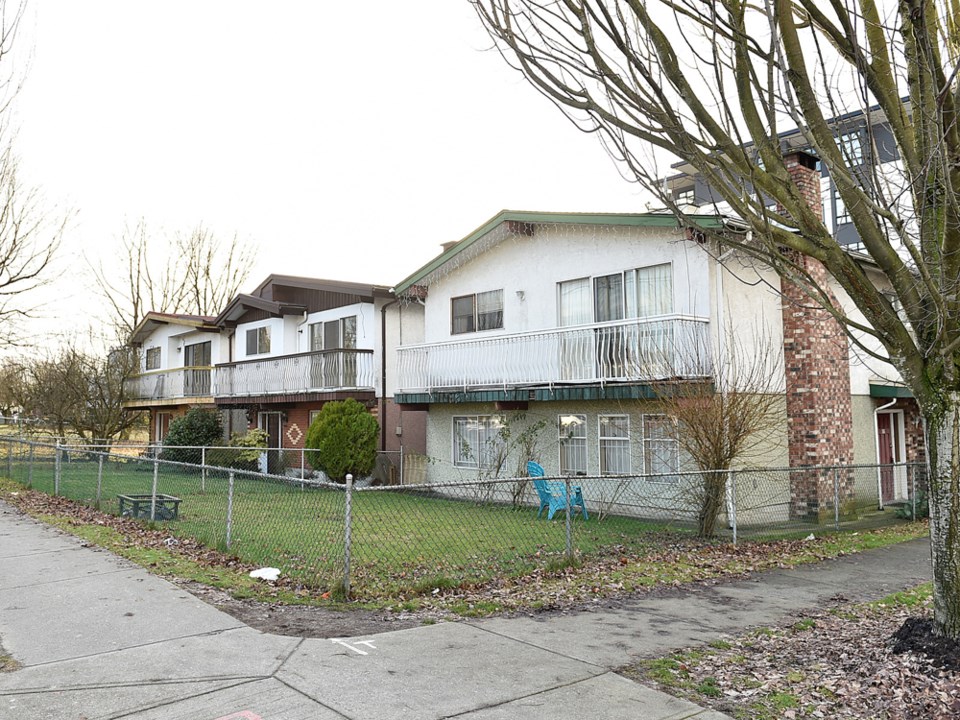 If you recognize Yu's name, it's probably because you've seen it repeated on "for sale" signs in front of rows of detached houses on major Vancouver streets. Yu is a Re/Max specialist in land assemblies, and her team of 13 is behind deals that are transforming the residential landscape of Vancouver. To date, Yu and her team have sold 17 assembled sites in Vancouver.
Yu's worked in Vancouver real estate since 1994, but decided to specialize in land assembly in 2010 when she realized its potential. Yu's team gets more than 150 queries a year about possible land assembly.
"It's not by what a seller might expect," said Yu. "Making a house nicer doesn't affect the value… The power to increase the value is not in their hands. It's in the developers' hands and the city."
The right zoning and the right set of properties will entice a developer to pay top dollar for a site with development potential.
"Long, long time ago, people bought lots to make them smaller," said Yu. "It's kind of funny, now it's the opposite." Developers used to build nearly identical houses, to save money, on large lots before dividing them. That's why there are adjacent Vancouver Specials in pairs around the city.
The business of people
Land assembly requires a range of expertise, which is why Yu has a lawyer, an engineer and an architect on her team to figure out what can be built where before selling to a developer.
Aside from the technicalities of properties and community plans, there's the business of people.
"Some don't want to leave the neighbourhood. They're 90 something. Then what can you do?" said Yu. "You need to be patient and listen carefully about their concerns and why they don't want to sell. It could be a tax reason or a tenancy reason or 'I don't know where to go.'"
Sometimes there's nothing she can do to convince them. "I may just drop the deal," she said.
Sometimes she'll have to literally work around the problem. Yu was trying to assemble 10 properties near King Edward station, but one homeowner was absent. "Nobody ever found them," said Yu. "Even the neighbours tried to go in to see if something was wrong inside. They even tried to make a block watch to see if anybody ever went inside but nobody came." So Yu ignored that house and assembled the remaining properties separately. "So you may see this block with new townhomes with maybe the old house there."
It's not the only time Yu's had to assemble the properties of interested homeowners and ignore the others. "Once I decided to cut a parcel of land to sell to one developer," said Yu. "But then, the rest of the neighbours decided, 'Oh, this is really serious business now!' And they wanted to sell."
Sometimes it's not too late to add properties to a set; it depends on who the buyer is, said Yu. If it's a developer who's already submitted an application to city hall, it might be too late. But if an investor is just holding a set, they're usually happy to add to it.
The entire process of gathering neighbours and selling can take as long as two years per site.
Cashing in on condos
Yu is about to add a new dimension to her business: selling assembled condos.
A strata corporation (the collective of condo owners in a building) used to require the approval of 100 per cent of its residents before it could be sold, also known as a strata wind-up or liquidation. But new legislation in November 2015 brought that requirement of willing owners down to 80 per cent.
Strata corporations of old condo buildings that require expensive repair but are on hot land (like near transit) have begun to cash in. Like land assembly, it can be more profitable in some cases to sell as a set than to sell a condo unit individually.
"On a block I might have to touch 10 homeowners, but now I have to touch the whole building," said Yu. That's homeowners in the hundreds.
Yu's also planning to expand her business to help market new developments. From residential sales to land assembly to condo marketing, she says her team will be a "one-stop shop." Since she already has realtors standing by, she thought why not help developers presell?
Criticism, context and change
There are some urban design criticisms of land assembly policies, saying that it compels massive projects that make people feel small and alienated because they're not often designed with the human scale in mind. Specifically, lacking visual complexity, lacking harmony with existing neighbourhood buildings and lacking the ability to provide an intimate pedestrian experience. It's not that these critics hate density or development; they just want it to be introduced with thoughtful, contextual design.
"Some people [who] have lived in Vancouver for so many years might not be used to the change, but there's a need," said Yu. "That's why the city's spending so much energy and time… trying to make high-density in certain areas or making use of the SkyTrain. Personally, I like a city with more energy."
@bychrischeung
bychrischeung@gmail.com