Vancouver developer Westbank seems to be pushing ahead with its ambitious plans to supply low-cost energy throughout downtown Vancouver, with the unveiling of the model of its new power plant and commercial development – despite not yet gaining permission for its neighbourhood energy system.
In 2014, Westbank paid $32 million for the plant and its owner Central Heat Distribution, which had been supplying low-cost energy to the downtown core since 1968, using steam power and an extensive grid of pipes. Having rebranded the company as Creative Energy, Westbank now plans to convert the plant, which is adjacent to B.C. Place Stadium, into a low-carbon energy utility and add a mixed-used office and retail complex.
A model for the proposed new development, designed by Danish starchitect and Westbank favourite Bjarke Ingels, was unveiled at the Unzipped architectural exhibition in Toronto over the past weekend. The design comprises an 18-storey, curvilinear office building with retail on the ground floor, with a separate, smaller office building and rooftop garden adjacent to the larger building. Ingels is also the architect of Westbank's twisting downtown residential tower Vancouver House, which is nearing completion.
According to a Westbank video, once the plant is upgraded to using low-carbon methods such as wood waste and bioenergy, with a second plant installed nearby on Expo Boulevard, Creative Energy intends to expand its energy provision into the West End, False Creek, Yaletown, Chinatown and the Downtown East Side.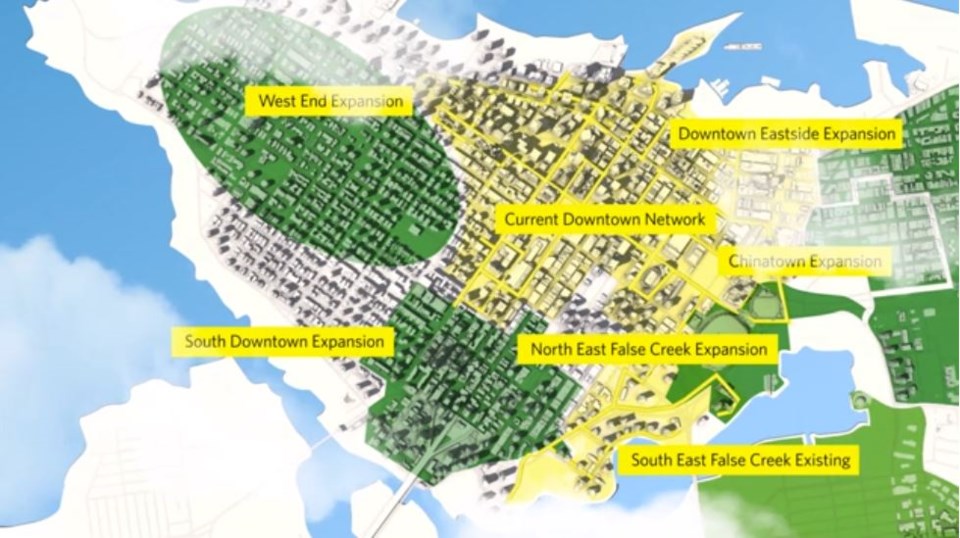 However, the company's plans have so far received little support from the B.C. Utilities Commission (BCUC). In 2016, the BCUC denied Creative Energy its City-supported request to have all residential and commercial buildings in the DTES and Northeast False Creek connect to its new system under a proposed neighbourhood energy agreement (NEA).
"Given the existence of alternatives to a neighbourhood energy system, we don't find the approval of the proposed NEA as being in the public interest because there are viable alternatives to creating a monopolistic energy provider," read the 2016 tribunal decision. "Further, we note that in denying this franchise agreement the City of Vancouver is not necessarily prevented from achieving its objective to establish a district energy system in the Northeast False Creek and Chinatown area."
Westbank did not respond to Glacier Media's requests for a progress update on its plans for the central power plant.
The new buildings will also require City rezoning approval, and there is no sign that Westbank has yet filed a rezoning application with the City of Vancouver.
In addition to the Central Heat Distribution plant, Creative Energy is also designing a neighbourhood energy utility for Westbank's massive upcoming Oakridge masterplan.