The majority of Metro Vancouver residents – even those who own their homes – are rooting for a real estate market correction, according to an Angus Reid poll released August 27.
Some 62 per cent of respondents, all in the Metro Vancouver region, said they hoped prices would come down soon to improve housing affordability. Just over a quarter (26 per cent) said they would like to see a modest price drop of around 10 per cent, and a further 36 per cent said they supported a price reduction of 30 per cent or more. This includes responses from both renters and homeowners.
Unsurprisingly, when looking at renter responses alone, the support for a price drop was even more significant. Two-thirds of renters (67 per cent) said they'd like to see a 30-per-cent-plus crash, with a further 19 per cent supporting a 10 per cent correction – totalling 86 per cent of renters rooting for a price decline in the region.
But even homeowners revealed a surprising amount of support for a market correction, showing that 49 per cent would be willing to give up some of their equity if it meant more affordable homes in the region. And, at 20 per cent of homeowner respondents, the same amount of owners said they would like to see prices drop by more than 30 per cent as the proportion who would like to see prices keep rising.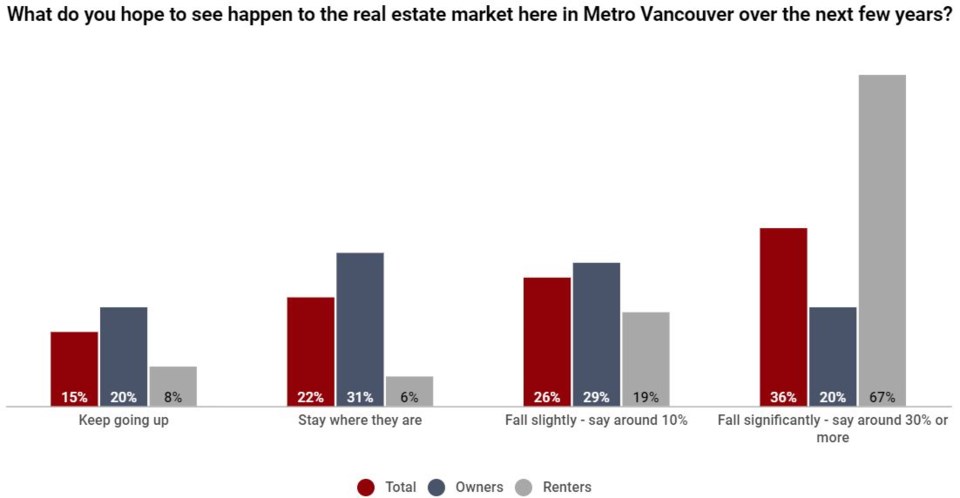 The poll respondents cited the top two causes of high housing prices as speculative investment in real estate. Six in ten (59 per cent) said they believe it is foreign investors who are primarily driving up costs, and 43 per cent said it was real estate investment by wealthy individuals. (This finding follows a recent poll by Insights West, which found that the blame for high home prices on foreign investors was even stronger among its respondents, at 84 per cent.)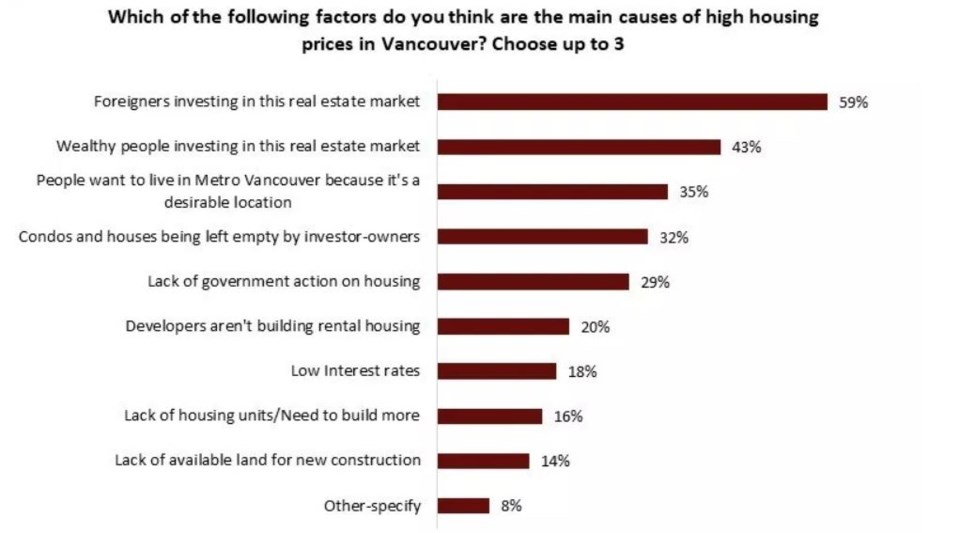 The cost of housing was identified as the key concern in the region, by nearly two thirds (65 per cent) of all respondents – far higher than the second-placed issue of transit/transportation. The 65 per cent concerned about housing costs breaks down as 82 per cent of renters and 56 per cent of homeowners.
However, Angus Reid said, "Three-quarters of homeowners say the cost of buying in Metro Vancouver is unreasonably high, and an even greater number of renters say the same about the cost of renting here. That said, both groups are significantly less critical of their personal situation."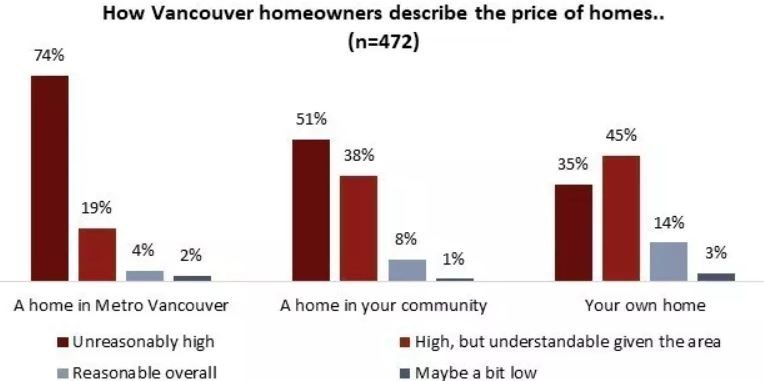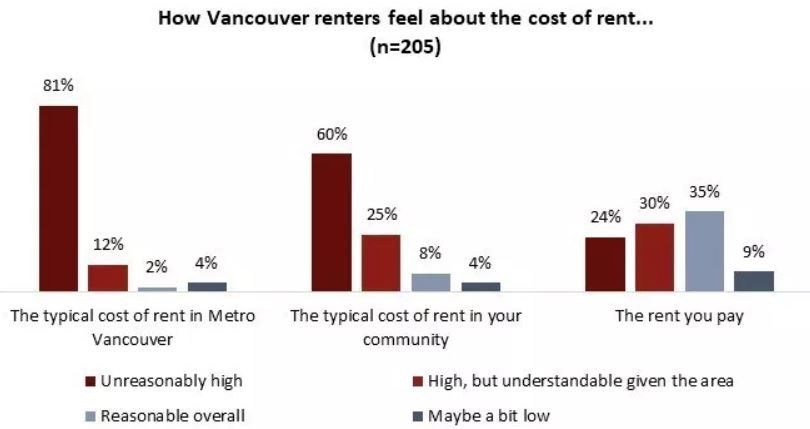 The poll report added, "It would appear that many have settled into a situation that they're able to perceive as reasonable or at least understandable in terms of cost. However, when they look beyond their own walls, the prospects of renting in that same community, or elsewhere in Metro Vancouver appear daunting."