Moving the historic Fairmont building from the Heather Lands to another site promises to be an enormous task, especially since a new site still needs to be found.
But that's exactly what's being recommended as three First Nations and Canada Lands Company prepare to redevelop the property, which sits between 33rd and 37th avenues at Heather Street, and was home to the RCMP's headquarters and operations centre until 2012.
In 2014, the Musqueam, Squamish and Tsleil-Waututh Nations and Canada Lands Company entered into a 50/50 joint venture for the ownership and redevelopment of the 21-acre site.
The three First Nations are known as MST Partners for the project.
Work on a policy statement to guide the redevelopment is underway and is expected to go to council for its consideration later this spring.
The first round of open houses last fall revealed three options for the redevelopment, including a request for the removal of the Fairmont building "as a measure of Reconciliation."
The preferred concept, outlined at open houses March 10 and 12, envisions a cultural centre where the Fairmont building is now located.
Although it's economically viable to retain and repurpose the building, "it represents a difficult era for the First Nations people in Vancouver, when customs and culture was oppressed and the Nations peoples were shifted off their traditional lands," according to the relocation proposal.
A new cultural centre, meanwhile, would showcase Indigenous-inspired architecture and provide a venue for sharing culture, traditions and values of the Musqueam, Squamish and Tsleil-Waututh peoples, as well as provide space for the local community.
Based on the proposal, if a new site cannot be found for the Fairmont building within a timeframe the City of Vancouver estimates to be in the three- to five-year range, it could be demolished.
Looking back
The Tudor Revival Fairmont building at 4949 Heather St. dates back to 1914. Designed by Vancouver architect Samuel Maclure, it's listed on the Vancouver Heritage Registry as an "A" building and it's been recognized as a federal heritage building.
Measuring about 28,000 square feet, including the basement, it was initially opened as Langara School for Boys. The federal government bought it in 1918 and turned it into a military hospital for a brief period before the RCMP took over the property for its e-division headquarters in 1920. The RCMP used the Fairmont building and other buildings on the site until relocating to Surrey a few years ago.
The Fairmont building is currently being used as office space for Canada Lands Company, which also leases some of the space.
While the exterior has remained largely unchanged, the interior has been renovated and doesn't retain much heritage character.
Moving on
Relocating the Fairmont building is a viable option, according to Susan Haid, the city's assistant director of planning.
Based on its structural integrity, it can be transported to another site as a single unit or in three pieces. Haid estimates a straight forward move and putting it back together would cost at least $6 million. But a final figure would be based on various considerations, including how far it has to be moved. The building also needs seismic upgrading.
The city would cover removal costs through community amenity contributions collected from developments for heritage initiatives.
Public feedback on the preferred concept for the overall redevelopment, including the proposal to relocate the Fairmont building, is still being accepted. The final policy statement is subject to council approval.
During open houses last fall, the prospect of the building's removal generated 120 responses, about half of which favoured the idea for reasons ranging from reconciliation to an interest in seeing the construction of a facility that better reflects First Nations' values. Those who expressed concern cited reasons such as its designation as a heritage "A" building and a preference for finding a location to move it to and retrofitting it for reuse rather than demolishing it.
Late last year, the city also hosted a session about the topic with representatives from the First Nations and Canada Lands Company, RCMP veterans, heritage advocates, community members and city staff.
Haid said those talks, which were guided by the city's reconciliation framework, revealed diverse views, but she said there was "quite a lot" of support for relocation and the discussions were "really open, really encouraging and really, really interesting."
Haid added there was interest in ensuring all of the stories and the many layers of history associated with the site, including the building, are told, as well as support for ideas around reconciliation and having a centre of healing.
"So we will be looking at an interpretive program. That can involve many different forms. It could involve landscape design, interpretive media [and] it can go well beyond this site to tell some of the stories," she said.  "…The point is that everyone feels included and we tell those stories and we figure out a way to do that that is welcoming to everyone. Certainly, the [First] Nations have emphasized that they've been on these lands for centuries and the history of their relationship with the land is also something that they want to tell as part of the story of this site."
It remains unclear what the Fairmont building would or could be used for if it's relocated but it's an issue the city has looked at to some extent.
"[In] some early work we did on the policy statement going back a year and a half [that looked] at repurposing opportunities, we looked at what if it was [used for] housing, what if it was seniors, what if it was a school... Those we're broad explorations but typically they would require quite a bit of upgrading and, in some cases, they might need an addition," Haid said. "... In terms of finding a donor site and a purpose, we would be open to uses that might both keep it as it is but might look at additions attached."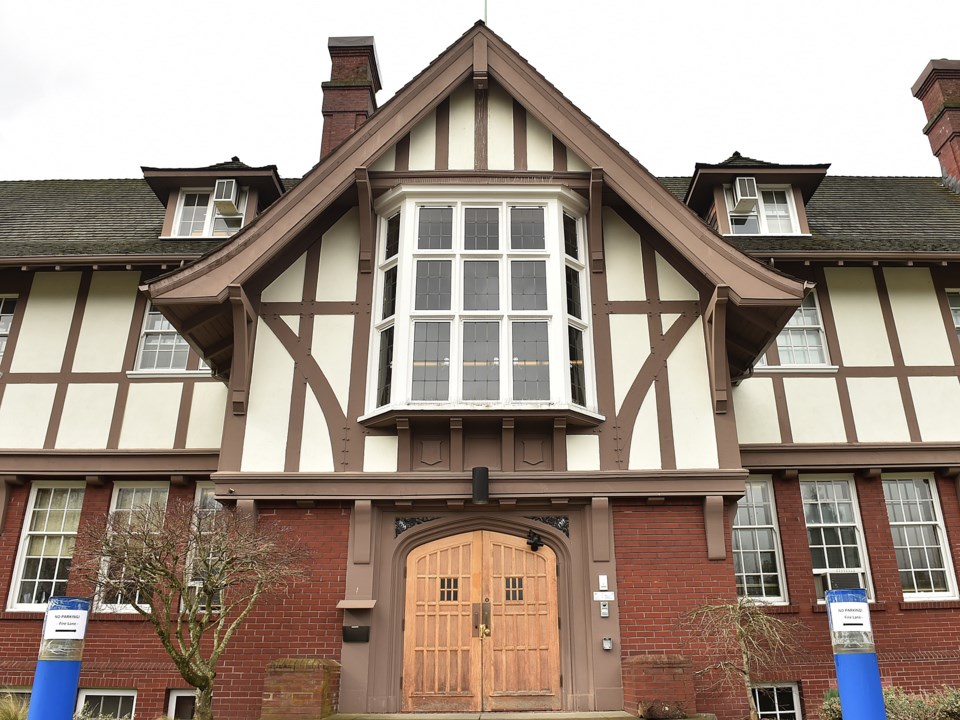 Building history
For its part, Heritage Vancouver Society says it may not be a bad idea to relocate the Fairmont building based on the complexities of the issues involved, depending on how effectively the various histories and other important values, including the significance of reconciliation associated with the building and site, are recognized and communicated through interpretive programming to current and future populations.
"With this site, it's complex — there's architectural value, there's historic value, there's natural value, there's social value and value for different groups, including First Nation and non-First Nation," said Bill Yuen, a spokesman for Heritage Vancouver. "How we look at it is how will the changes on the site represent these values and to what degree? ...How are we and future generations going to understand explicitly what happened, positive and negative, in tangible and intangibles ways?"
Yuen recognizes the negative value the building represents to the First Nations, but he noted it was also used as a school, and as a hospital run by nurse Jean Matheson.
"As a hospital, which is rarely brought up, it was for war veterans to help them with trauma from the war. They used the word shell-shocked. But it was also run by a female nurse. She was actually important in B.C. nursing history and she ran the site in 1919," Yuen explained. "So you have these ideas surrounding female leadership, but also healing, which is one of the points that MST [Partners] is making… they want this new building to be a place of healing so there's obviously connections there."
Aside from how the building was used over history and its architecture, Yuen said other important aspects include its meaning to First Nations people and the significance of its removal as part of reconciliation — if that happens.
"So it's not simply, keep the building, demolish the building, move the building. How are we, and future generations, going to be able to understand the significance of this? There's probably going to be needed continued dialogue among stakeholders — First Nations groups, neighbourhood groups, RCMP veterans —  all these different groups about how these differing values will be communicated and guarded and which ones are drawn out more than some other ones. There's a lot of work, if we think about it, from a heritage perspective."
Haid, meanwhile, is hopeful a new site and new use for the Fairmont building can be found if the policy statement and relocation plan are approved.
"I'm encouraged that [relocation is] feasible and I'm really encouraged that we have a really reasonable stretch of time to explore this," she said. "So, I'm hopeful... We're certainly going to give it the best try."
Note: a representative from MST Partners could not be reached by the Courier's deadline.
noconnor@vancourier.com