Reliance Properties wants to build a 29-storey office tower at the corner of West Pender and Seymour streets where a six-storey parkade currently sits.
The rezoning application for the site at 443 Seymour St. (601 West Pender St.) proposes commercial space at street level, office space on the second to 29th floors, and a height of 337.5 feet.
BC Assessment valued the property at $59.4 million on its 2020 assessment roll. The property most recently sold for $126 million in February 2018.
Vancouver has among the lowest office vacancy rates in North America, according to recent CBRE reports.
If approved, Reliance's proposed development would produce 395,285 square feet of office space.
The site is located next to the historic 10-storey Rogers building, built in 1911, but the developer says the new development will "minimally impact" it.
"No physical changes are proposed to the Rogers Building. Public views of the Rogers building, notably the street facades and the prominent southwest corner, and the southeast corner adjacent to the new development will be maintained," the application states.
"Setbacks of the new tower at its west elevation and investiture of a high quality façade at the Rogers' interior 'atrium' space will ensure the new tower is respectful to compatible with, and distinguishable from the Rogers Building."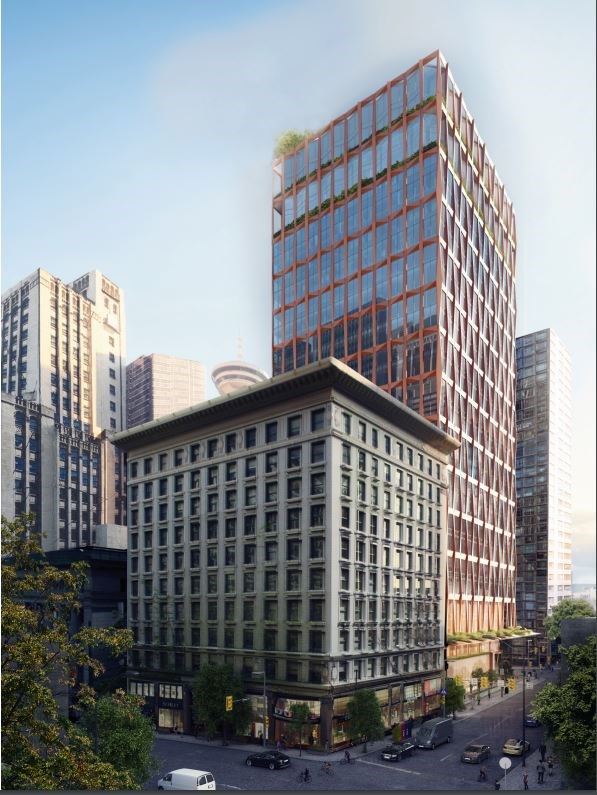 The project will affect the "Alley Oop" laneway. The laneway was transformed into a colourful public space lined on each side with murals a couple of years ago.
"Reliance understands that the proposed development will significantly impact the alleyway in its current form, however the design of the building is in alignment with the values of the Alley Oop project as it intends to activate the public realm and create liveliness at the prominent downtown intersection of Seymour and Pender by providing ample street-oriented retail space along both roadways," the developer explains in its design rationale.
"Reliance feels the design of the development at street level will be beneficial to pedestrians and improve the public's interaction with the surrounding urban space. However, considering this proposed development's proximity to the Alley Oop, the design team is fully prepared to continue to work in collaboration with the DVBIA and any other stakeholders to ensure their vision for the future of the alleyway space is considered and planned for."
An open house runs from 4:30 to 7 p.m. at the Wosk Centre for Dialogue, Simon Fraser University, Jan. 22.
IMAGES