As if competing for local real estate with each other, plus overseas investors, wasn't enough, Vancouverites are also increasingly competing with non-permanent residents to buy homes, according to the Canada Mortgage and Housing Corporation (CMHC).
The federal housing agency released a report February 6 outlining the surge in the Canadian population – and corresponding rise in home ownership – of non-permanent residents (NPRs) such as work-permit holders and international students.
The CMHC said the Canadian population of NPRs nearly doubled between 2003 and 2015, rising 93 per cent, compared with the overall population increase of 13.3 per cent in the same period.
In the Vancouver Census Metropolitan Area (CMA), the share of mortgages being issued to NPRs was 3.9 per cent in 2016, up from 3.3 per cent in 2014, reported the agency. Among the 18-44 age category, the NPR share of mortgages issued in the Vancouver CMA rose to 4.7 per cent. Both those figures were the highest of Canada's major CMAs.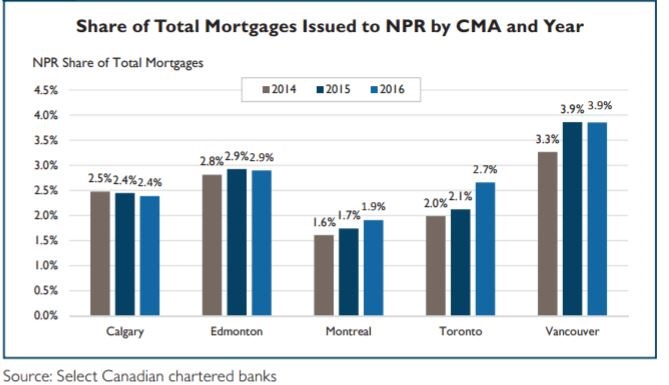 Although this is just a fraction of overall mortgages, the sharp rise of overseas nationals aged 18 to 44 is shifting the home-buying demographic in Canada, said the CMHC. "Given NPR have represented a larger amount of this cohort, it can be said their effect on housing demand in these major cities is larger than their overall population numbers suggest."
The agency also found that homes purchased by NPRs tended to be more expensive, with NPRs buying Vancouver CMA condos at an average value of 20 per cent higher than the overall average. For single-family homes in the region, NPRs purchased houses valued at 16 per cent more than the overall average.
The CMHC pointed out that many workers from overseas and foreign students choose to stay in Canada in the long term, and that is likely part of the reason for the growth in home ownership. The report said, "The last few years have seen growth in the number of mortgages held by NPR at Canadian banks. Some of this is likely a result of longer stays and shifting immigration from source countries that have a stronger ownership ethic. NPR migration is also increasingly becoming a precursor for securing permanent residency."
The agency added that among the NPRs who do not buy homes, their growing numbers are affecting rental markets in major cities. "Many of the urban centres where NPR numbers increased significantly have experienced some of the lowest [rental] vacancy rates in the country," added the report.