Cadillac Fairview's proposal to redevelop part of its CF Pacific Centre shopping centre in downtown Vancouver inched closer to reality this week as a city development permit committee unanimously gave it the green light with conditions.
The redevelopment would replace a glass rotunda and a plaza near the northeast corner of West Georgia and Howe streets with a three-storey retail building.
"Most of the build-out happens within the plaza," said Perkins + Will Canada senior architect David Goyne, who is the project manager.
"Since our previous proposal, we've significantly reduced the amount of build-out on that site. We've given a bit back to the public realm in terms of the amount of plaza space."
Cadillac Fairview has been planning to redevelop this part of its mall for about 13 years.
City council rezoned the site to accommodate extra density in late 2006 as part of a deal to accommodate the Vancouver City Centre Canada Line station being built on its current site: the southwest corner of Granville and West Georgia streets. Back in 2006 that was Cadillac Fairview property.
In exchange for encroaching on Cadillac Fairview land, the city agreed to give Cadillac Fairview extra density.
Months later, Cadillac Fairview embarked on a redevelopment plan for the northeast corner of Howe and West Georgia streets but it withdrew its redevelopment application in November 2008, when the global economy was in turmoil.
Cadillac Fairview then launched its current bid for redevelopment in mid-2016.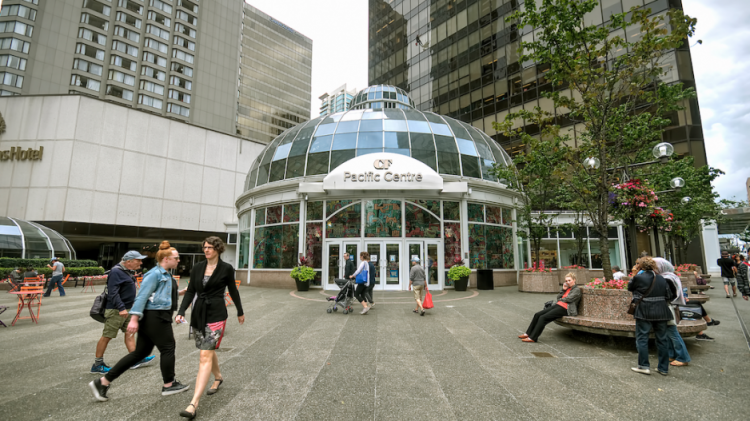 The conditions that the city's development permit committee unanimously supported on July 8 relate to things such as reducing the prominence of the project's green wall, improving the look of a new mall entrance and increasing the number of planting areas within the future plaza to achieve what the city calls "a better balance between hard and soft landscapes."
Among other conditions is that the city wants the project to have an improved pedestrian flow and visual connection with what is now the adjacent Four Seasons Hotel – a hotel that is set to vacate its space at the end of January 2020.
"We'll be working over the next several weeks or so to address those conditions and provide a response but we're not expecting any hiccups along the way," said Goyne.
"We've been working through our design in advance of this with development staff to address many of the comments that are in the report so we are pretty well positioned to respond to those quickly and we're not expecting that we would be held up along the way."
Downtown Vancouver Business Improvement Association CEO Charles Gauthier is elated.
"This upcoming redevelopment on Georgia Street will likely result in other nearby properties to seriously consider making similar investments," he said.
Gauthier hailed Cadillac Fairview's plan by saying that it speaks volumes about its confidence in and commitment to downtown.
"Earlier this decade Cadillac Fairview made a significant investment in the former Sears building that led to the much anticipated arrival of Nordstrom to Vancouver, and the introduction of much needed large-floor-plate space for technology giants Microsoft and Sony ImageWorks and other tenants. It sparked renewed interest in, and investments along, Granville Street both north and south of Robson Street."
gkorstrom@biv.com
@GlenKorstrom