If you thought the pricey homes at Westbank's massive Oakridge masterplanned community were glamorous, the developer has now taken this aspirational lifestyle to a whole new, never-before-seen level.
All of the studio units that make up most of the yet-to-be-released 17-storey Building 7, named Clémande x Oakridge, will come fully decked out with furniture, fixtures and products curated by Parisian designer Clémande Burgevin Blachman. And that means totally furnished – right down to the mugs, plates and utensils in the kitchen, the toothbrushes, robes and toiletries in the bathroom, and even the books on the shelves. Blachman met with Glacier Media to talk about Westbank's aims in hiring her for this unusual task, and what her design inspirations are.
Blachman is former vice-president of design at Calvin Klein Home, and as such, has only really worked on home design products, not specifically as an interior designer. Prior to CK Home, she was a creative consultant to various high-profile companies including fashion house Chanel and retail clients.
Only at her new job for four months, Blachman is these days to be found in a mysterious kind of design lair, deep inside the Oakridge sales centre. First, you have to get through the lavish "Unwritten" exhibition laid on by Westbank in the existing Oakridge mall, before a winding wooden path eventually leads you to the sales centre, which itself looks like a high-end boutique. Within that, to find Blachman's den, you have to push your way through heavy black curtains to reach the "Studio Set" exhibit, which displays vignettes of all the furnishings and products that will be included in the studio units. Inside a room within this room (within a sales centre, within an exhibition, within a mall), I finally meet the designer, while mentally congratulating myself for allowing an extra 20 minutes.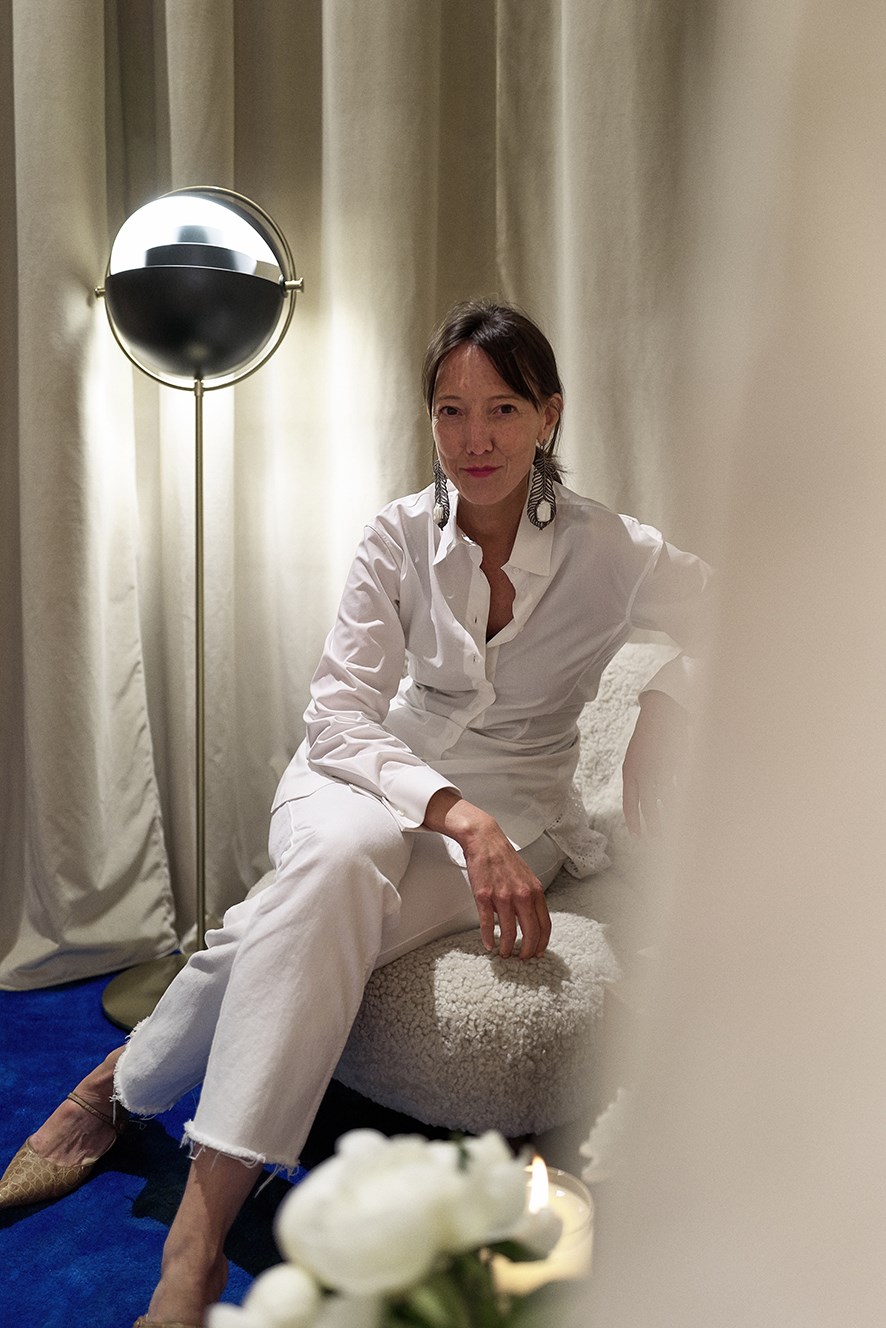 Blachman, who is about as elegant and stylish as a person possibly could be, takes me through the "Studio Set" displays and explains her design rationale. She immediately qualifies the unusual layout of the space we're in. "I didn't design this as a regular sales room, as that's always so deceptive – you look at the kitchen and bathroom and think 'Is that the size, am I going to get this shower?' – things like that. So I took a much more abstract approach, to create moments, or feelings, about the studio and the materials."
There's a passage of text on the wall by Ian Gillespie, CEO of Wesbank, about why he hired Blachman, even though she isn't strictly an interior designer, and why they are going into such detail. (Hint: it's all part of the company's "Gesamtkunstwerk" – "a total work of art" – ethos.)
It partially reads, "Mies van der Rohe and Steve Jobs taught us that God is in the details. That attention to detail is what inspires our commitment to see the total design through to provide a framework upon which homeowners can layer their own accessories, photographs and memories to create a truly inspired home."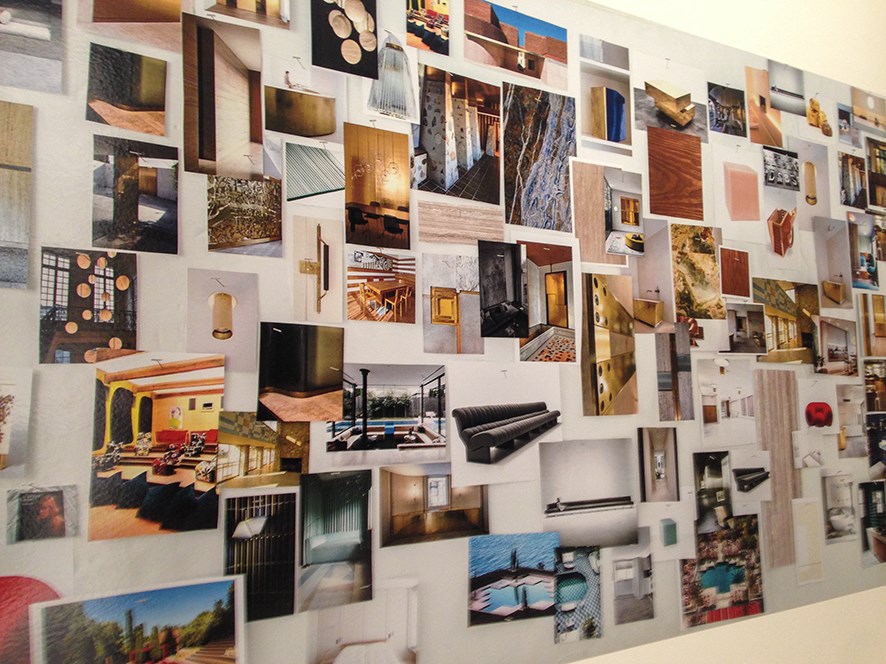 Blachman explains further about the concept of adding all these extra touches. "It's not intended to impose a lifestyle. Because I was designing home products before [at Calvin Klein], I couldn't leave product out of the design. And I kept the selection very narrow – four plates, four mugs, utensils, toaster, kettle and so on – because the buyer will come in with their own possessions. It's more for the first night, so they're not looking through all their boxes. It's a starter kit. And everything we selected is very neutral, but chosen because it could create a dialogue, like 'Have you seen this mug?'"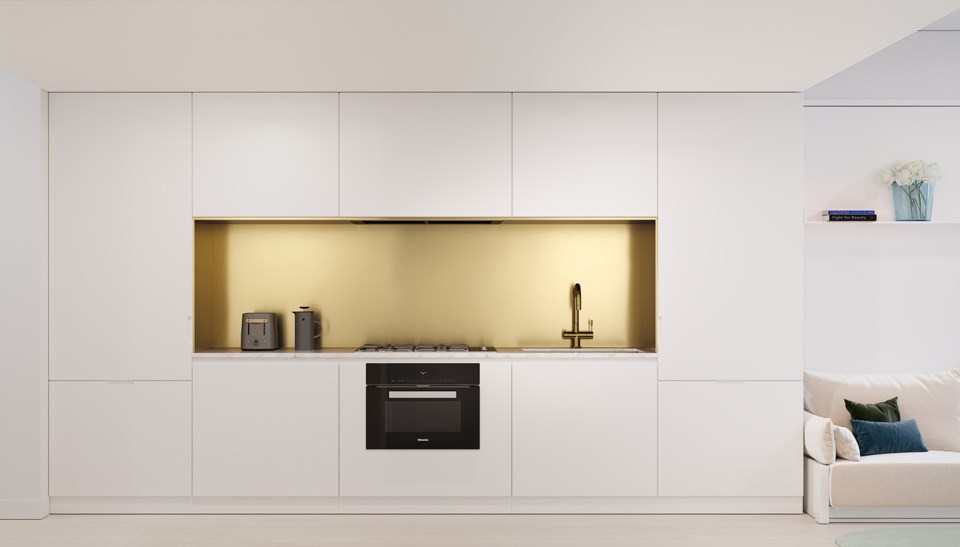 That may be the goal, but it's not only products and kitchen items that are supplied. There's also a small table and two chairs, soft armchairs in the living area, a gorgeous Art Deco-style lamp and a drop-down Murphy bed with bookshelf. They're even supplying the books on the shelves. Westbank and Blachman have partnered with international publishing house Taschen. Buyers of the studios will describe their interests, and a selection of books personally curated for them by Charlotte Taschen will be on the shelves upon arrival at their new home.
"For me, a home comes with a bookshelf," says Blachman. "This was important. I studied literature and grew up in a time with no internet, no Google, so for me, you discover the world through books."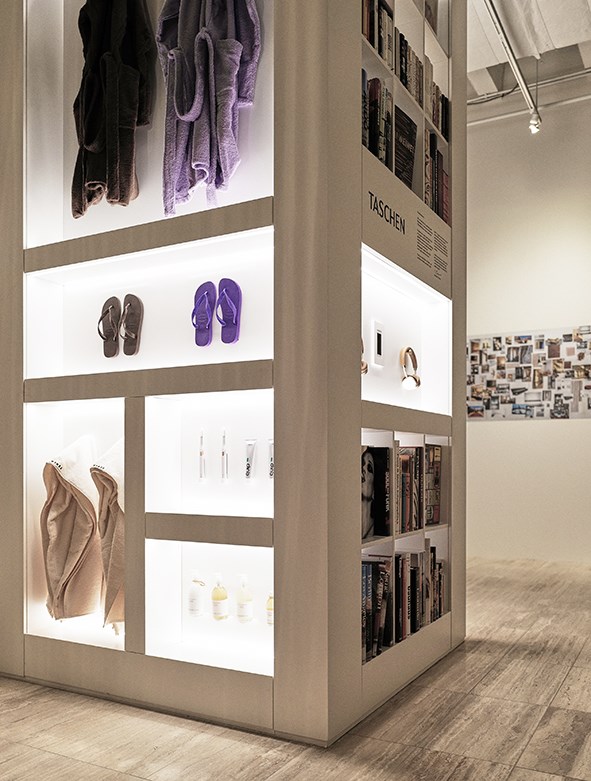 The products selected are mostly simple and clean-lined, many of them Scandinavian or from other European countries. "The grey toaster and kettle are beautiful, Scandinavian design with real wood handles, which I think dialogues well with Vancouver's love of nature. But they're not crazy expensive, and I love the idea that your visitor says 'I love your kettle' and they can buy it too."
Somewhat more expensive-looking are the marble on the kitchen countertop, the brass finishes in the kitchen and hardware, and the B.C. Douglas fir flooring. There's also a strong European style in the bathroom, with cobalt-blue subway tiling sourced from the U.K. (and very common in Paris) that goes to the ceiling, against which the brass showerhead and faucets pop. "I had a bathroom this colour growing up in Paris. We do have other tile colour options, but I hope people will go for the blue tile," adds Blachman.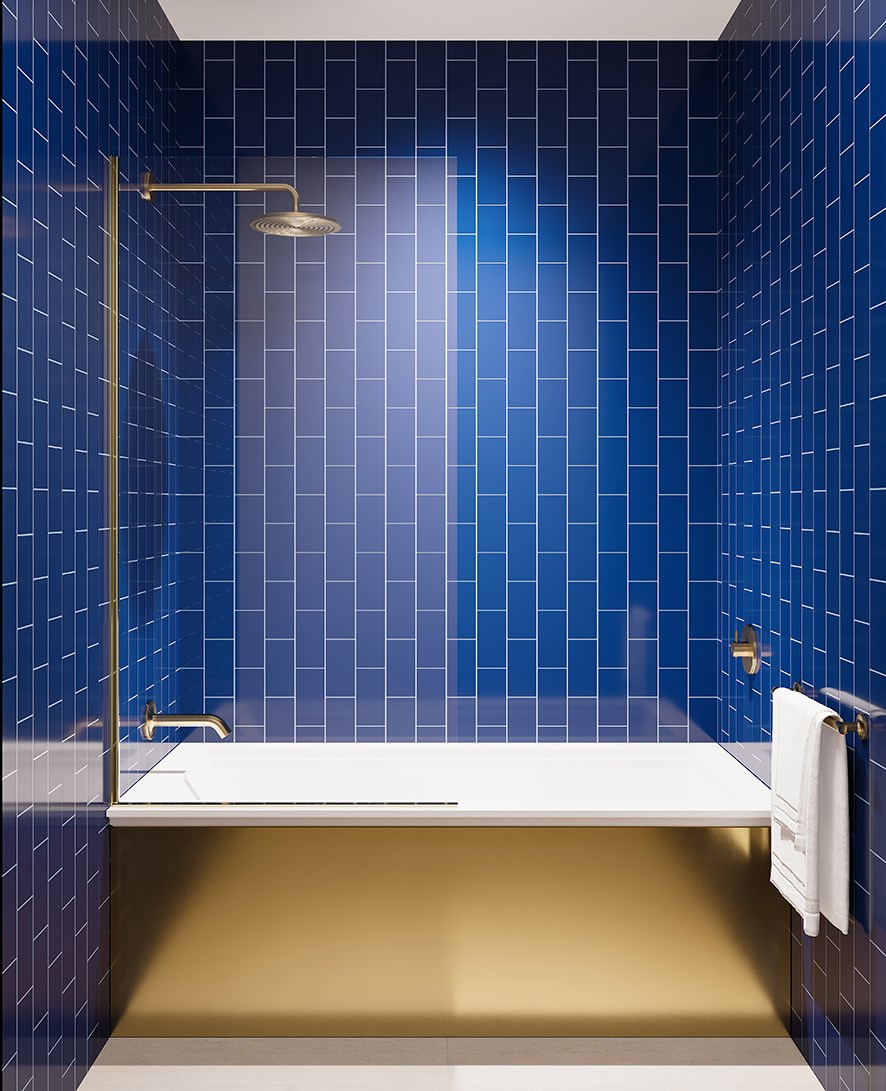 All of this must add a lot of extra cost to an already expensive home – so can studio buyers opt out?
"No, this is all included in the price. It's like I'm gifting the buyers a welcome box. And that's why it's only four mugs, four plates and so on."
And can a buyer of a one-bedroom or two-bedroom unit opt in, and have their home fully furnished in this way, for an extra cost?
"No. And, this is on purpose. It's not the same buyer, they're not at the same stage in their life – they may have more possessions already. The studio is more likely to be someone starting their life, or it's more like a hotel room. Or, it's a pied-a-terre where you don't want to move your own furniture in."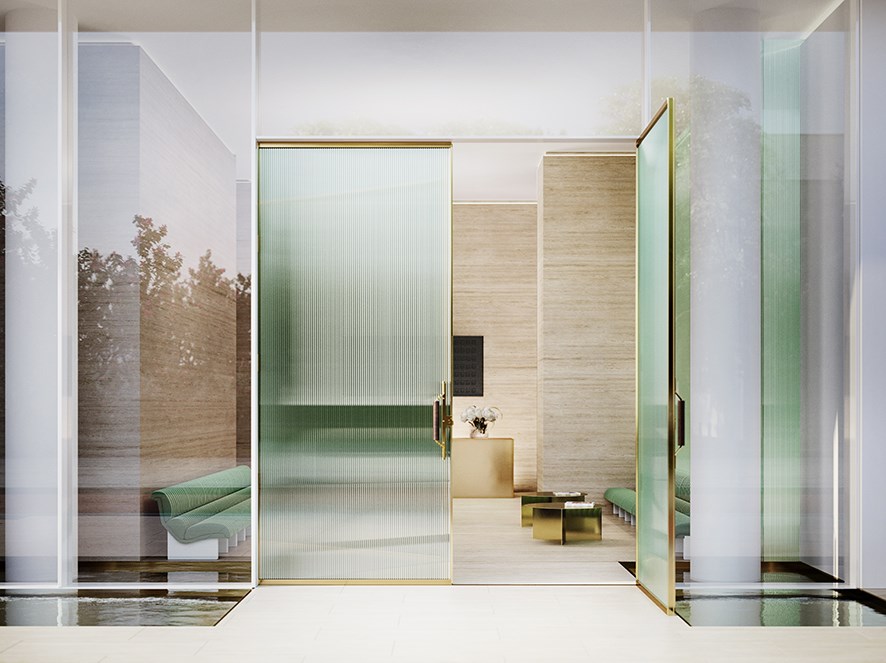 At which remark, I can't help but feel it would be a shame for these beautiful homes to be occupied in such a transient way by jet-setting international buyers. But, this is Vancouver.
Blachman has also designed and selected furnishing and finishes for the common areas of the building, from the grand brass-clad lobby and brass elevator cab with couch, to the Art Deco-style handles to the building's glass doors, to the impossibly long outdoor couch that spans the entire length of the pool.
"This couch was taken from Italian design archives of the 1970s, when radical design was all about the big gestures."

Our tour of the "Studio Set" ends inside the inner sanctum, with a screening of a mini-documentary about Blachman and her history. Blachman may have an impossibly glamorous resume, but she grew up in the flea markets of Paris, where her parents had a stall. The video includes images of Paris, her parents' antiques store, the flea market, and Blachman in her own home, all of which cements the sense of impeccable, elegant style that has already been formed by the showroom's vignettes and displays.
Despite her success, Blachman remains modest. "This is the first home I've ever designed, so it was quite visionary of Westbank to hire someone like me," says Blachman.
Is the idea of hiring a Parisian product designer for a Vancouver condo interior "visionary"? Perhaps. The result is certainly inspiring, from a design standpoint. But, for most of us, it's all far more aspirational than it is achievable.
I would like one of those kettles, though.