The penthouse of this iconic co-op building in Vancouver's West End seems to be one of many high-end victims of the real estate market downturn.
The 2,740-square-foot, two-bedroom-plus-den home was originally listed at a jaw-dropping $17.3 million in October 2018, but did not sell at that price. A few days ago, on February 15, it was relisted for $12,995,000 – a discount of $4.3 million, or just shy of 25 per cent.
For anyone doing the math, the original price worked out as $6,314 per interior square foot, which is even more breathtaking than the 360-degree views, while the new price takes it to $4,743 per square foot. 
"You can't assess a property like this on a price per square foot," co-listing agent Clive Benjafield told Glacier Media February 20. "This is a stand-alone, one-of-a-kind property. If you're looking for a home in the West End with the best views in the city, there's nothing else like it. So what's it really worth? Some people might think it's worth more, some might think less. It's really challenging to price a unique property, especially in a down market. So you pick a price, and take it to market, and assess the market's reaction. And that takes several months."
Back in October, Glacier Media was exclusively invited to take a tour of the home, which has a long, open-concept living/dining/kitchen room, with multiple sliding doors to the terrace that stretches across the front of the building to take in incredible ocean views.
But what's really unique about this home are the roof terraces, which span more than 3,000 square feet and must be among the best in the city. The trio of Sotheby's listing agents say the owners have spent $3 million in upgrades to the outdoor living spaces, which took three years and were completed in 2017. Off the kitchen is a large dining terrace (see main image above) with an outdoor kitchen including a state-of-the-art BBQ hidden inside the stone countertop, plus a fireplace and sitting area, protected by custom rusted-iron gazebo and screens, and warmed by outdoor heaters. There's also an expansive outdoor lounge off the master bedroom, with a firepit, cabana with couches, and a super-cool hidden outdoor shower in a mysterious passageway behind the cabana. The outdoor areas extend the total living space to around 6,000 square feet (weather permitting).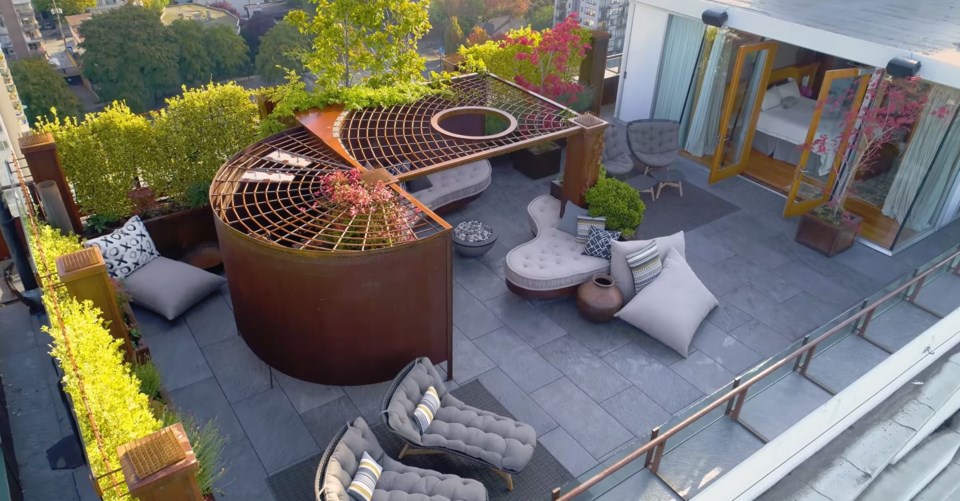 Because the building is a co-op, the buyer will be purchasing shares in a co-operative rather than a freehold. Their purchase will also have to get approval from the co-op board – which includes sitting down for an in-person interview. Benjafield said, "They really just want to check who you are and that you're not a bad person with a lot of money… They reserve the right to say no, but I'm not aware of a buyer being turned down in the building. Whoever buys this home will be wealthy and could be away from home several months of the year. So I doubt they'd say no to a foreign buyer, as that buyer could easily say they'll be there six months of the year."
The co-op fees charges fees of around $2,000 a month – which may sound like a lot, but because it's a co-op, there are no additional annual property taxes or strata fees. Co-listing agent Steve Mitchell said that for a penthouse of this size, that's a relatively low monthly cost.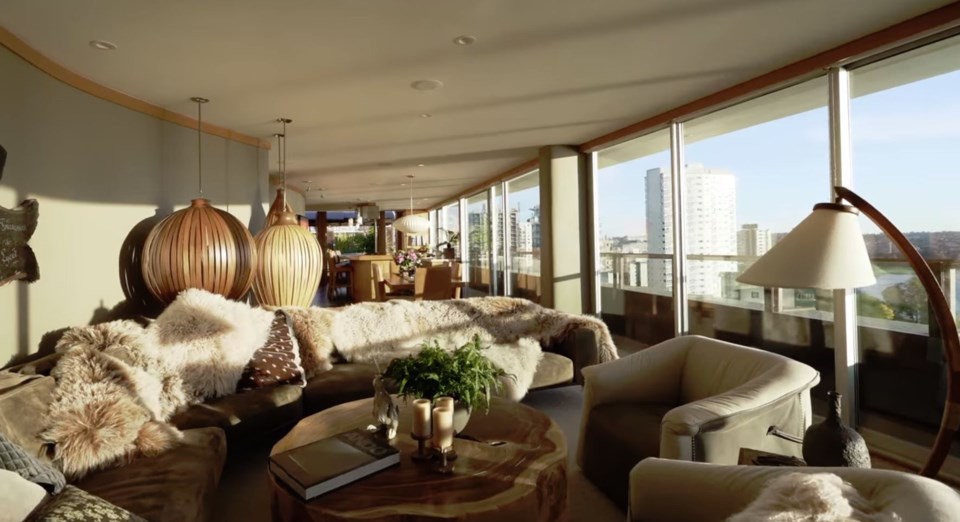 The purchase would also be subject to a minimum down payment of at least 30 per cent, depending on the lender – but, as Benjafield observed, "The minimum down payment probably irrelevant, as most likely it would be bought all-cash or with minimum financing."
Check out more photos of this jaw-dropping penthouse, below.