The Urban Design Panel meets Feb. 20 to assess Pinnacle International's proposal to build a 54-storey mixed-use tower at 601 Beach Crescent at the north end of Granville Street Bridge.
Designed by GBL Architects, the building, which is being considered under the City of Vancouver's Higher Building Policy, includes 303 market residential units and 152 social housing units.
It would sit opposite Westbank's 49-storey Vancouver House "twisty" tower, which is under construction, to create what's been called the "Granville Gateway" leading in and out of downtown Vancouver.
City council adopted the higher building policy — a set of guidelines to be used in conjunction with other policies for reviewing buildings seeking significant increases over existing height limits — in 1997.
The policy has been amended several times, including in 2011 when the "Granville Gateway" sites were added after a public consultation process.
Pinnacle's rezoning application proposes a height increase on the site from 17 to 54 storeys under this policy.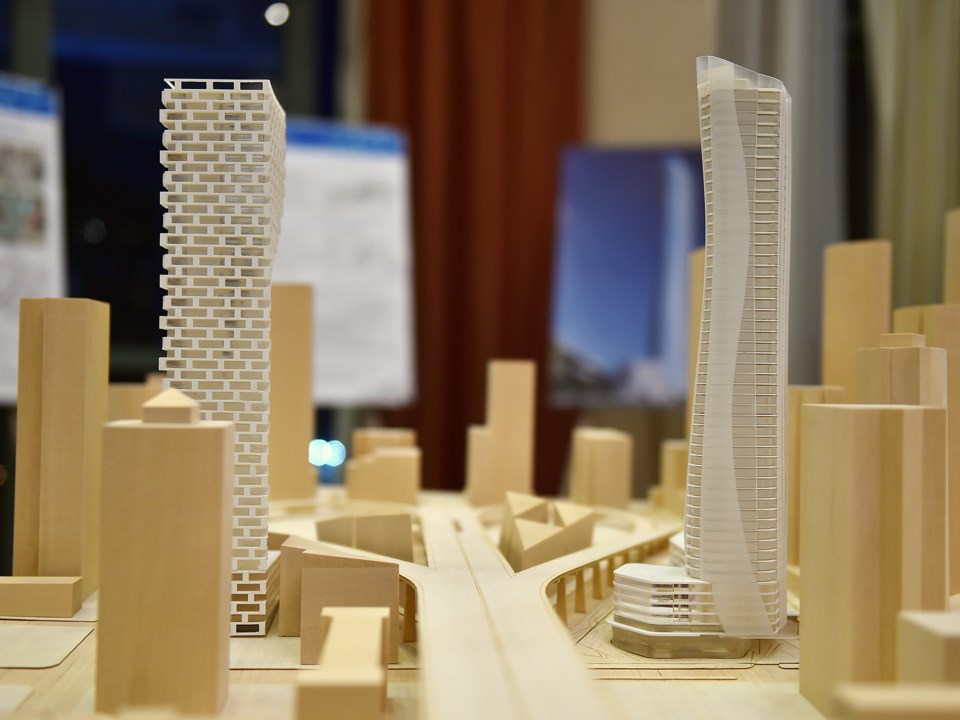 At its meeting next Wednesday, the Urban Design Panel, which advises city staff and council on rezoning and development proposals, will review the project based on the Higher Building Policy, as well as the Beach Neighbourhood CD-1 Guidelines, the False Creek North Official Development Plan, the city's green building policy for rezonings and view cone protection guidelines.
All proposals that meet the criteria for higher buildings undergo an "enhanced review" by the UDP, which is supplemented by the addition of two local architects and two international design experts, according to the City of Vancouver.
The two additional local architects are Karen Marler of HCMA Architecture + Design and Peter Cardew of Peter Cardew Architects. The two international architects are Laura Jimenez of Adrian Smith + Gordon Gil Architecture and Robin Williams of Morphosis Architects.
The panel's purpose is to provide urban design commentary and recommendations for city staff and the applicant to consider for further development of the proposed design. 
After the UDP review, next steps for the rezoning application include interdepartmental reviews by city staff. Council will then consider it at an upcoming public hearing. A date will be set in the future. The public can also submit comments to the city about the rezoning application.
The project has already attracted opposition. Members of a group called Vancouver Beach District showed up at an open house last November to raise objections about rezoning the site from 17 to 54 storeys. They cited concerns including it being too high, the lack of existing infrastructure in the neighbourhood to handle increased density, the potential for traffic problems and a lack of consultation.