With its brown awning advertising "good eats and cold drinks," The Slocan family restaurant at the corner of East Hastings and Slocan Street is a fixture in Hastings-Sunrise.
It's been open since 1974, according to a staff member. But it's changed ownership at least once during that time. Last week, many tables in the old-school diner were filled with patrons grabbing breakfast and coffee. It's also been popular for burger and beer nights.
Now, in a story familiar to residents in every corner of the city, its days could be numbered, as could the days of a handful of other businesses in the two-storey building at 2735 East Hastings, including Bao Chau Vietnamese restaurant, two clothing stores and a hair salon.
The most-recent sale of the property, based on B.C. Assessment's 2019 assessment roll, was for $11 million on Oct. 26, 2016.
Chard Development has proposed a six-storey mixed-use building for the site, featuring 63 market rental units and commercial space at ground level.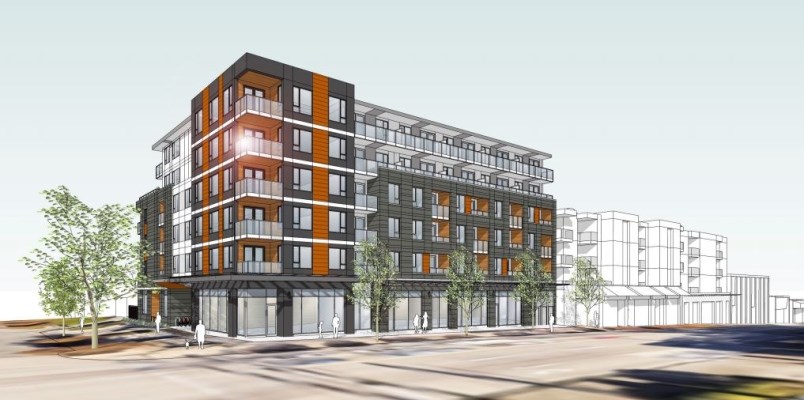 The project meets many City of Vancouver objectives — it will produce rental units along an arterial street, close to transit and amenities.
An open house about the plan was held at Hastings community centre early last week.
Chard's proposal was submitted under the City of Vancouver's Rental 100 program, which offers developers incentives to construct rental buildings such as waiving development cost levies if certain criteria are met. Chard is pursuing such a waiver, which means rents for initial residential tenants couldn't go above a certain level. For East Vancouver in 2019, maximum rents to earn a DCL waiver under the program are $1,607 for a studio, $1,869 for a one-bedroom, $2,457 for a two-bedroom and $3,235 for a three-bedroom unit.
The Oct. 7 three-hour open house about the rezoning application was sparsely attended during its first hour when the Courier stopped by, but Byron Chard, president and CEO of the company, outlined development details.
He told the Courier the corner space on the ground floor is designed to be a restaurant and whether The Slocan returns is up to the owner. (The Courier couldn't reach the owner before the story was posted).
"We recognized that the community really enjoys that restaurant and wants more, so we designed [the building] to accommodate a similar-sized restaurant," Chard said.
He said most of the businesses in the existing building are now on month-to-month leases and it's not certain at this point when they'll have to be out of their spaces.
"We're working with them so they can stay in business for as long as possible," he said.
Aside from residential units, the new building would feature three commercial spaces, with the flexibility to provide more.
If the project, designed by BHA Architecture, is approved and moves forward as expected, Chard said the plan is to begin construction in early 2022 and to finish the building about two years after that.
He added that the proposal exceeds the city requirement for family (two and three-bedroom) units, and will be pet friendly, with a dog run on the roof.
An open-air courtyard in the middle of the building will feature picnic tables for residents.
"Due to the proximity of the playground and the schools and the library, we feel like we will have a lot more families so we've designed the building accordingly, especially with the roof-top patio, dog run and amenity space going on to Slocan — so easy access to the playground," Chard said.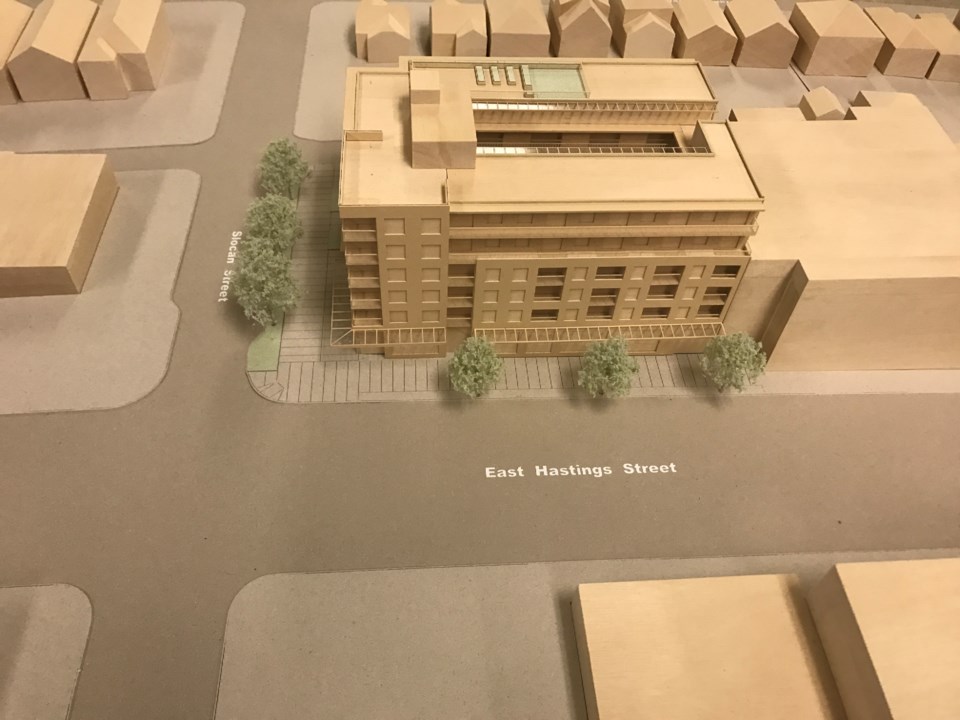 Out with the old
The Slocan will be missed by its regulars if council approves the application and the restaurant doesn't return to the site.
"It's a favourite place for people to go for a burger and beer… People go for breakfast, lunch and dinner. It's got a loyal clientele there," said Patricia Barnes, executive director of Hastings North Business Improvement Association. "There are always people in there, sitting and having a coffee. A lot of these older places provide socialization for people. As they come down, people have to find somewhere else to go."
Nancy Tait, who's lived in the neighbourhood since 2006, agrees.
Tait told the Courier she's fine with increasing density and adding rental in the area but worries the neighbourhood lacks the infrastructure to support it. She's also concerned a lot of developments tend to take a "cookie-cutter approach" — throwing up buildings and putting fast-food chains in the commercial portion as opposed to independently run eateries such as The Slocan, which she described as "much more of a community hub."
Residents, Tait said, fear losing the essence of the neighbourhood.
"What I find with a lot of buildings on Hastings that have gone up since I've lived here, [is] they have a very low occupancy of their retail street-level space and I think it's probably because — I don't know this for sure, it's just pure speculation on my part — the rents are too high and it's prohibitive for independently owned businesses to go in there."
She said there doesn't seem to be a place for small businesses, which often don't come back if they're forced out due to development.
"It seems to be that the fast-food outlets can afford to move in and therefore that's what's going to occupy those spaces, if at all.
Tait thinks there should be more of an attempt to make street-level retail spots more attractive to independent businesses.
Barnes from the BIA also said some residents worry about losing the character of the neighbourhood through development, and losing small businesses that have been around for years.
"It changes the makeup and character of the neighbourhood," she said, explaining Hastings-Sunrise is a very active area where people are loyal to shops and restaurants.
But Barnes also said the BIA recognizes change is inevitable and it has to happen.
In Hastings-Sunrise, she added, many older buildings have demolition clauses in leases so commercial tenants are aware they may have a limited time to find another space if a property is sold and redeveloped.
Ch-ch-ch-ch-changes
Numerous developments have emerged — or are in the offing — on the blocks between Renfrew and Nanaimo along Easting Hastings.
PCI Developments recently completed a rental building on East Hastings at Kaslo Street, which features Tim Hortons and Dairy Queen as commercial tenants.
London Drugs has been expected to develop its half-block sized site on East Hastings at Penticton Street for years. Initially, London Drugs planned to develop a mixed-use condo building, but that idea was nixed in 2013 because of poor market conditions. Some older businesses were torn down in anticipation of the project. A community garden was created on the vacant site for a few years, but even that was removed in 2017. By this point, the company had switched to a rental project, which has yet to move forward. A development application was expected to be filed in late 2017, but that never happened. (Read a story explaining reasons behind the delay HERE.)
Meanwhile, a six-storey, mixed-use rental development planned for a property at 2601 East Hastings, to the east of London Drug's site, is nearing the end of the approval process — council referred its rezoning application to a Nov. 5 public hearing.
And that's not all.
A women-led housing project is in the works for the large parking lot behind London Drugs. Aside from housing, it's expected to include a community childcare centre, a healing and wellness space, green space, legal advocacy services, and arts and culture space, but the project is still in the early stages.
While the BIA has no control over what happens to properties and doesn't have power over development plans, Barnes said developers are increasingly stopping by the BIA to talk and provide a heads-up about their intentions, which she appreciates.
"Change is always hard. It's how do you also keep hold of the uniqueness that makes the area what it is — that's the struggle," she said.
Note: This story has been updated since first posted.