Real estate, construction and related financial and insurance industries are together responsible for more than 20 per cent of Canada's GDP in 2017, according to a quarterly report released by Statistics Canada March 2.
Here in B.C., a separate report funded by real estate and development industry groups, published March 5, found that real estate-related industries accounted for around 15 per cent of the provincial GDP in 2016.
Real estate statistics blog Better Dwelling combined the StatsCan-reported GDP contributions of all real estate-related industries across Canada – including real estate transactions, rental and leasing, residential and commercial construction, financing (such as mortgages) and insurance. It found that in combination, those industries contributed 22.68 per cent of Canada's total GDP as of the end of 2017.
This percentage is down slightly from the 22.79 per cent in 2016, having peaked in May 2016 at 22.93 per cent, but it remains high from a historical perspective.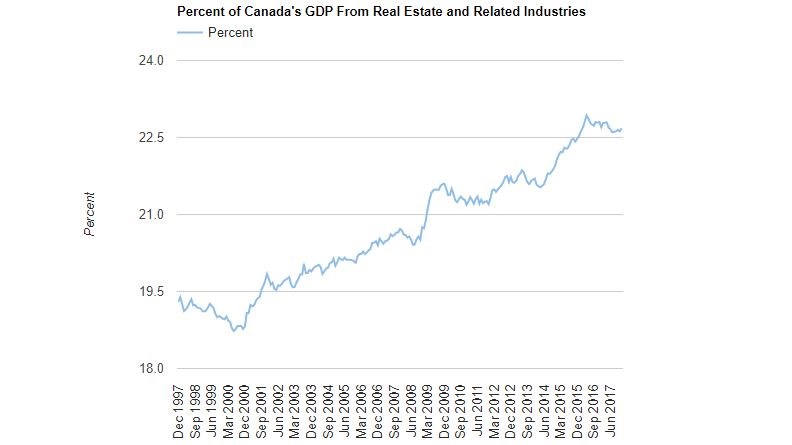 In B.C., the study commissioned by the Urban Development Institute (UDI), the Greater Vancouver Home Builders' Association (GVHBA) and the BC Real Estate Association (BCREA) found that real estate and development contributed $22.9 billion towards the province's GDP in 2016.
That breaks down as $12.2 billion in revenues directly generated by the real estate and construction industry in the province, and $10.7 billion in indirect revenues, such as industries that rely on real estate.
The$22.9 billion total figure is 34.6 per cent up from the $17 billion of the last study in 2012, and is almost twice that reported from the forestry industry, said the UDI.
The UDI also reported that about 233,600 full-time-equivalent jobs rely on the industry, which generates $6.6 billion in tax revenues each year.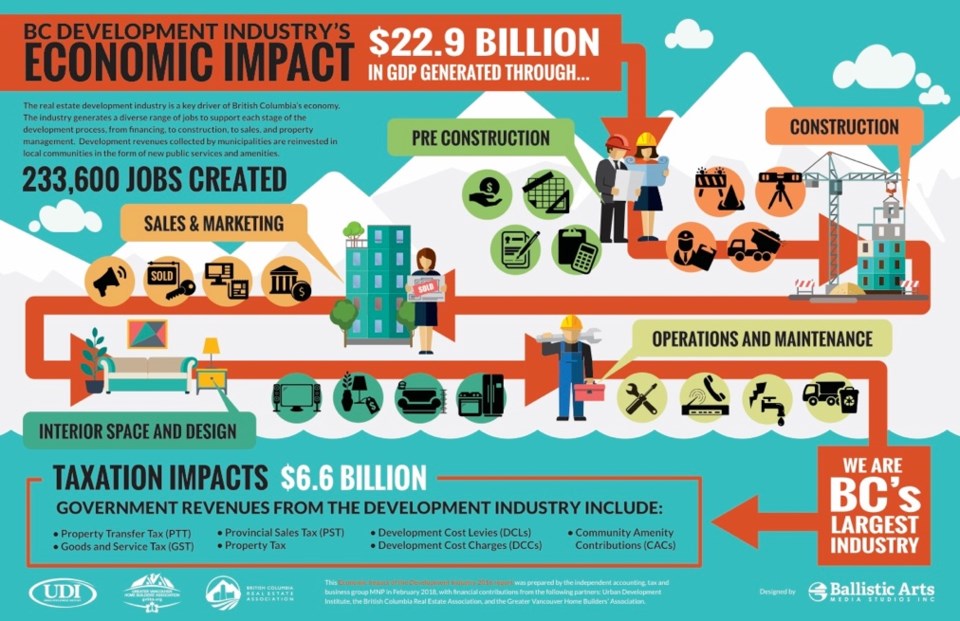 Anne McMullin, president and CEO of UDI, said, "With employment numbers that high, everybody knows somebody who works in this broad sector, whether it's skilled trades, engineering, accounting, finance, law, real estate or sales.Twenty-five years ago, our economy was heavily reliant on forestry and natural resources. While our resource industry will always be integral to our economy, everyone needs a home to live."