Real estate activity seems to be taking a much-needed vacation, with recreational property sales declining across British Columbia, according to a report published June 6 by national brokerage Royal LePage.
Total sales of homes in the B.C. recreational markets surveyed fell by 22.5 per cent year over year, and declined on an annual basis in all of the markets.
The seven markets studied were North Okanagan, Central Okanagan, 100 Mile House, Comox Valley, Denman Island, Gulf Islands, Mount Washington, Whistler and the Sunshine Coast.
Royal LePage reported that the aggregate price of a detached home in those areas was relatively flat, up 0.4 per cent – but that this is skewed upwards by a decline in sales of lower-priced homes.
However, some areas saw considerable year-over-year price increases, showing there are pockets where the very limited number of homes for sale is keeping prices high.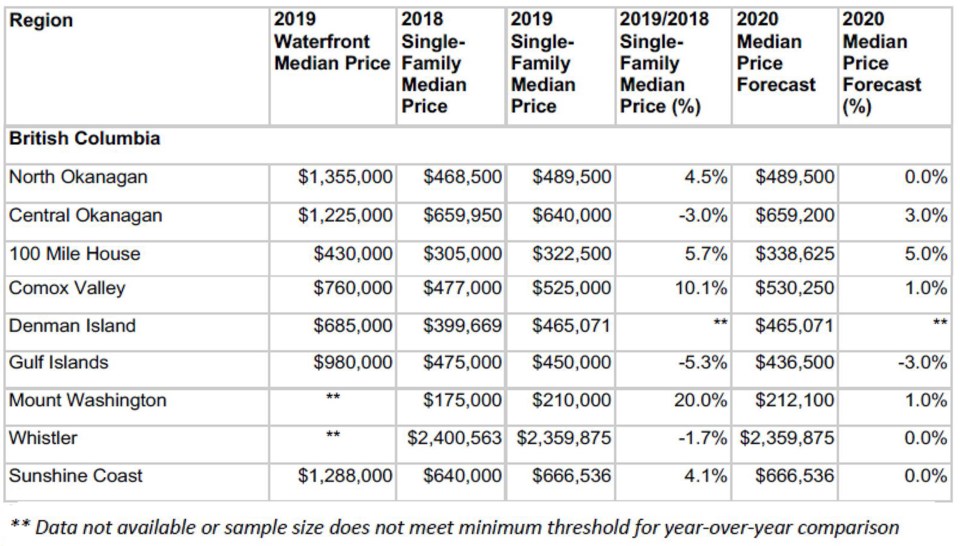 "While demand has softened across the recreational property market, low inventory has kept prices stable," said Gregg Hart, broker and owner of Royal LePage in the Comox Valley. "Mt. Washington had a good snow year and sales on the mountain were well ahead of last year. The inventory on both Denman and Hornby Island is very low, which is pushing prices higher just as the selling season gets going."
Royal LePage said that the most popular region for buyers in British Columbia is the central Okanagan region, where the median price for a single-family home fell three per cent to $640,000 compared with last year.
All but one of the seven recreational markets is expected to see prices hold steady or increase in 2020, with the exception of the Gulf Islands, predicted to decline three per cent.
Interrelated markets
In a recent report, Bryan Yu, deputy chief economist of Central 1 Credit Union, told Glacier Media that recreational property sales were seeing a knock-on effect from the slowdown in the Metro Vancouver housing market.
Yu wrote in his report, "Weak activity in Metro Vancouver is contributing to fewer recreational and retirement home purchases in other markets, as homeowners face lower price/equity and difficulty selling their properties. Sluggishness in Alberta's economy is likely curtailing recreational sales in the interior, with the speculation tax negatively impacting recreational purchases and pushing sales out of the larger market and into smaller rural communities."
He told Glacier Media, "The slowing of the market in Metro Vancouver means that homeowners feel a little less wealthy, especially if they have detached homes, and that in turn will lower demand for secondary homes in other market. These markets are all interrelated."