Another developer is taking a crack at pitching a rental project along Granville Street in Shaughnessy.
Domus Homes held a pre-application open house Sept. 6 for a potential 83-unit, three-and-a-half-storey purpose-built rental building eyed for 4750 Granville St. and 1494 West 32nd Ave. The developer is working in partnership with Stuart Howard Architects.
Two single-family homes currently exist on the two-parcel site.
The preliminary proposal includes 75 underground parking spaces, 154 bicycle spaces and a floor space ratio of 1.63. A rezoning application, if it goes forward, would be submitted under the city's Affordable Housing Choices Interim Rezoning Policy.
The open house comes only two-and-a-half months after Vancouver city council rejected, in a 7-4 vote, a rezoning application for a development featuring 21 market rental townhouses at 4575 Granville St. beside the Vancouver Hospice Society's facility.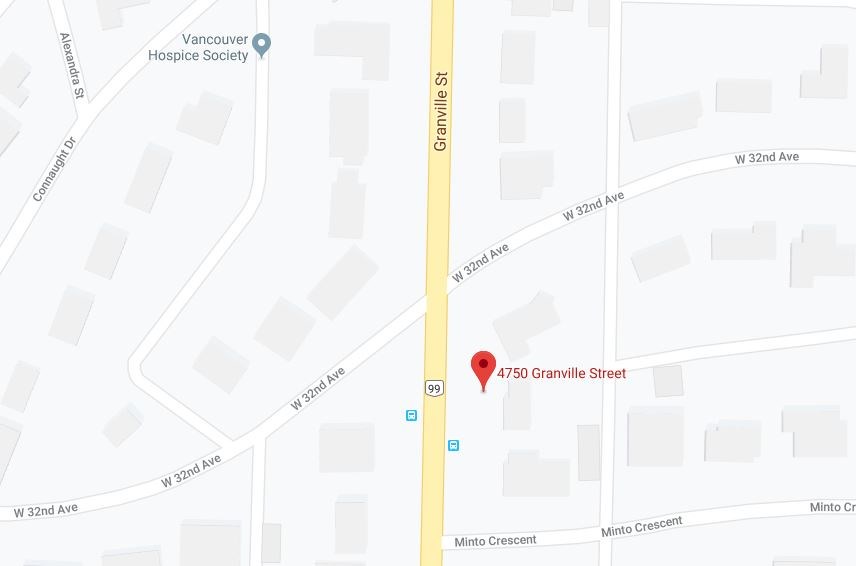 Benefits of Domus' project at 4750 Granville St. and 1494 West 32nd Ave, according to the proposal, include increasing the city's rental housing stock, creating family-oriented housing that's close to transit, and providing housing where older residents can age in their community.
Developer Richard Wittstock, a principal at Domus Homes, said it's too early to say what unit rents would be. If the rezoning application is filed and ultimately approved, it could be five years before it's built.
"It would be really hard for me to try to predict what they'll be," he said. "They'll be market rents, so whatever the market is for one-, two- and three-bedroom homes at that time. We expect to comply with the city's rental caps under their DCL [development cost levy] waiver policy."
While rents may be at the higher end, Wittstock said new buildings, unless they get some sort of government subsidy, are always going to be at the higher end of the range.
"We're not demolishing any old, existing rental stock here. To deliver affordability, it's really the older apartment stock that delivers that. It's pretty hard to expect a new market building to be affordable to the broad range of the market."
Wittstock added he's sensitive to residents' concerns and it's early days in the rezoning process.
"This is our first engagement for this combined site and we've had some positive feedback, some concerns. We're listening to concerns and we're heartened by the positive feedback that we're getting from neighbours," he said.
"We'll analyze all that, distill it, work with city staff and, hopefully, navigate our way through this process successfully."
While Wittstock said it's impossible to convince everyone of a project's merit, he expects a lot of people from the neighbourhood who are looking to downsize will want to live in the building.
"We'll orient the building to a broad range of tenants. We expect to have some young professionals and we also expect to have some downsizers — people who feel they don't want to live in their big house anymore and they want to find an apartment that's more manageable," he said.
"The bottom line is we need a range of housing choice everywhere in the city. This will be a very high-quality building, it's on an arterial road and, to an extent, will shield the people in behind from the noise of Granville Street."
Wittstock called the design "sensitive" and "attractive" and noted much of the building won't be visible behind the big hedge along Granville Street.
The hedge will be on city property because the applicant has to dedicate part of the property to widen Granville Street, so it will be under the city's control.
"Under our proposal, we are assuming that it's going to be retained," Wittstock said. "I think comments coming back from council on the [failed 4575 Granville St.] rezoning were that they wanted to see retention of that hedge, so that's what we're doing and we expect city staff would probably follow that as well."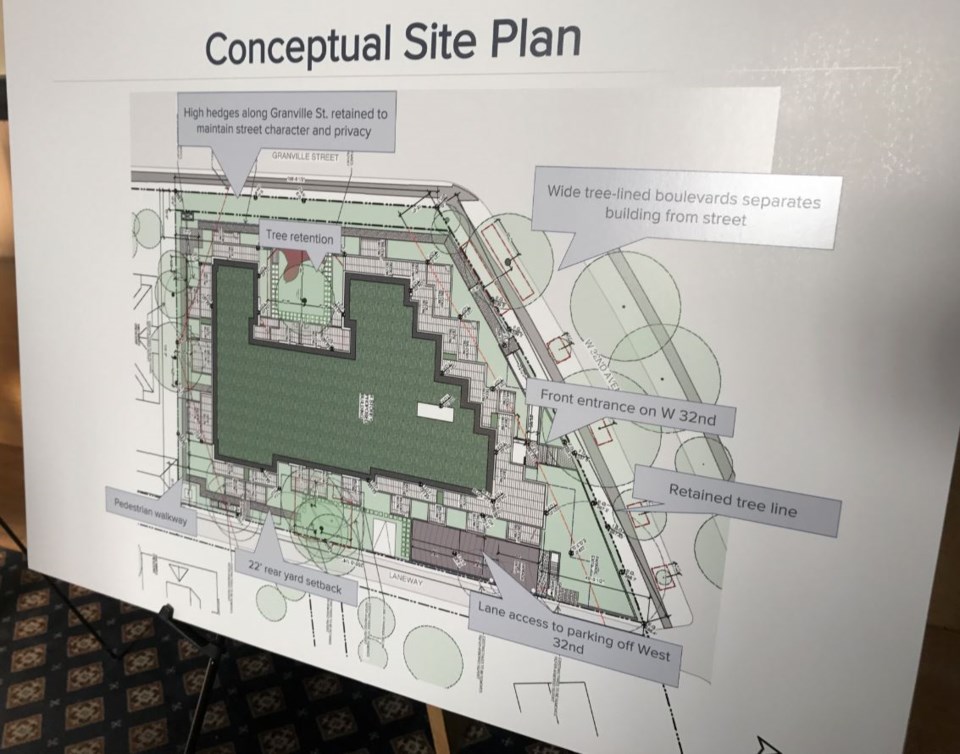 He also said they're trying to retain as many trees as possible, including designing the building around an existing tree.
Jim Hall, chair of the Arbutus Ridge Kerrisdale Shaughnessy (ARKS) Vision Implementation Committee, who attended the open house, said the preliminary proposal appears to conform with ARKS' vision since it's lower than four storeys, it's along an arterial and it will provide rental units.
The Courier also spoke to several longtime Shaughnessy residents who didn't want to share their names but who object to the proposal.
Their criticisms included that it's too dense, it doesn't fit in the neighbourhood, it will create traffic, noise and congestion, it will potentially lower property values, its modern look will clash with other homes in the neighbourhood, it will lead to further redevelopment, and some historic areas of the city such as Shaughnessy should be preserved.
Several members of Abundant Housing Vancouver, a pro-housing group that's in favour of  purpose-built rental projects in light of the city's rental and affordable housing crisis, showed up to support the application as well.
@naoibh