Eleven towers are being proposed for a large development planned on Squamish Nation's site at the foot of Burrard Bridge.
Squamish Nation Coun. Khelsilem spoke to the Courier a few hours after Frances Bula broke news in the Globe and Mail that the Nation's proposal for its 11-acre property now involves producing 6,000 housing units in 11 towers — double the number of units initially proposed for the project last spring.
"We've followed the city's existing guidelines around spacing between the towers, in terms of the number of square feet. Everybody thinks it's a small piece of land, but if you actually go down there and look at it and see what the size of it is, it's a bit bigger than people realize," he said Tuesday.
Khelsilem said the project would also be helping the city with some of its own goals around sustainability, climate change and building rentals.
The unusually shaped property, adjacent to Molson Brewery on Burrard Street, was the ancestral village of the Squamish Nation. Squamish band members were forcibly removed in 1913 and transported to the North Shore and Squamish Valley. Their homes were burned. The Nation reclaimed the land in 2003 after the B.C. Court of Appeal ruled, in 2002, that Canadian Pacific, which had been granted the land for the railway, should return it to the band.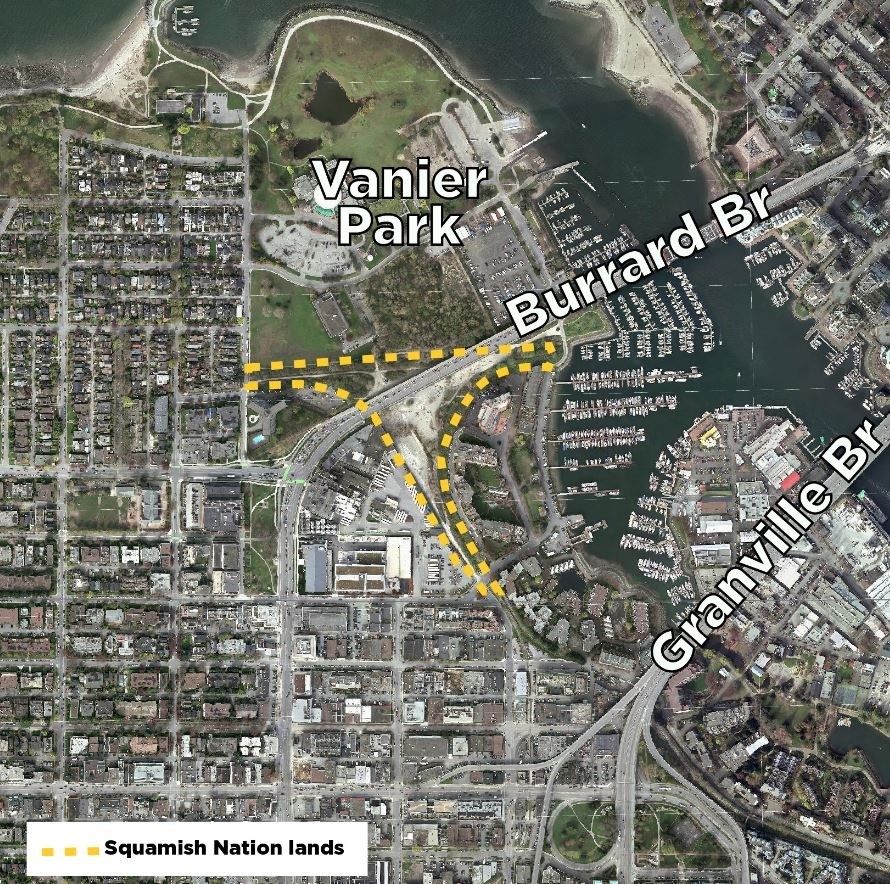 While the prospect of high towers and increased density in neighbourhoods has often generated pushback from Vancouver residents, Khelsilem sees Squamish Nation's project, known as Senakw, as contributing to the overall evolution of the city. He pointed out that 30 years ago False Creek looked completely different than it does now.
"It's an understandable conversation, but it's also part of the evolution of the city that we're in and we welcome it. I think there's an opportunity for that conversation but the main point is, for our members from the Squamish Nation, we've lived here for thousands of years and over the last hundred we saw this massive city get built on our land with very little benefit given back to our community. Now that we're entering into the game on our own lands, I think our members have a reasonable expectation that our community should benefit as well."
The current proposal would see a 50-50 profit-sharing agreement between the Squamish Nation and developer Westbank.
Squamish Nation members vote in a Dec. 10 referendum on two questions related to the proposal — permission for the particular type of land use and a question on the proposed partnership with Westbank. Approval requires 50 per cent plus one in support.
If that happens, they'll be able to move forward on negotiating service agreements, securing financing, developing the design and engaging with other stakeholders on the project.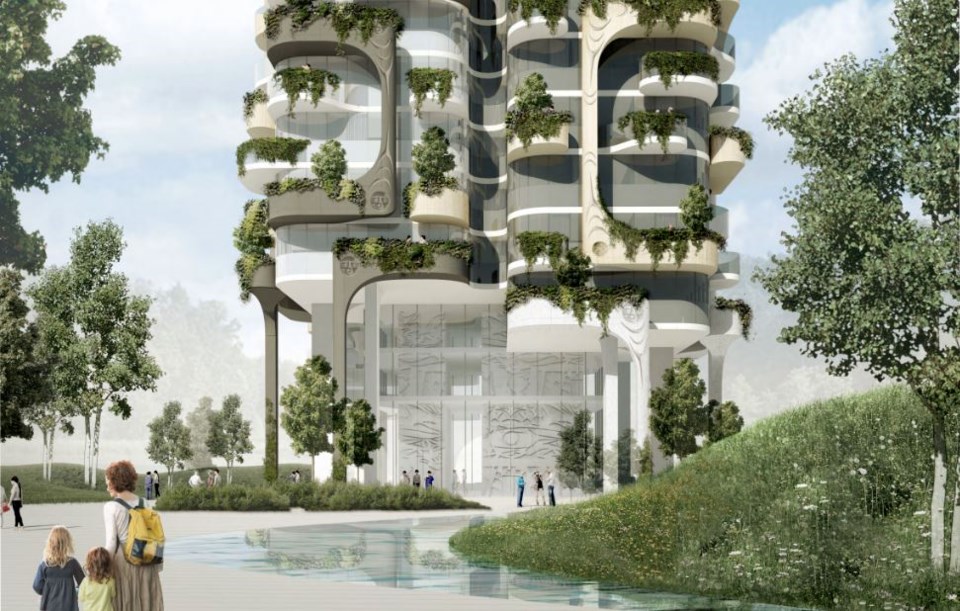 The towers, based on the proposal, would range between 56 and 30 storeys, according to Khelsilem, who said the initial estimate of 3,000 housing units was a rough estimate, but subsequent design work revealed 6,000 units are possible.
"Most of it's going to be rental. We haven't decided on the exact mix of strata — if we are going to include it and how much, that's still to be determined — but we are looking at numbers around 10 to 20 per cent, possibly 30. But right now that's going to depend on market conditions and financing," he said.
Although the development, if it moves forward, is expected to feature market and some below-market rental units, the mix will depend on market conditions, financing and partners that can be brought in.
Khelsilem said there's also an interest in earmarking some units for Squamish Nation tenants.
"There's a strong desire by our Nation to bring some of our families that want to live in that area back home and build a Squamish community there again," he said.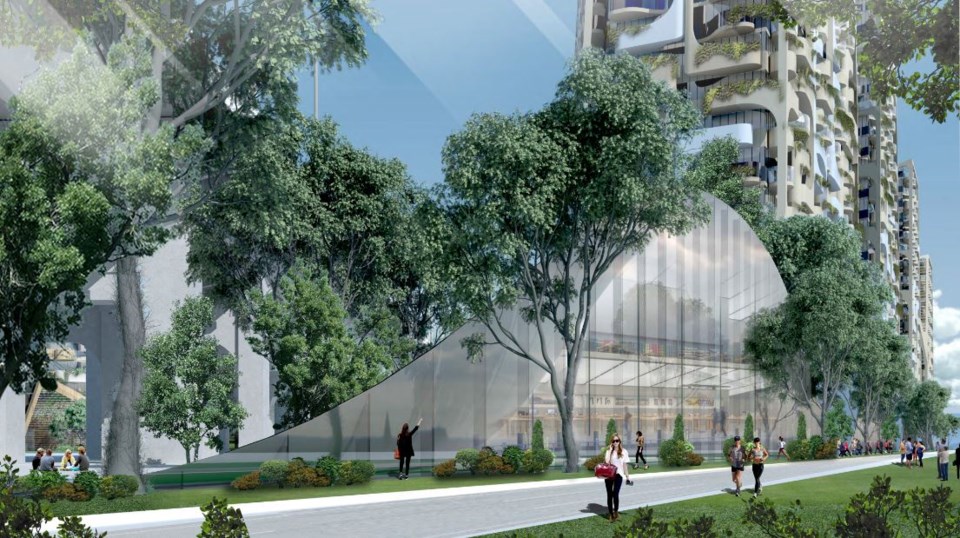 It promises to be a significant development for band members.
"It's in many ways a new era for the Squamish Nation, if we get support from our community to move forward because, in the past, most of our revenue was generated passively through a landlord type of relationship where we were just passively obtaining revenue off of our lands and somebody else develops it," Khelsilem said.
"Now we are, for the first time, having a developer or a private developer recognize the value of our land and the contribution we're bringing to the partnership, as well as the significant power that we have as a regional player. It's going to open up a huge amount of opportunity for us for future investment into our lands and future development, as well as investment into the community socially."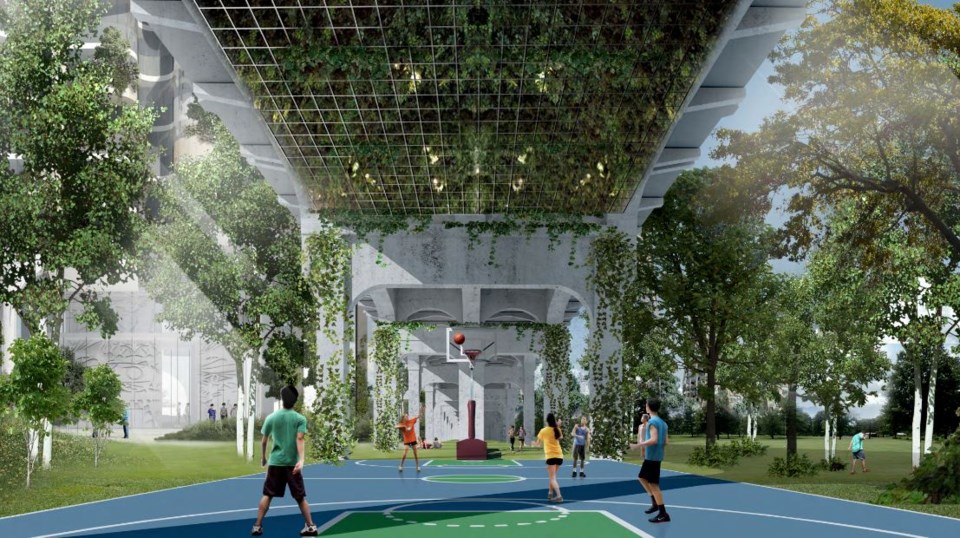 The hope is to start construction on the project in 2021 and finish by 2026 — an aggressive timeline when compared to what's been possible for development projects governed by the City of Vancouver.
"Because the development process is coming from the Squamish Nation, we're able to move a lot quicker [than the city]," Khelsilem said. "The other part of it is that because we're contemplating mostly rental and there's a vacancy crisis going on in the city, we see getting a lot of rental into the market sooner rather than later as a huge benefit… I think [the city's rental construction] goal over the next 10 years is 20,000 units and we're going to be providing almost a quarter of that."
In an email to the Courier, the city noted that Vancouver was designated a City of Reconciliation by city council in July 2014, and it "seeks to form sustained relationships of mutual respect and understanding with local First Nations and the Urban Indigenous community, incorporate a First Nations and Urban Indigenous perspective into our work and decisions, and provide services that benefit members of the First Nations and Urban Indigenous community.
"The Squamish Nation would not be required to apply to the city to redevelop this area. If they do proceed with a project on these lands, we would look forward to continuing our longstanding relationship and work with them to support their integration with the existing community and city service connections," the email stated.