City support for co-op housing, developing "temporary modular colleges" and creating a rent-to-own pilot project were the three most popular ideas pitched at a May 17 city-organized "idea jam" aimed at generating suggestions for how to spend revenue from the Empty Homes Tax.
The City of Vancouver expects to collect $30 million from the tax. Implementation and operating costs are expected to be $10 million, leaving $20 million to be invested in affordable housing initiatives.
In recent weeks, the public was invited to submit ideas through the city's website about how and where to spend that $20 million, while 60 residents and housing advocates were invited to Thursday's "idea jam" to dream up more options, six of which were presented to a three-person panel in a friendly Dragon's Den-style process. The remaining three of the six proposals included creating an innovative infill housing lab, creating a city finance agency to provide loans to non-profits for housing projects and creating more "real" social housing.
The co-op housing proposal, which was most popular, envisions using the $20 million to invest in new housing co-ops on city-owned land and creating new units in existing co-ops.
The idea behind "temporary modular colleges" is to create a pilot project to end the cycle of homelessness. Using the temporary modular housing model, residential educational communities would be created at eight sites scattered throughout the city. Each would house under 40 people and feature peer-to-peer mentoring so residents could learn life skills such as fixing bikes, small appliances or computers from each other. Lengths of stays would be time limited — residents would graduate and go — hence the term "college" in the name. One of the proponents noted the importance of having a goal because people who are chronically homeless "lose the future" because they're too busy surviving.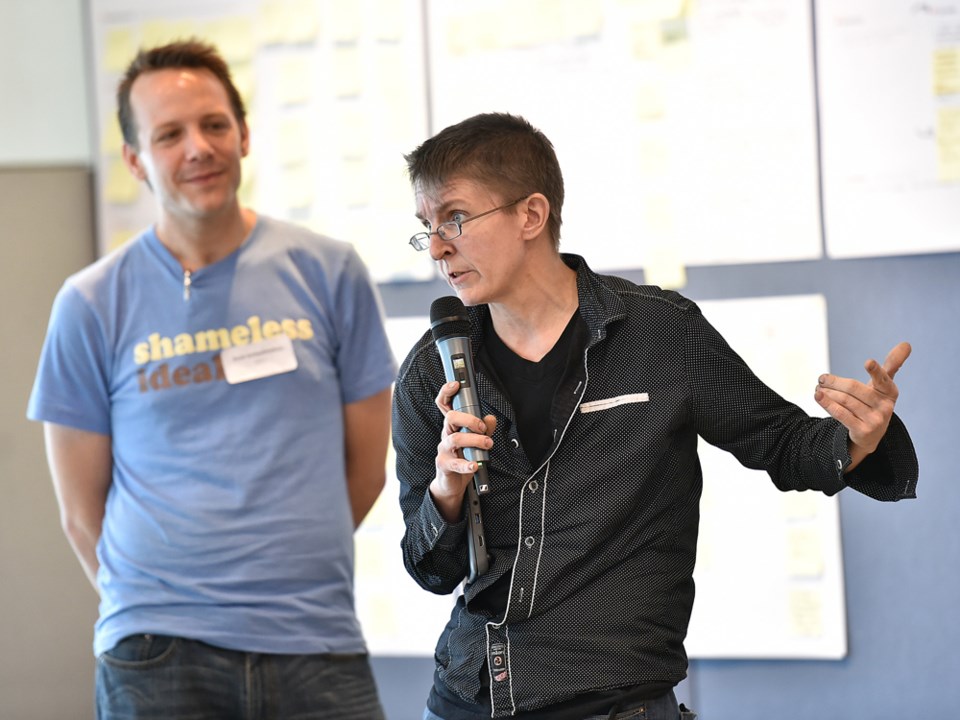 The rent-to-own proposal, meanwhile, imagines a scenario where a tenant rents the unit but doesn't own the debt; rent contributes to equity towards the purchase price.
The panel evaluating the suggestions included Jill Atkey, acting CEO of the BC Non-Profit Housing Association, Abi Bond, the city's director of housing policy and projects, and UBC professor Paul Kershaw who founded Generation Squeeze.
Kershaw wouldn't say which idea he favoured, but said it's important the money from the Empty Homes Tax is not just used to build new affordable homes projects, but spent on a movement to get bigger policy change and bigger investments from provincial and federal levels of government.
"Because that's how we can scale up. The city does not, in and of itself, have the revenue capacity to solve the affordability challenges," he told the Courier. "We need broader policy change. Using some of the dollars from the empty homes tax to actually invest in the movement-making and the building of the political will to create cover for politicians to make courageous decisions would be one of the most important parts of what we do with this money."
Atkey was inspired by the variety of ideas presented, while acknowledging the affordability problem won't be solved by a $20-million investment.
"That's certainly not the intent here but there might be something innovative here that can scale up to make a meaningful long-term impact and that's probably where the money should be invested," she said.
Atkey said although there is a level of frustration about the lack of affordable housing in Vancouver, all levels of government are now making significant and historic investments into it.
"It's a conversation we're having every day in the media and around kitchen tables but people aren't feeling the impact of those investments yet. I'm feeling optimistic that in the next two to four years we'll start to feel the impact and renters will start to feel a sense of relief," she said.
"That being said, we need to figure out, in a city like Vancouver, the extent to which we're going to solve the problems within the market. We need to be looking for solutions that take speculation out of the market and create affordability in perpetuity. Some of those solutions will be found within the community housing sector because what's built at affordable levels today in community housing remains affordable tomorrow and the day after that."
A summary of all the ideas for how to spend the Empty Homes Tax will be reviewed for feasibility by city staff before a first set of recommendations are presented to council in June.
@naoibh