Imagine an apartment hunt that starts on Craigslist, directs you to a phone number in the U.K., gives you a primer on chemical engineering and ends up on the TripAdvisor website.
The whole thing was fantastically farcical, if not depressing, and serves as a cautionary tale for would-be renters swimming in a seemingly shark-infested pool, all looking for the same elusive meal.
In this case, the meal is an impossibly sweet deal on a brand new apartment in Olympic Village.
The shark-infested pool represents scammers and swindlers looking to capitalize on Vancouver's white-hot rental market that hasn't gone above a one per cent vacancy rate since last year.
But first, the backstory.
'Always on the lookout'
I live near Granville and Broadway in a decent one-bedroom apartment that's changed ownership and building managers every year since 2014.

It's to the point that I don't even know who owns my building, which is your standard four-storey walk-up built in 1965.

To put the yearly flipping ritual in perspective, the property I live at was assessed at $12.1 million in 2017. In 2016, that number was $9.2 million.

The building is being renovated en masse and renovictions have already happened to at least six tenants.

My rent is north of $1,400 for about 650 square feet in a sweet area of town that's centrally located and close to my work.

It's not affordable, nor sustainable, but it serves what I need for now.

I know my number will get called soon in the ongoing renoviction process, so I'm always on the lookout for a new place to live.
'Probably too good to be true'

Which brings us to early October, when my cousin sent me a Craigslist ad.

His email said "probably too good to be true, but worth a try."

And so I tried, sent an email asking for specifics and the following came back:

"The rent for the whole apartment is $1,175/month utilities included (heat, hydro, water, electricity, maintenance fees, two parking spots, laundry in-suite, washer and dryer also included, cable and internet). In case repairs are need in the apartment, the building management will help you and I will cover the costs. Pets are allowed."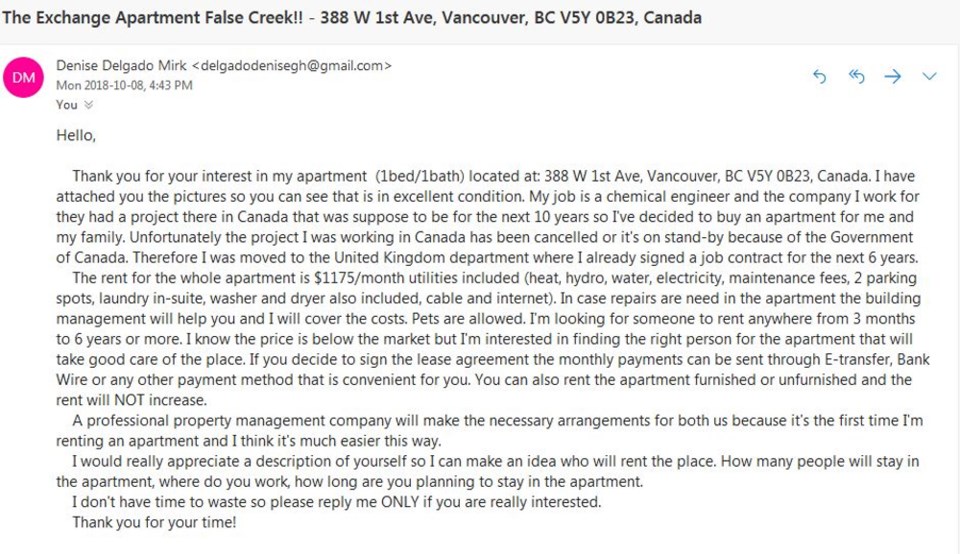 Holy jumping Jehoshaphat! This, for a brand new suite, in a brand new building in Olympic Village that's walking distance to work.

As it turned out, the suite was supposedly purchased by a young couple who was promised 10 years' worth of work in Canada, but that contract went south and they had to head east — back home to England of all places to work in chemical engineering.

Things smelled fishy right away. I typed the couples' names into Google, Facebook, Instagram, LinkedIn and nothing came up.

I slept on the initial response and got back to them two days later with a bit of info about myself: where I work, how long I've worked as a journalist and if I needed furnishings. No banking or financial information was exchanged. All they knew about me personally was that I moved to Vancouver in 2003 and my place of employment.

By this time (three days later), the ad had been flagged and removed from Craigslist. I asked why and it was at this point that things completely went off the rails. They didn't need to meet me in person, the place was mine sight unseen and the damage deposit was only $125. I couldn't see the place in advance, but I'd get the keys once I'd paid my first months' rent.

Uh huh.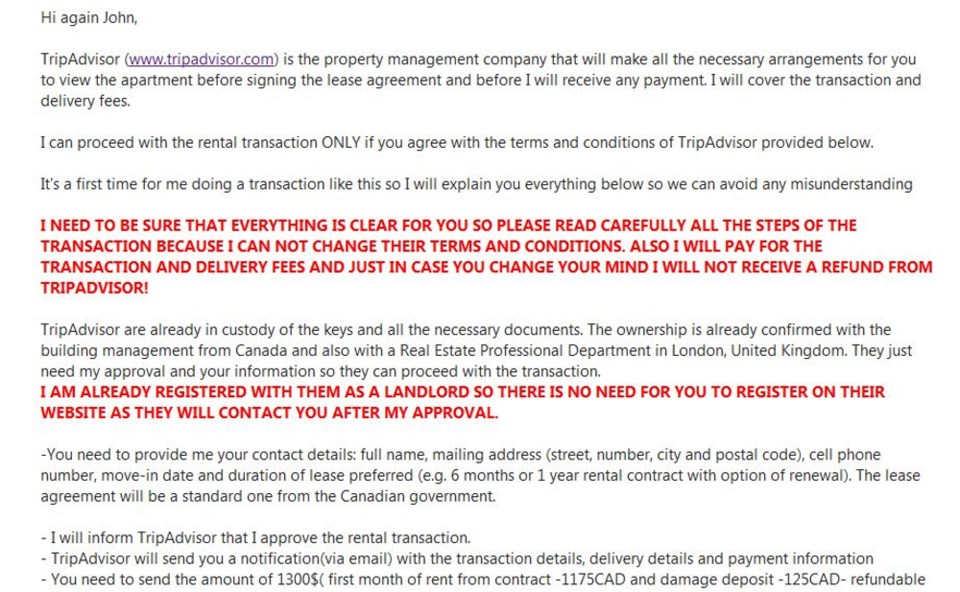 Not only that, all transactions would be handled through the vacation website TripAdvisor.com. All I needed to do was provide all of my personal information, banking information and the first month's rent.

Smelling the bullshit piling up, I decided to play along and asked the following questions: why would you give me your place without meeting me, why is a travel site in charge of transactions and why is the damage deposit far less than half of the rent?

"TripAdvisor has great services and they are really professional. I can access the funds just after TripAdvisor have [sic] your final answer about the transaction. If u refuse to keep the apt you will receive a full refund from them..."

My final bit of correspondence happened on Oct. 15, when I asked for assurances that the whole thing wasn't a scam.

I received no response.
'Eight different red flags'
Reading through the emails after the fact, it's evident that the tone changes, as does the "landlord's" grasp of the English language.

So, I turned all of the correspondence over to the Vancouver Police Department, the Better Business Bureau (BBB) and to TripAdvisor as well.

"We tell people all the time if it's too good to be true, it's too good to be true," is what VPD Const. Jason Doucette told me.

Ditto for Jeanette Jackson with the BBB, who noticed eight different red flags within 10 minutes of looking over the correspondence.

"Why are they telling you about their career in a rental ad? Their style of writing in the two emails is completely different," Jackson said. "The question about 'Let me know if you have the funds available' would never be asked by a potential landlord."

Before someone from TripAdvisor got back to me for this story, a quick Google search yielded answers on the company's FAQ webpage. The same scenarios and queries have been posed since 2015, and the same answer is offered each time: this is a scam.

TripAdvisor spokesperson Molly Burke emphasized the fact that the company never sells or advertises rental homes on classified sites.

"If you come into contact with a homeowner claiming to be affiliated with TripAdvisor and the conversation was initiated on a site other than TripAdvisor (or one of our subsidiary sites: HouseTrip, Niumba, FlipKey, Holiday Lettings or Vacation Home Rentals), cease communication," Burke said.

Jackson said the BBB is alerted to these types of scam all the time, though they peak when student housing fluctuates in the spring and fall.

Had I, or someone else, been duped here and took the matter to police, the VPD would have likely pursued fraud charges, among others.

"We encourage anyone who feels they've been a victim of a crime or has information about a crime to make a report with their local police," Doucette concluded. "With something as simple as this, this is too good to be true. It's like those CRA scams — you just know, don't do it. The number one thing is, don't send any money."

Be forewarned, fellow renters.
@JohnKurucz