"Tenant power" signs renters carried at city hall proved accurate Dec. 4 as their lobbying efforts helped convince council to unanimously adopt key parts of COPE Coun. Jean Swanson's motion aimed at stopping "renovictions and aggressive buyouts."
Tuesday evening's partial victory means landlords will have to offer displaced tenants the option of temporarily moving out during renovations without having their leases end or their rent increase.
The City will also start to track all apartment buildings sold in Vancouver and provide affected tenants with information about their rights. Additionally, the city will explore measures, including changes to the Vancouver Charter, if necessary, to regulate and publicly register all tenant buyouts.
Two parts of Swanson's motion, however, were referred to staff to report back on within the first quarter of 2019 to determine their impact on renters and rental supply. One of those parts calls on the city to amend its Tenant Relocation and Protection Policy (TRPP) to apply to all forms of rentals – which would include basement suites –  all areas of Vancouver, and to all permits that will result in the temporary displacement of tenants. The other part referred for further study would see the City call on the province to work with the City to implement vacancy controls or to give the City the power to regulate maximum rent increases during and between tenancies.
Councillors, meanwhile, approved an amendment to Swanson's motion, submitted by Green Party Coun. Pete Fry, that will have staff report back in early 2019 on:
language and a timeline for the City to call upon the province for an amendment to the Vancouver Charter permitting the City to pass regulations and perform actions that affect tenancy issues, as long as those regulations and actions don't conflict with provincial regulations
an assessment of staff time and resources and the impact of implementing these measures; and
other measures the city can take to protect tenants from renovictions, demovictions and aggressive buyouts.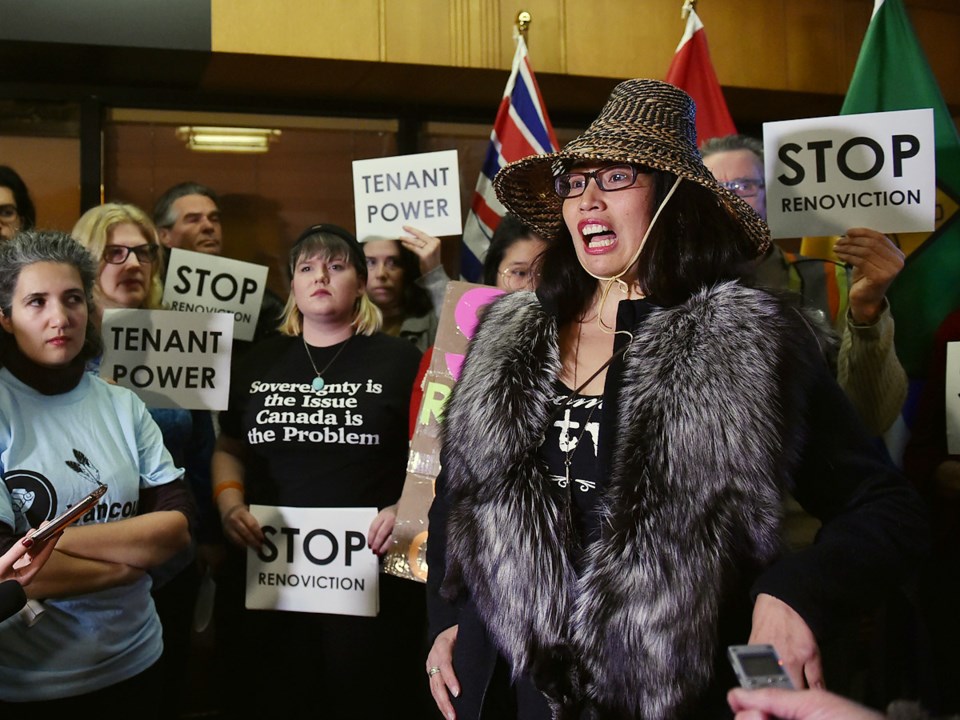 Council's decision comes almost a week after 56 renters shared, over two days, the difficulties and stress they face in finding and maintaining affordable homes in a city with a vacancy rate of less than one per cent. Many said they were being unfairly forced out of their homes when landlords said they had to renovate.
"I wish the motion would have been a bit stronger in protecting tenants but at least there's something there and the tenants were magnificent and everybody is a lot more educated now so that's good," Swanson told the Courier.
Fry said he's happy about the direction things are moving with the new council and that it's priorizing renters over the industry.
"A unanimous vote in support of enhanced tenants' rights is pretty amazing considering the make up of our council. It was really tough with the last set of amendments because I know we're all eager to see immediate and effective change on, especially, vacancy control but I think the concerns about secondary suites and what the impacts might be were pretty significant and legitimate. We've heard from staff they're not sure about the legal standings and we've also heard there's a lot of illegal secondary suites out there and I'm not prepared to be the one that necessarily throws them out to risk, especially with our vacancy rate the way it is now. It was a tough decision to make but it felt like the right decision to make."
Longtime activist Wendy Pedersen, a member of the Vancouver Tenants Union, said renters should be thrilled with the result so far of their lobbying efforts.
"This is not business as usual in Vancouver with this council. You've got a unanimous vote, including the NPA, saying that tenants have rights and tenants can't be evicted for renovations. This is historic," she told the Courier.
"This gives us a signal that our work has been worth it, that organizing – not just representing tenants, but actually organizing with thousands of tenants – is the way to go for tenant power and that we can get [results] if we organize."
Pederson said the increasingly influential VTU, which officially launched in 2017, now has more than 1,400 dues-paying members, and its numbers are growing.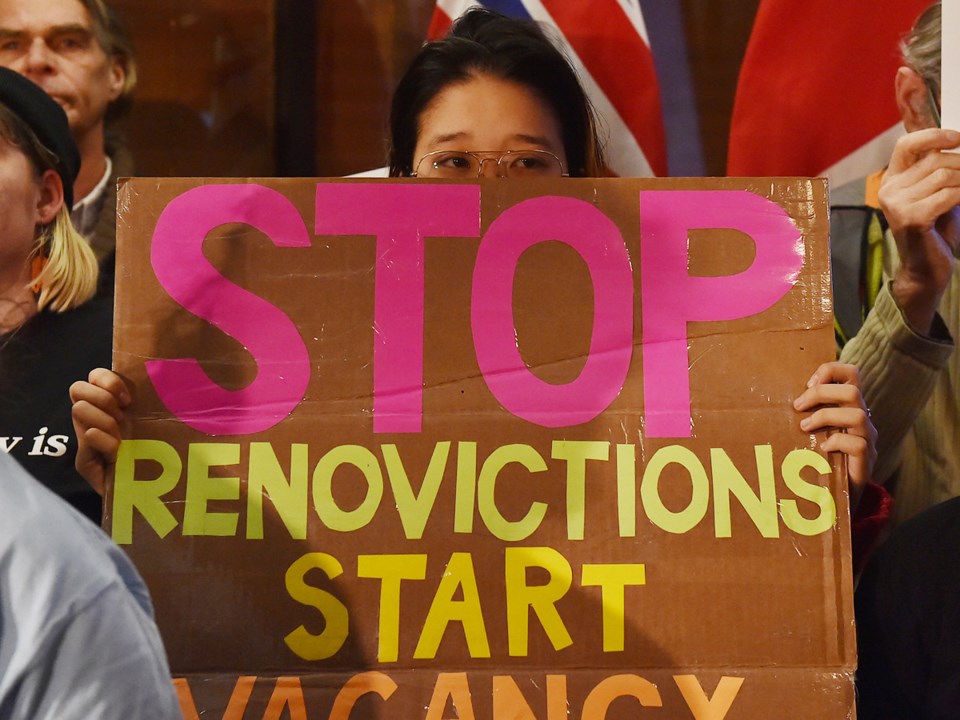 Sara Sagaii, a member of the group's steering committee, called it "pretty incredible" to get a unanimous vote on substantial parts of Swanson's motion.
"I did not expect a unanimous vote at all. I'm really excited that this council has decided to set the tone in this particular way and send the signal to renters that they will be heard… This council showed openness – we even had the NPA voting in favour, which is pretty incredible. I'm glad that there's this spirit of collaboration in the council and that we can bring forward what people need and hear back a positive response."
Sagaii said the VTU is particularly pleased with the addition of language in the TRPP that says tenants can stay during renovations and she's also happy the city is going to monitor and track tenant buyouts.
Sagaii called the developments a "victory for renters," while adding that the VTU will continue to organize and fight for the portions of the motion that were deferred to next year.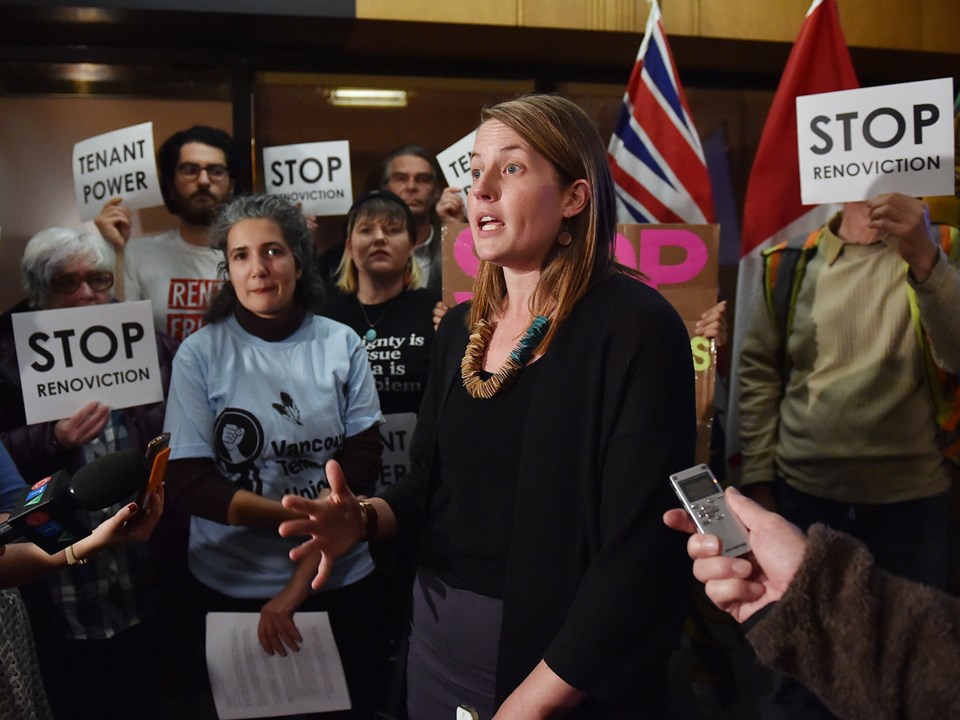 VTU member Joey Doyle said that while Tuesday's decision wasn't a total victory, it was a victory.
"I feel good," he said. "I'm happy that we passed most of the motion, including some things that will have meaningful effects on renters in the present… I'm unhappy about the referral to staff. It doesn't reflect the bold thinking that the [housing] crisis needs and really shows that most of council fails to recognize it as a crisis. There was a little bit of an outburst from the audience because people will lose their homes in the time that it takes for this staff report to return. That's a big concern."
However, Doyle said renters will use the "energizing" victory to continue to exert pressure on council.
"As long as we have someone on council to continue to fight for us and give us a voice like Jean, then I think that's a blessing," he said.
Lorna Allen also praised the decision, but she was already in a celebratory mood. In September 2017, new owners bought the Burnaby Street building where she lives. Tenants received an eviction notice for renovations in June of 2018.
They disputed it through the Rental Tenancy Branch (RTB), which ruled in their favour in September 2018, but several weeks later, they received another eviction notice for the same reasons. Although the issue was due to go to the RTB again on Dec. 17, the landlord rescinded the eviction notice Dec. 3.
Allen was relieved to get that news, but equally thrilled to hear council's vote.
"I'm delighted. I'm really happy. I don't know when it kicks into effect, whether it's immediate or not, but I think it will allow a lot of people to sleep well in bed tonight. The stress that we've been under for over a year now has been crazy, so I think [this decisions is] really good news for a lot of tenants in this city," she said.
Note: This story has been corrected since first posted.