Blue flagging tape and blue signs. These are the ingredients of a West Kitsilano Residents Association campaign pushing back against upcoming regulation changes city staff have drawn up to help implement rental development policies council adopted last November.
City staff are holding information sessions next week outlining the policies and to seek feedback on the regulation changes required to enable them.
Among them are zoning changes to permit buildings up to six-storeys in some commercial mixed-use zones (C-2 zoning), which would mean proposals for rental buildings of that height in those areas wouldn't need to go through a rezoning process, speeding up development times. The changes would only apply to commercial areas that haven't already been touched by community plans or where plans are underway. The idea is to make it as easy to build a rental building as it is to construct a strata building.
Members of West Kitsilano Residents Association (WKRA), meanwhile, are worried about regulation changes aimed at encouraging four-to-five storey rental developments in low-density areas currently zoned for single-family and duplex homes (RS or RT zoning). The changes would affect properties that are on or within 150 metres of arterial roads, and within walking distance (400 metres) of transit, shopping, parks and schools. They're also limited to parts of the city that don't have community plans or where plans are underway. Up to six storeys could be considered for properties with frontage on arterials such as Fraser Street, as long as they include 20 per cent of the floor area for households earning under $80,000 a year. As with the previous policy, all projects proposed for low-density transition areas would still need to go through individual rezoning processes.
Members of West Kitsilano Residents Association are marking streets that would be affected in their neighbourhood with signs urging residents to share concerns with city hall.
Jan Pierce, a member of WKRA, says the plans affect a large number of homes in the West Kitsilano neighbourhood's RT-7 and RT-8 character-area zones, many of which house affordable rental suites.
The association estimates about 40 per cent of the West Kits neighbourhood would be impacted since several arterial roads pass through the area such as West Third, Fourth, Fifth and Eighth avenues, as well as Macdonald Street.
"When that [rental] report came down [in November], it wasn't an actual rezoning at that moment. It's a policy. So there's been no neighbourhood consultation and there was no notification of residents," Pierce said. "That's when we decided that it really was a priority to inform the people living in the area just what was being proposed."
(The review of the city's rental incentives programs did include public consultation.)
The association has launched what it calls a "Blue Zone" campaign to air its concerns. Members have posted dozens of signs around the neighbourhood, although some have been torn down and had to be replaced.
"We believe there are going to be some really harmful and unintended consequences," Pierce said, citing the potential loss of character homes, greenspace, mature trees and affordable rental suites.
"Our housing survey shows that there's about between 800 to 1,300 rental units in the affected streets. Those rental houses are going to be the most vulnerable to land assembly and redevelopment," she said.
"The units that are going to go in, they might be market rental — they're going to be more expensive, smaller and not of the same type. They won't be as grounded-oriented, and as family-oriented. There are many renters out there, and I've spoken to some of them, [who are] really, really worried that they're going to lose their homes and be evicted."
Not surprisingly, Abundant Housing Vancouver [AHV], takes the opposite view about the potential for more rental apartment buildings in the city.
While the pro-housing group isn't plastering the city with posters, it is running an online campaign urging its supporters to show up at the city's upcoming information sessions and tell the city it's not going far enough with changes. The group insists six-storey apartments should be allowed "anywhere within 400 metres of schools, parks, commercial and transit nodes — not just near the busiest most-polluted streets." The group also argues less parking should be required.
Owen Brady, a member AHV, calls rental policies for RS and RT zones "a small step in the right direction" but they're "far too modest."
"Given that a rezoning will still be required, only four storeys allowed and only very close to major roads, it's unlikely that many rental homes will actually get built. This will not do enough to relieve the pressure on existing apartments as most land in the city will still be reserved exclusively for millionaires. Single-family zoning is intended to be exclusionary; forcing people to live near busy, polluted roads is not compatible with our values as a city," he told the Courier in an email.
"Those who are fear-mongering about transition zones are the same groups that said allowing duplexes would be a 'chainsaw massacre.' Well, it's been a year and duplexes are still just a small share of permits. The problem renters face is real though: the City is 48 per cent behind on their rental housing target and these policy changes are small, especially compared to the scale of the housing shortage."
Meanwhile, City of Vancouver staff note that the changes for low-density transition areas, which are illustrated on a city map, aren't that different from what's in the Affordable Housing Choices Interim Rezoning Policy enacted in 2012. It allowed for consideration of rental projects within roughly a block and a half or 100 metres of an arterial road. Analysis revealed, however, that 100 metres didn't generally align with a block and a half, which meant potentially allowing consideration for a rezoning on half of a block and not the other half.
"The reason the new map looks blockier and chunkier is [because] what we've said is either the entire block qualifies because it falls within 150 metres or none of it qualifies because the entire block does not fall within that distance," explained planner Graham Anderson. "So the old map looks very clean and linear because it just applied a very standard buffer alongside each of the arterials. The new one looks chunkier because the block is either in or out, so it makes the map look a little different."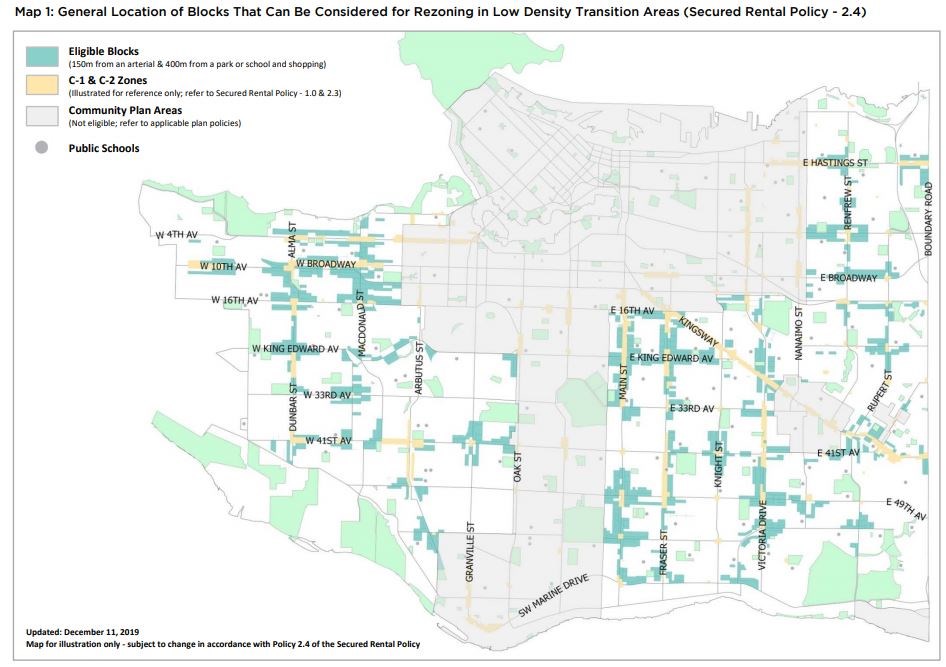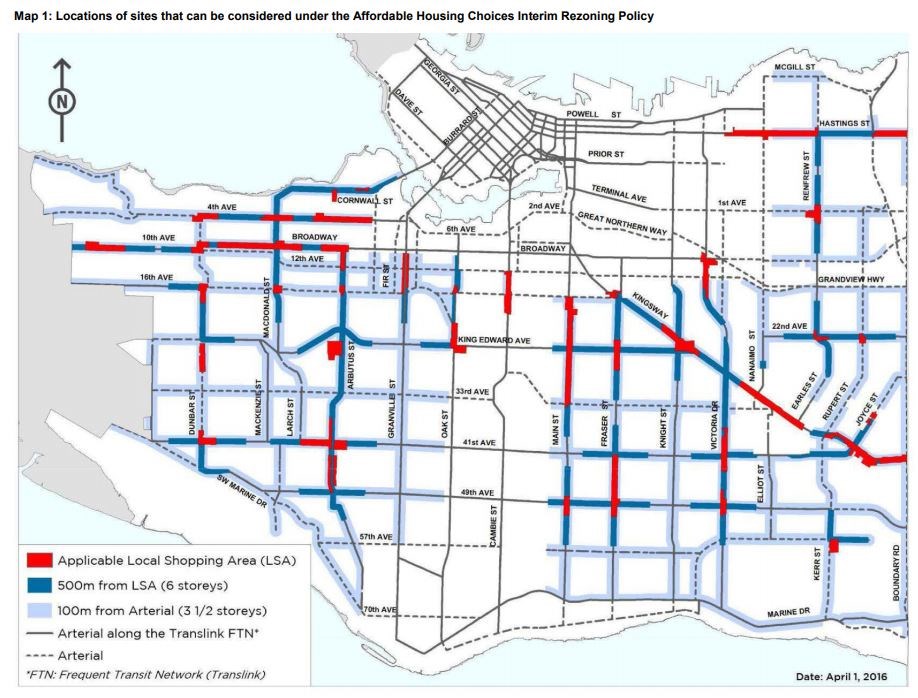 Senior planner Paula Huber said the plans relate to the city's "big moves" on climate change, one of which is to create a more walkable city by putting more people where they can get from their homes to jobs, schools and parks more easily by walking or transit, and rely less on private vehicles.
She acknowledged West Kitsilano features some RT-7 and RT-8 zones, and some sites in those areas would be eligible for apartments under changed regulations, but there's also a concentration of pre-1940s homes in Kensington-Cedar Cottage.
"What we're doing is we're having another look at those two areas to see exactly how many of those RT sites are captured and whether that opportunity is worthwhile including or whether they should be excluded," Huber said.
"We're still doing that work now — having a look at it for both of those areas because they're both inner-city neighbourhoods with a higher than normal concentration of pre-1940 homes."
Anderson added that the map is intended to serve as a general illustration of the types of locations across the city where the policy would enable consideration of rezoning.
"It isn't meant to be a specific identifier that would absolutely determine eligibility or not. There's a range of considerations that, of course, would have to be looked at for any site proposed for rezoning under the policy. The map is really just a communication tool to help everyone understand where, generally, it applies city-wide," he said.
City of Vancouver information sessions are scheduled for several communities across the city between March 3 and March 17. Find dates and times HERE.
Public hearings are required for the regulations changes for the low-density transition areas, and for the zoning changes for the C-2 (commercial) zones. They are expected to take place later this spring.