With the new cannabis laws coming into force, would growing pot at home reduce your property's value? What about smoking weed at home? Do you think a new cannabis store in the neighbourhood would help or hinder a home sale?
A majority of Canadian homeowners (64 per cent) believe that a home where the owners smoked pot would see a decreased value, according to a survey released October 16 by real estate website Zoocasa.
And 57 per cent of homeowner respondents said they think that even growing a legal amount of cannabis at home would reduce their desire to buy that property.
Sentiments were a little different among respondents who identified as renters, of whom less than half (46 per cent) thought that smoking pot would damage a home's value.

The age of respondents also made a difference. Millennials were found to be the least likely to consider home-grown pot a problem, with 38 per cent saying that a legal amount of cannabis grown in a home would reduce their desire to buy that property, compared with 58 per cent of Gen Xers and 59 per cent of Boomers.
Nearby dispensaries
With pot shops becoming legal and licensed, would such a store opening up nearby be a problem for home values? Some 42 per cent of both homeowner and renter respondents said yes, while 34 per cent disagreed, and 23 per cent were neutral.
This compares with just 11 per cent of all respondents saying they think a new liquor store would reduce the value of nearby homes.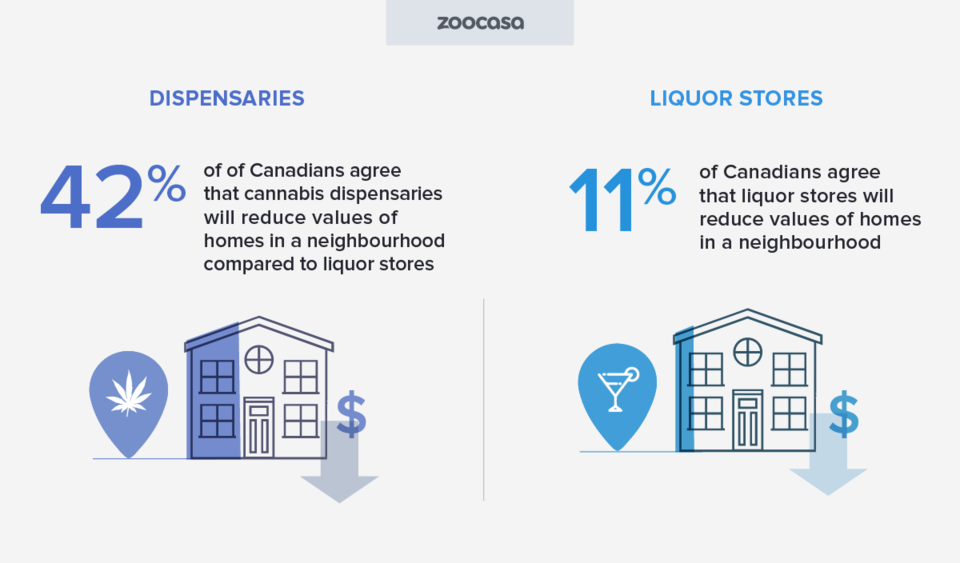 Condos and rental apartments
In terms of condo owners and strata corporations' rights, 61 per cent of all respondents disagreed that residents should be able to smoke cannabis within their units. An even higher proportion, 64 per cent, said that strata council boards and property managers should be able to ban the drug's use in residents' units.
Tenants and landlords responding to the survey seemed largely – but not entirely – on the same page. Just over one third of renter respondents agreed that tenants should be able to smoke cannabis inside their homes, while 46 per cent did not agree, and one in five was neutral.
On the other side of the equation, 88 per cent of respondents who identified as landlords said they want or plan to ban smoking within their rental properties.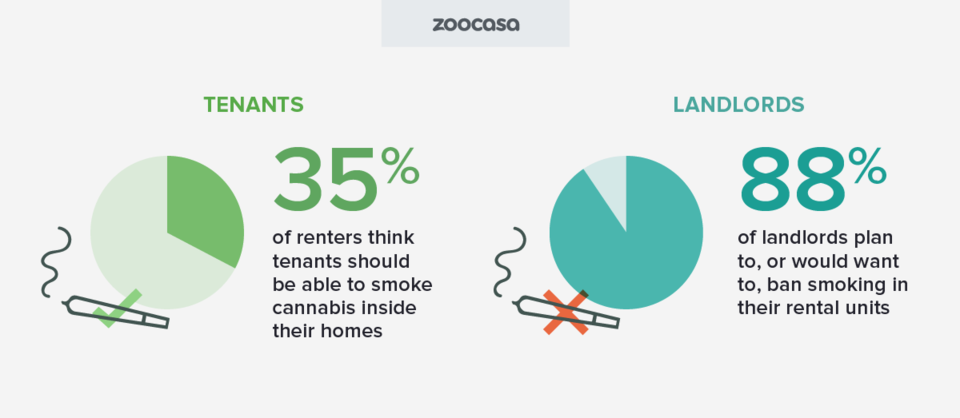 Zoocasa's report authors wrote, "Despite the drug's newly-minted legal status, questions linger over how personal use and cultivation may impact the value, desirability, and even the insurable status of homes for sale. With such areas remaining, well, hazy, it's no surprise that stigma pervades among current and prospective homeowners, as well as those renting out their property."
More results from the survey of 1,380 Canadians can be found here.