Nearly two years younger than the next youngest teammate, fullback Julia Grosso entered last week's closed-door matches against Mexico already steeped in the rituals and responsibilities of representing Canada.
At 15 going on 16, the Van Tech secondary student could say she's been there-done that, but playing for her country never gets old.
"It feels really good being (here)," she said in a phone interview from Mexico City. "The girls, one of them is only one year older and I know some of them. It's always an honour to play for Canada."
As a recent addition to the women's under-20 team, which took on Mexico May 18 and 23 as part of a 10-day camp to prepare for the FIFA U20 World Cup in Papua New Guinea in November, Grosso is eager to soak it all in.
At only 13, the teen debuted in red-and-white with the national U15 squad two years ago and recalls a magical CONCACAF championship in the Cayman Islands that ended in gold for Canada.
"That first game was so exciting, your adrenalin is flowing so much," she said.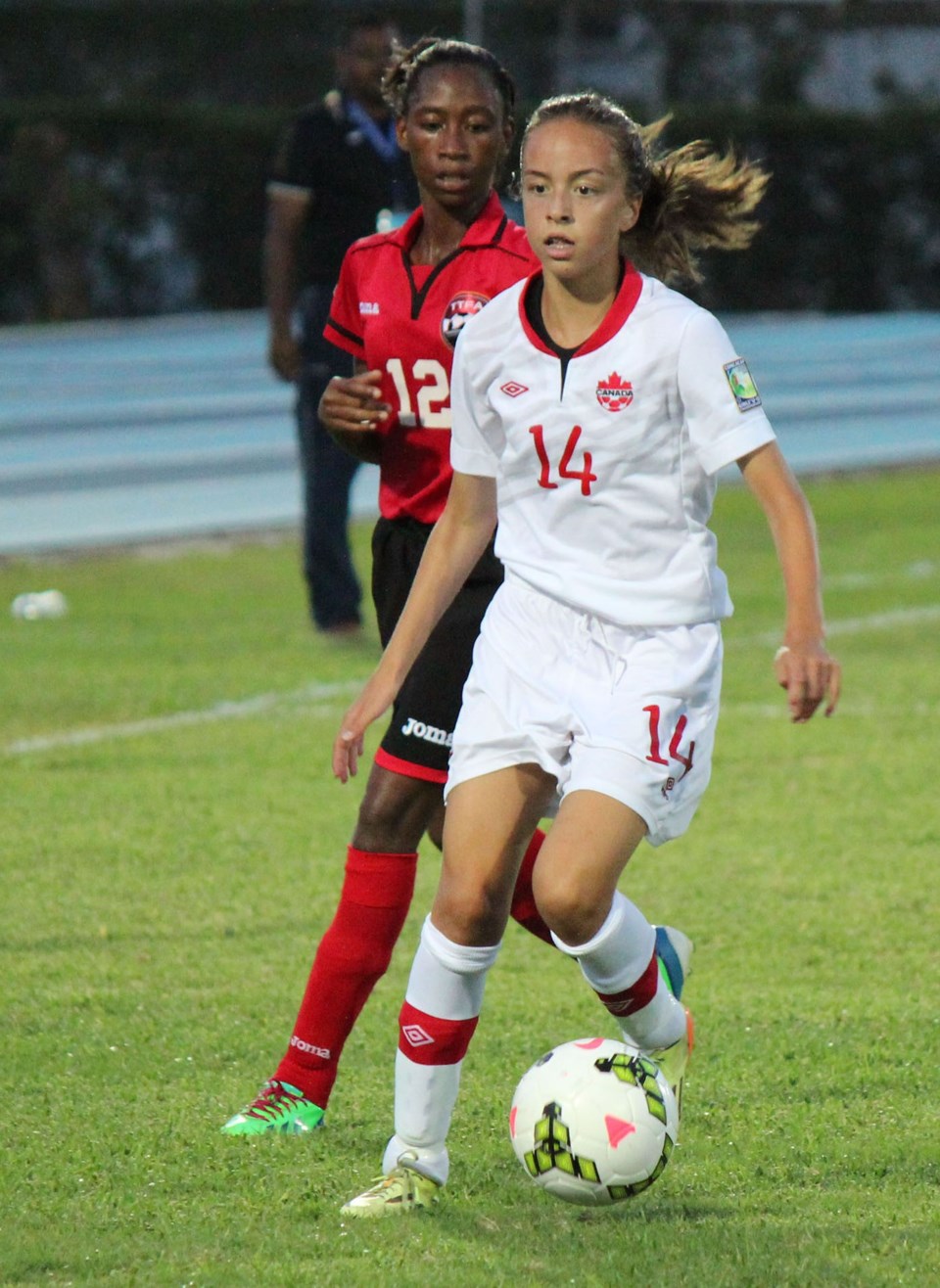 Earlier this year, she started three of four games for Canada on the backline at the U17 CONCACAF qualifying tournament in Grenada, which saw the team finish third overall to secure a spot at the World Cup in Jordan, which kicks off late September.
A product of Burnaby Girls and Mountain United clubs, Grosso credits the many soccer coaches she's had growing up and says joining the Whitecaps FC Elite program has been a huge boon for setting the bar higher.
"They've really helped develop players, we work in gym sessions and soccer sessions. It's helped me grow as a play, definitely," she Grosso, who is in Grade 10 and added that balancing school and soccer is always a challenge. "I've missed a lot of school due to soccer but the teachers are helpful, they tell me what I need to prepare for and expect me to catch up when I get back."
The game has always held a firm grip on her interests since she started playing at the age of four.
"I always knew I had a passion for (soccer)… Every step up there's new information and as you go up the national program there's new things to learn."
Her favourite player? Cristiano Ronaldo because of his creativity and skill. She's also a big Christine Sinclair fan.
"I've always been a huge Ronaldo fan. My dad knows his grandfather, so whenever [his grandfather] visits Ronaldo, he brings back something new autographed."
A member of the national EXCEL program, Grosso's inclusion with the U20 team is part of an overall long-range plan, said head coach Daniel Worthington.
"We have opened the door for younger players," he said. "This isn't the final roster that will be selected for Papua New Guinea 2016, but it will be used as an opportunity to continue the individual development of our NEX players as well as assess some new faces."
NEX is a national system to develop players over four-to-six year spans, with major tournaments as goalposts. It may not be the official motto, but it has been written: "More Sinclairs More Often."
The challenge ahead isn't just about playing well, but also about elevating her game to the benefit of the team. Nothing is taken for granted, said Grosso. Surrey's Simmrin Dhaliwal, 19, is the other B.C. player on the 21-player roster.
"At the national level the soccer you play the ball moves really fast," said Grosso. "You battle all the time. You can't ever give up because you don't really have a set situation and you have to come prepared. When you have bad days you just have to keep going, keep working."
So far those bad days are few and far between because every day she's playing soccer is a good day.