Playing a high-speed game of hide-and-seek tag during recess at General Wolfe elementary, the two fastest kids in the school yard grew up to be city champion sprinters.
Conny Bregman and Matthew Chan were almost untouchable, swiftly racing each other down in a children's version of Manhunt more than half a decade ago.
"She'd come really close to catching me," said Chan, 18.
"He'd always be the last one left," said Bregman, who'd catch him "every now and again."
Bregman and Chan won gold, she for the Hamber Griffins in the girls 100m final and he for Lord Byng in the boys 100m final at the city track and field championships, hosted at UBC on May 11 by the Vancouver Secondary School Athletic Association for public schools. The both will compete at the B.C. track and field championships June 4 to 6 at McLeod Park in Langley.
Winning the event in 12.72 seconds, Bregman shaved off time to reach a new personal best and dropped more than half a second from the 13.21 result that clinched her the gold medal last year as a Grade 11 student. At the 2014 provincial championships, Bregman finished sixth in B.C.
At the B.C. high school championship next month in Langley, she feels pressure to make the top eight and even wear the Griffins maroon and teal blue on the podium, but will be pleased with running faster than she's run before.
"As long as I'm improving, I'm happy," said the athlete who will study at Langara in the fall.
Bregman also won the 200m sprint and long jump at the city championship, beating the silver-medallist by 59 seconds to win with a time of 25.85 and out-jumping the closest competitor by 24 centimetres to win with a distance of 5.13 metres.
She ran second in the 4x100 relay to help propel Hamber to a fifth-place finish at the city meet and tied Vancouver Technical's Hannah Johnston for the best-overall aggregate with 30 points each.
Chan — racing for Lord Byng where he is enrolled in a specialty music program and plays the trumpet — ran the 100m in 11.23 seconds, beating the second-place finisher by a quarter of a second, more than the .22 seconds he outpaced his closest competitor in the 200m.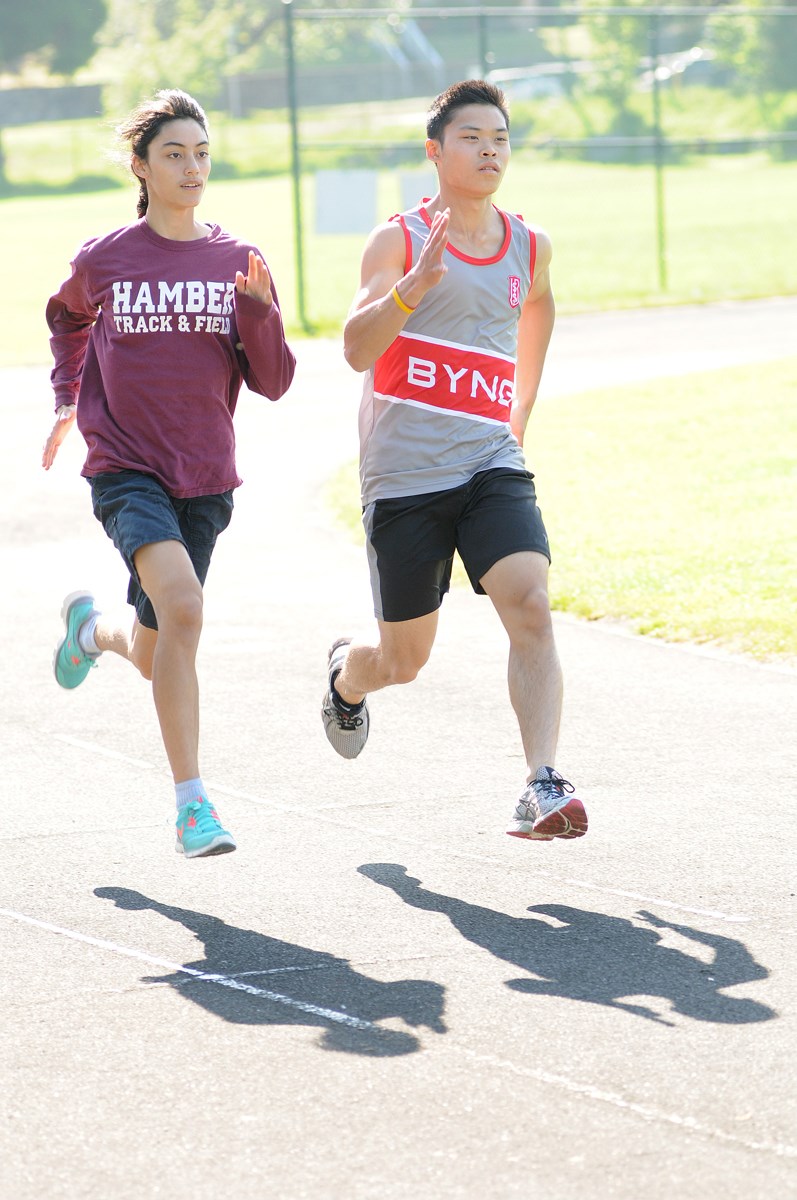 He covered the longer distance in 23.41, not a personal best but enough to win and save a little for the 4x400m relay, which Lord Byng finished off the podium in fourth.
He also jumped 6.10 metres to win gold in the boys long jump.
For his three gold medals and other high-placing results, Chan won the boys aggregate with 30 points, two more than teammate Kieran Lumb's 28. Chan has brought home the best-over-all aggregate prize in Grade 8, 10 and now 12. In every year except last when he was injured, Chan has won the 200m sprint.
At provincials, Chan is eyeing a top-three finish on the track.
"I really want to get on the podium again," he said. "It's incredible to hear your name called and hear people cheer."
He is committed to Western University next year and has been offered a spot on the track and field team by Derrick Johnston, the Mustangs coach and formerly Chan's club coach with the Vancouver Thunderbirds.
Bregman doesn't train with a club, but instead works at twice or thrice weekly school practices under Hamber coach Stacey McEachern, and plays field hockey in the fall and basketball in the winter for the Griffins. 
The athletic director at Hamber says Bregman is one of the most naturally gifted athletes to come through the school's doors. "Her physical literacy is everything a P.E. teacher or coach could ask for," said Hamber's Inderpal Sehmbi. "She can do everything."
In addition to their shared elementary school on Ontario Street not far from Hillcrest community centre, Bregman and Chan both have older siblings that influenced them in the same, key way.
Bregman's older brother Isaac and Chan's older sister Florence ran track and sprinted for their schools. The younger siblings took note.
"I wanted to be like him," said Bregman, who picked up her brother after track practice on the same black, hard-top track that she uses now.
"She came home with a pair of spikes," said Chan, remembering his sister's high school career. "I didn't know what they were but I wanted a pair."
He watched a video of his sister crouching into form, ready to take off at the gun. "She exploded from the blocks," said Chan. "It was just amazing."