Despite three broken bones in her right hand and a three-week training hiatus, 100-kilometre world champion runner Ellie Greenwood will enter the BMO Vancouver Marathon on Sunday. For the past five years, she has fit the marathon into her training calendar as a long, weekend outing. She is a two-time women's champion and won silver last year.
The podium may be out of reach this year for the 36-year-old dual British and Canadian citizen. On March 18, Greenwood was thrown over the handlebars of her bicycle when a car abruptly cut in front of her on Denman Street.
The pain in her hand was immediate. Her helmet meant she only had a minor bump on her head. The driver will likely be found fully responsible.
"In order to avoid crashing into her, I had to slam on my brakes really hard," Greenwood wrote in an email to the Courier. "I do recall being mid-air but at that point, there was nothing I could do. It all happened so fast."
Greenwood lives on the North Shore without a car and routinely commutes by bike or even by foot.
"I cycle very carefully as I realise that I am the smaller and more vulnerable of most road user types," she said. "I have never owned a car so cycle or run to get around, so am experienced at cycling as safely as possible in the city."
She suffered multiple breaks to three bones in her dominant right hand and underwent surgery for two metal plates and numerous screws, which are permanent.
She is working with an occupational therapist and wears a small splint, which she'll keep on for the 44th Vancouver marathon.
"I have received great medical care — for which I am very grateful — as well as support from many friends, who were key in keeping me cheerful in the weeks after the incident," she said.
When she claimed gold in 2012, Greenwood finished the Vancouver marathon in two hours, 42.16 minutes, a personal best. The 42.2-kilometre road race is less than half the distance she covered last November in Doha to win the 2014 title as the fastest ultra-marathon female runner in the world. She won in 7:30:48.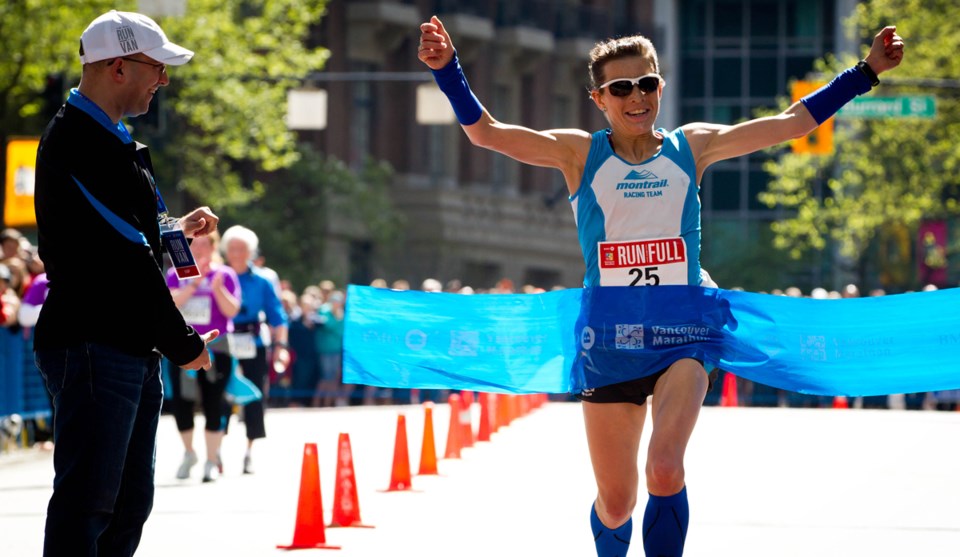 She will give herself another week to decide if she'll travel to South Africa for the celebrated Comrades Marathon, the 90th installment of the largest and oldest race of its kind — the kind Greenwood excels at. (The distance of the race alternates between 87 kilometres when competitors run "up" from Durban to Pietermaritzburg. The "down" distance in the other direction is 89 kilometres.)
Because of the traffic accident, Greenwood was forced to sit out for nearly a month, missing "weeks of key training" during which time she could not even cross-train because the risk of long-term problems from a fall or bump were too serious.
"Even if I do race Comrades, I will be well below optimal fitness but would like to race it if I can put on a respectable effort," she said. "I am now simply working back to fitness and will reassess race goals for the year once I know I have fitness back."
She was not planning to defender her world ultra-marathon title at the championship race in the Netherlands come September. Her key competition on the calendar was the Leadville Trail 100 Run in August, a 100-mile course through the Colorado Rockies also known as "the race across the sky."
Greenwood, known as an upbeat and friendly presence at trail races and road competitions, is also, "a little crazy in a good way," said Lynn Kanuka, the elite athlete coordinator for the BMO Vancouver Marathon. "How many other people train for and win 100k races?
Kanuka said she expects Greenwood to recover and continue winning. "She is the toughest gal I know. As an elite runner of her talent and with the years and years of training she's had, she can draw on those years of experience. Her body has muscle memory and so do her cardio vascular system and her brain. She really has the ability to tap into that toughness.
"To say she's at her best is not likely," Kanuka said, "but I wouldn't be surprised if she pulls off a good race."