The loss of Brock Boeser to injury highlighted the lack of winger depth on the Canucks. With Micheal Ferland and Josh Leivo also out for a while and the Canucks seemingly unwilling to call up Sven Baertschi or Nikolay Goldobin from the Utica Comets, they were left with the likes of Zack MacEwen trying to fill in a top-six role.
Nothing against MacEwen, but for a team with dreams of playoff success this season, the Canucks needed something more. So, it was no surprise that GM Jim Benning was reported to be looking for another top-six winger, with rumours linking him to Wayne Simmonds.
Instead, he pulled the trigger on a deal within the Pacific Division, acquiring Tyler Toffoli from the Los Angeles Kings.
Going the other way in the trade is prospect Tyler Madden, fourth-liner Tim Schaller, the Canucks' second-round draft pick in 2020, and a conditional 2022 fourth-round pick if Toffoli re-signs in Vancouver.
The long-term impact of this trade is questionable for the Canucks, but in the short term they definitely get better. Toffoli is a legitimate second-line winger, who can significantly drive puck possession and has a strong defensive game that should make him a fit anywhere in the lineup.
We can see his impact on puck possession in a couple different ways, such as the RAPM Charts from Evolving Hockey that show just how significant his impact on shot attempts is: his corsi-for is literally off the charts. He also has a positive impact defensively and is very capable on the power play.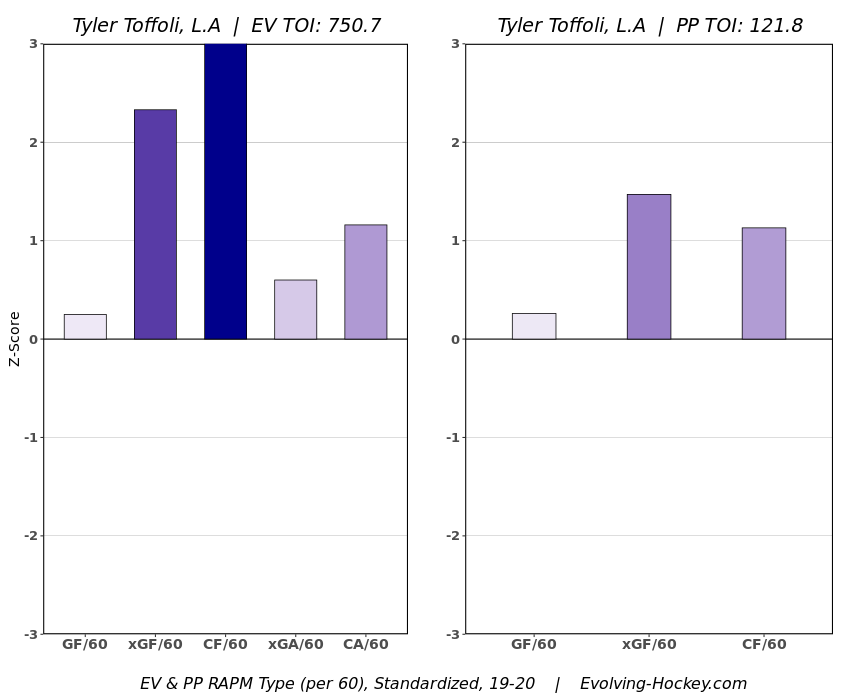 We can also look at his isolated impact heat map from Hockey Viz, which takes into account contextual factors such as zone starts, teammates, and competition in an attempt to isolate Toffoli's impact.
Toffoli's heat map shows a broad swath of red in the offensive zone, with particular concentrations directly in front of the net. That indicates above-average numbers of shots coming from those areas, which is tremendously positive: the 24 per cent indicates that shots are 24 per cent more dangerous than average for his team when Toffoli is on the ice at five on five.
In the defensive zone, we see deep pools of blue, which indicate a below-average number of shots coming from those areas: shots for the opposition are 19 per cent less dangerous than average with Toffoli on the ice at five on five.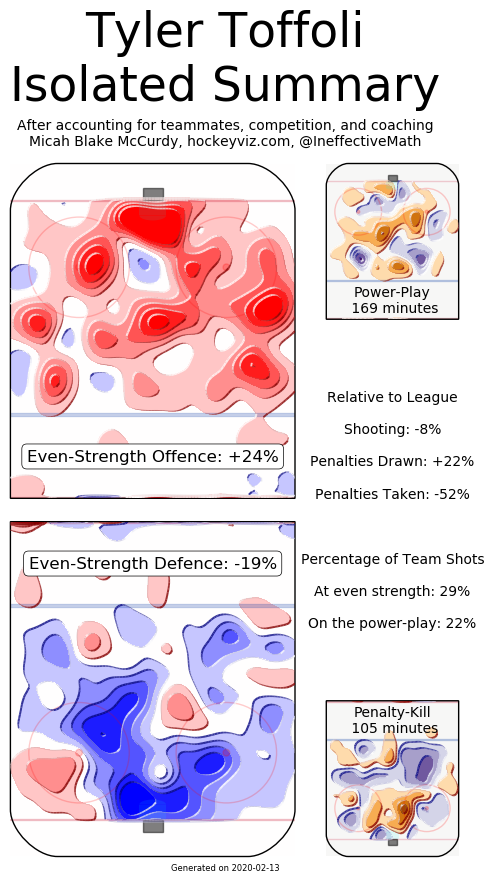 In terms of traditional stats, Toffoli has 18 goals this season after a hat trick on Saturday against the Colorado Avalanche and has a career high of 31 goals in 2015-16. Over his career, he's averaged 0.56 points per game, right in between the career production of Tanner Pearson and Bo Horvat.
Since Toffoli plays right wing and has a strong two-way game, it seems only natural that he'd slot in beside Pearson and Horvat on the second line. It helps that Toffoli already has some chemistry with Pearson from their days with the Kings and, before that, the Manchester Monarchs in the AHL.
At the same time, it's tempting to see how Toffoli would perform on the first line with Elias Pettersson and J.T. Miller: his ability to drive play and create scoring chances would go well with two dangerous finishers. That becomes even more likely given that Boeser is expected to miss at least three weeks with a rib cartilage fracture.
Those are the positives: Toffoli is a quality winger that should easily fit into the Canucks lineup and immediately improve the roster. There are some downsides, however.
Toffoli is a true rental player. He's an unrestricted free agent at the end of this season and it's hard to see how the Canucks will be able to re-sign him given they already have limited cap space available to re-sign Jacob Markstrom, Chris Tanev, and key restricted free agents like Jake Virtanen, Adam Gaudette, and Troy Stecher. If they do re-sign Toffoli, it will cost them another pick, albeit not until 2022.
Typically, teams trade for rentals when they feel they're a player away from competing for the Stanley Cup, but it's currently in question whether the Canucks will make the playoffs. That makes the trade for Toffoli a risk, but an understandable one: the Canucks have missed the playoffs in four straight seasons and have already made a couple gambles on making the playoffs, such as the trade for J.T. Miller.
That leaves the price the Canucks paid, which was a significant one. In order to make Toffoli's $4.6 million cap hit work, the Canucks needed to shed some salary, which they accomplished by adding Schaller and his $1.9 million cap hit to the trade. That likely upped the asking price from the Kings.
First, there's Tyler Madden, who had become one of the Canucks' most exciting prospects this season at Northeastern University. He's currently tied for third in goals and fourth in points in the NCAA. With his slick hands, slippery skating, quick release, and superb vision, he looked poised to make the NHL within a couple years.
More importantly, he was the Canucks' only promising prospect at centre. While the Canucks have Elias Pettersson, Bo Horvat, and Adam Gaudette down the middle, they lack any serious depth at centre in their prospect pool, which is troubling for the future. 
With Madden's departure to the Kings, the Canucks' top centre prospect is now Carson Focht, who is currently under a point per game in the WHL as a 20 year old, which isn't promising.
Then there's the second-round pick in the deal, which means the Canucks won't have a first or second-round pick in the 2020 draft if they make the playoffs this season. That hasn't happened since 2010, but that was in service to making a Stanley Cup run in the following season.
While some may dismiss second-round picks as being inconsequential, citing the low percentage of second-round picks that make the NHL, that's a questionable argument to make when you look at the Canucks right now. Their backup goaltender and presumed future number one is Thatcher Demko, who was a second-round pick. Three of their top-ten prospects — Nils Höglander, Jett Woo, and Kole Lind — were all second-round picks.
The conditional fourth-round pick is less severe, particularly since the Canucks will be hard-pressed to re-sign Toffoli. Of course, if they can't re-sign Toffoli, then he's a short-term rental for a team that's barely completed their rebuild.
So, that's a big chunk of the Canucks future for a player that could potentially be in Vancouver for just 23 games. Is it worth it?
For me, I don't hate the trade, but I'm a little bit on the fence. If you're going to go for it at the trade deadline, Toffoli is a solid player to target and you have to give something to get something. The troubling aspects for me are the more expensive price that was paid because of the Schaller cap dump and the lack of prospect depth at centre.
If Toffoli can help the Canucks make the playoffs or, even better, help them get past the first round of the playoffs, few people will complain about the price that was paid to acquire him.
Click here for original article.