The finishers were still elbowing for position on the final 500 metres of the senior boys cross-country city championship Wednesday at a leaf-strewn and damp Fraserview course.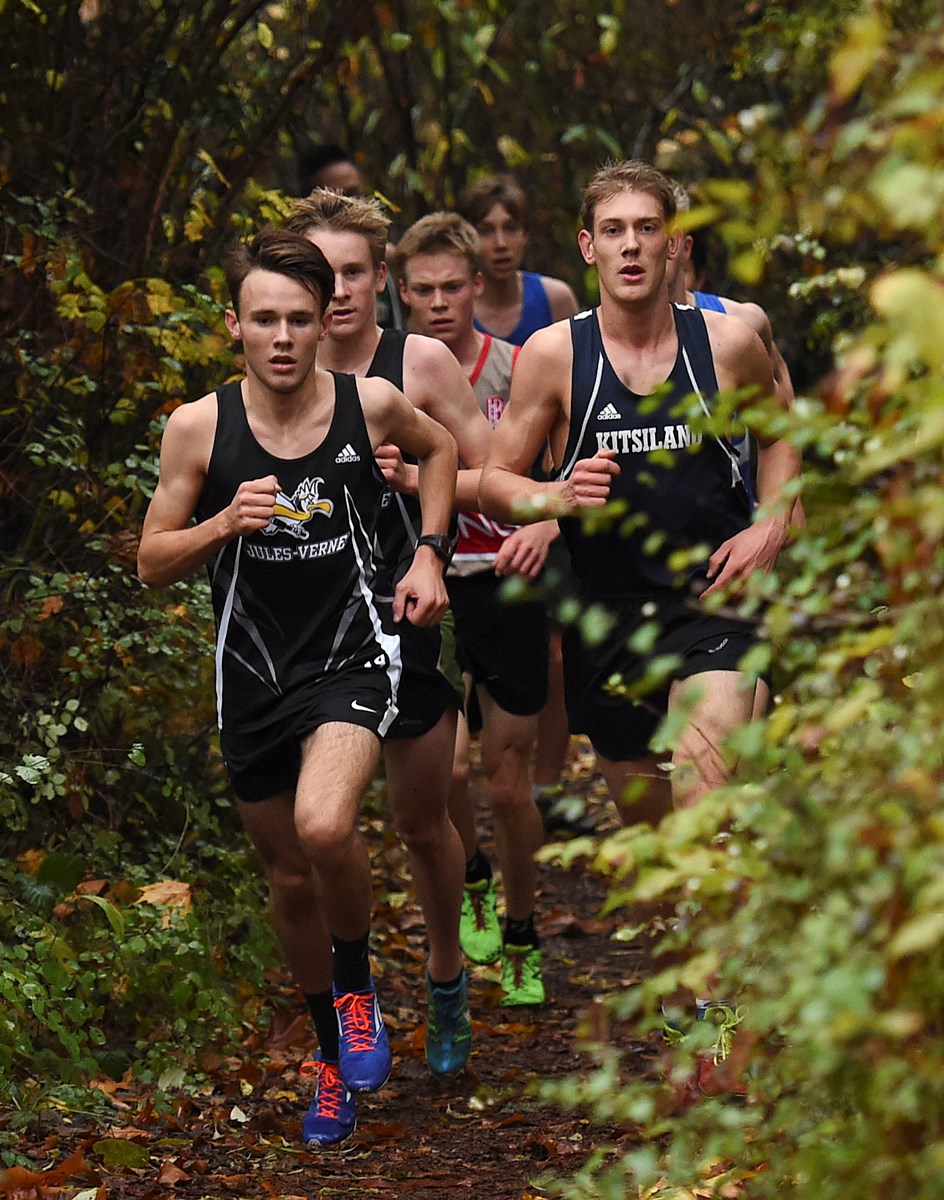 Kieran Lumb, a cross-country skier who runs to stay fit in the off-season, took advantage of the hilly trail run. After trailing Kitsilano's Thomson Harris on the switchbacks through the bushes, Lumb reached the open terrain and accelerated up the slope to the finish line.
Lumb, the 2014 senior boys champion, defended his city title for Lord Byng and took gold on the 7.6-kilimetre course in 27 minutes, 38.25 seconds.
Jules Vern runner Simeo Pont was three seconds behind at 27:41.02 and Harris finished third in 27:43.43.
Highlighting the competitive depth of this senior cohort, the top four finished within 20 seconds.
The top 20 individuals advance to the B.C. high school championship Saturday, Nov. 7 at Jericho Beach Park.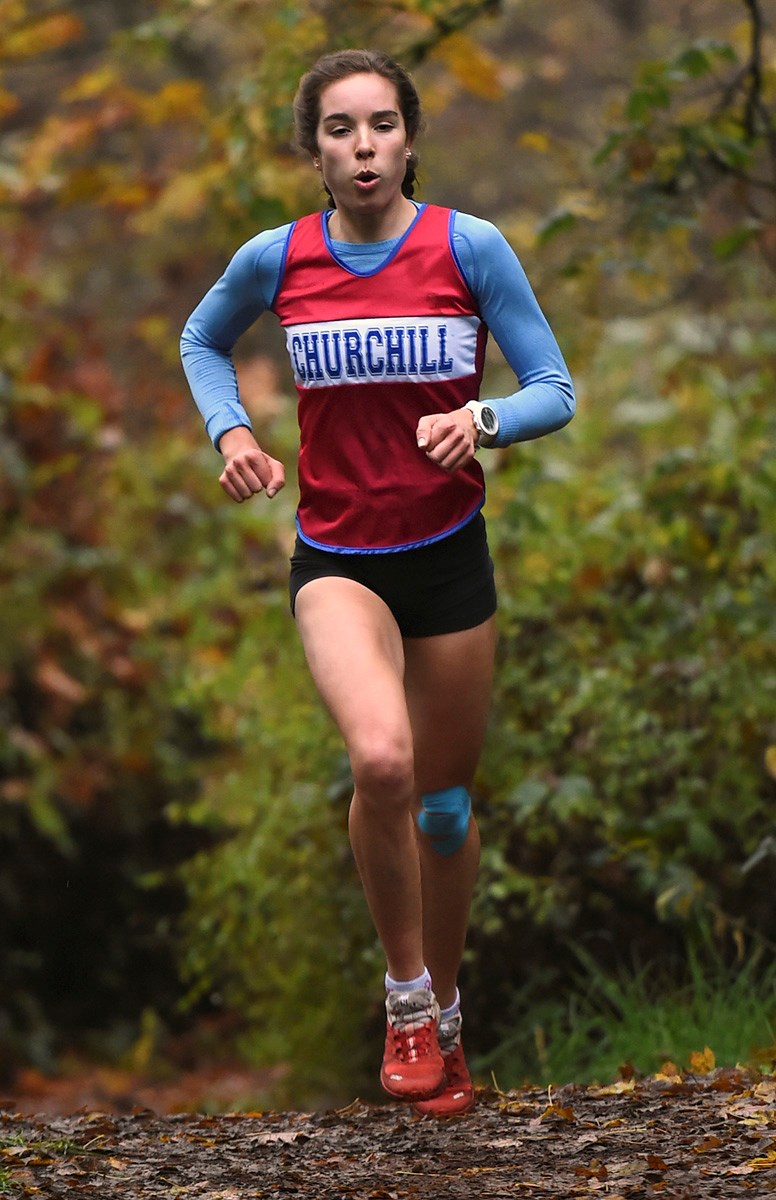 Churchill's Annika Richardson won the senior girls title in the shorter, 3.8 km race in 14:50.83. Killarney's Yvonne Huynh was second in 15:53.63 and Annelise Lapointe finished third for Van Tech in 15:59.81.
Richardson was undefeated this season except when under-age racer Kendra Lewis, in Grade 8 at Van Tech, raced in the senior category for the second meet of the public school season at Jericho Beach Park Oct. 8.
Lewis, who had not lost a school meet she entered this year at the senior or junior level, was beaten to the city crown by Annika Austin. The Grade 10 Kitsilano runner took gold in 14:13.78, a pace that also would have nabbed her the senior title.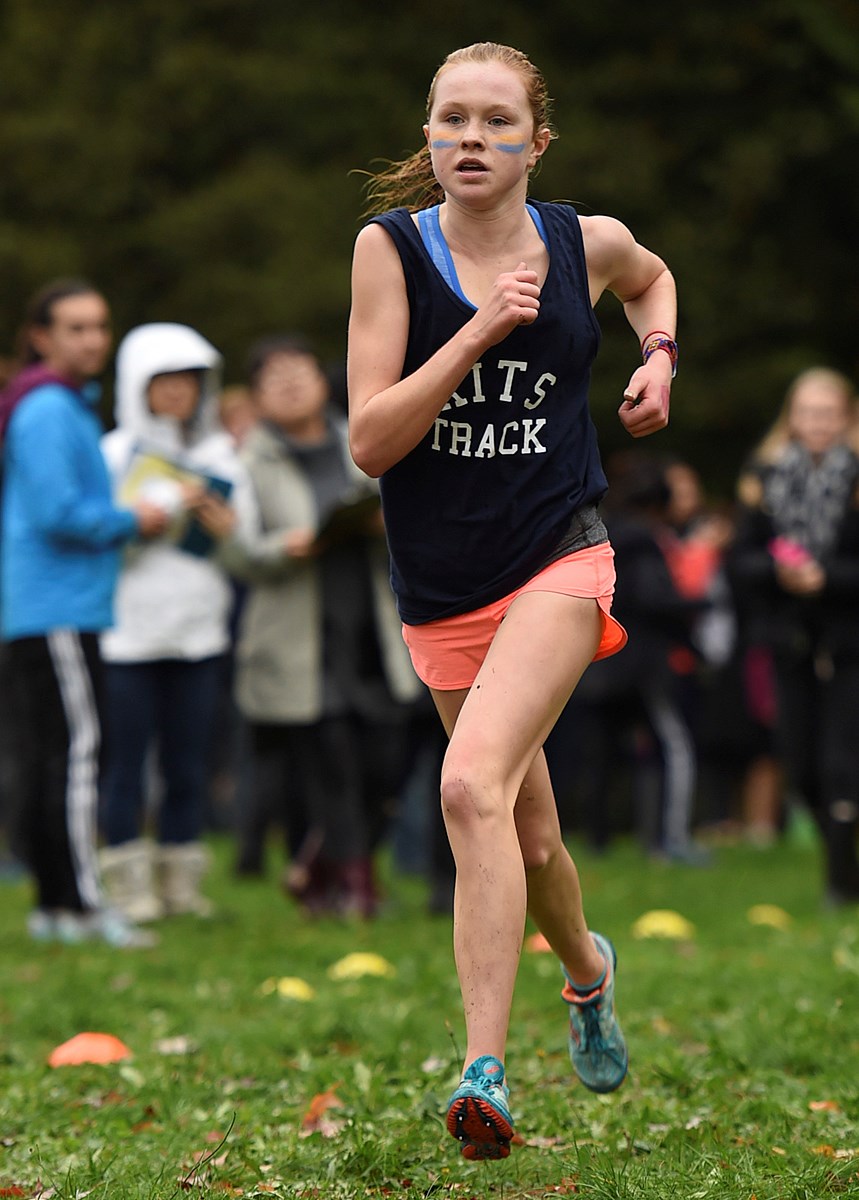 Lewis came second in 15:16.07 and Lord Byng's Bridgett Baziw was third in 15:19.50.
Lewis and Austin have not gone head-to-head yet this season, and the older runner was determined to come out in front.
"I really wanted to beat the girl who was behind me [Lewis]. At the start-line, I was extremely nervous. I just decided to run my race and see how it felt. I wanted to make sure I was a steady, consistent pace throughout and have a good kick at the end," said Austin.
Lewis took the early lead with Austin on her heels. At a steep decline where runners had to choose between a set of stairs or a slippery ramp, Austin made her move and accelerated as the trail began to climb.
"That's where I took the lead and she was hanging on for little bit," said Austin. "The first switchback was OK but then the second uphill was very hard. It was a constant struggle between me going through motivational quotes in my brain to not stop or slow down. The classic one is 'No pain, no gain.' I was doing that repeatedly through my mind."
Both Lewis and Austin competed in their respective age groups at the B.C. club championships Oct. 24 in Nanaimo. Lewis, racing in the 13-year-old category, won the slightly less than three-km race for Vancouver Olympic in 9:53.50. Austin, two age groups older among 15 year olds, finished with  the slightly fater time of 9:49.37 to come  fifth overall.
At the city championship on a Fraserview cours she hadn't raced yet, Lewis said she didn't have her strongest showing.
"Sometimes I feel like it's not going to be a good race right from the start, sometimes that's kind of frustrating," she said. "I just feel like I won't have enough energy." 
Although Lewis dashed in front, she couldn't keep up on the hills. "I kind of sensed she was going to pass me. She was right behind me and she was going really fast. When we went up the hill, she seemed to go even faster as she was going up the hill."
In the junior boys' event, Lord Byng's Ben Paetzel won the city championship in 14:05.53, followed by Point Grey's Peter Hicken in 14:18.07 and Kitsilano's Evan Murphy in 14:21.62.
The top 20 senior and top 15 junior boys and girls qualify for the B.C. Championship in addition to the four fastest athletes from the city's highest-placing schools. 
 
Saturday, Nov. 7 at Jericho Beach Park
 10 a.m. — junior girls 4.6 km
 10:45 a.m. — junior boys 5 km
 11:30 a.m. — senior girls 4.6 km
 12:15 p.m. — senior boys 6.9 km