Thirteen-year-old Vancouver Technical cross-country runner Kendra Lewis took off on her third lap around Quilchena Park when her coach came chasing after her.
The first meet of the public school season Sept. 29 was also the first for Lewis as a high school athlete, and she held a 35-second lead after racing the 3.5-kilomtres course — a course that was only two laps of the park.
Lewis blew through the finish line in first place. She just didn't know the race was over.
"I kept thinking someone was going to say, 'You won.' I ran down a little hill and kept running," she said. "I felt pretty good because I had a lot of energy left."
The Van Tech Talisman reached the finish line before it was set up. She should have received a first-place marker — a reusable wood tongue dispenser used at races — handed out by one of two volunteer race officials to track racer placement. Her recorded time was 16 minutes and 8.4 seconds.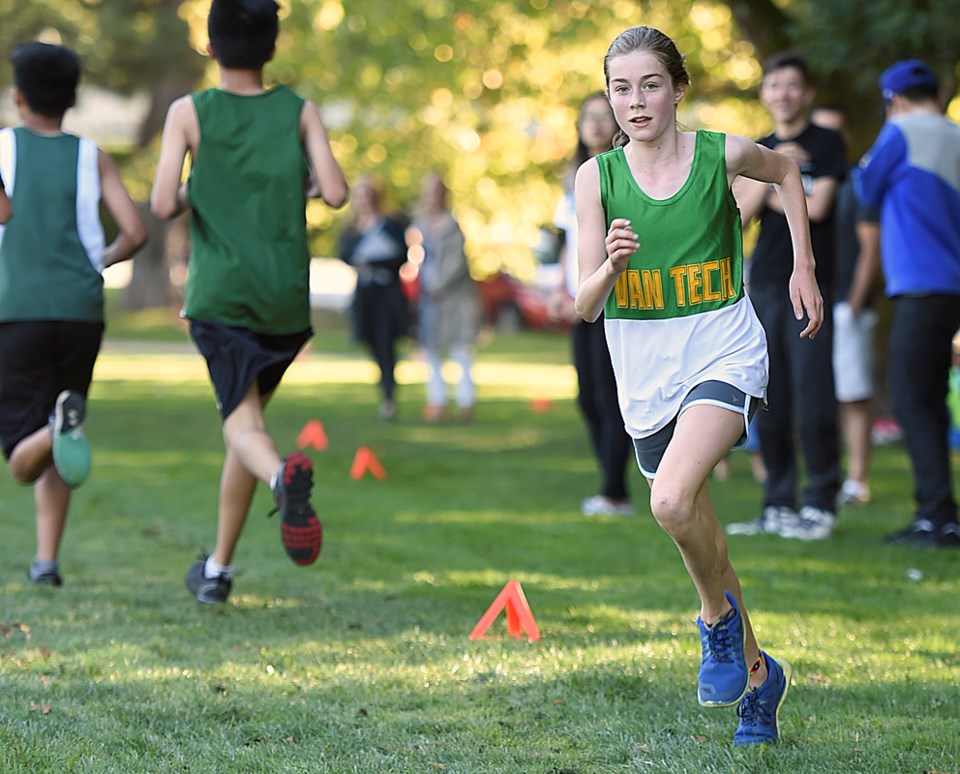 Bridgett Baziw, also in Grade 8, came second for Lord Byng in 16:43.81, and Grade 10 Kitsilano runner Manon Plovier finished third. The top six finishers were junior racers in Grades 8, 9 and 10.
"Kendra's run was impressive and hopefully she is proud of her accomplishment," said Talisman coach Thomas Pickett in an email. "It's early in the season, so there is room for improvements with her and also all the other competing students. This will make it important for her to continue to train well and safely so that she can continue to contend."
Not all student-athletes attend the four meets during the season, and top competitors such as Killarney's Enid Au graduated after last season while Lord Byng contender Callie Charlton watched from the sideline because of an injury.
Although the race didn't have a textbook ending, Lewis put on a clinic and could continue to be at the front of the pack this season and through the next four years.
Racing for the Vancouver Olympic Club, the young harrier is a three-time B.C. club champion, winning gold at 10 and 11 years of age in the girls 2,000-metre run and gold again in 2014 at 12 years of age in the 3,000m run. Second in the latter two years was Freya Savage, a Vancouver Thunderbirds runner who also races for the Tupper Tigers. She finished eighth on the Quilchena course last month. 
"It feels really good after you run a race and you know you've done well," said Lewis, whose twin brother is a high-level soccer player. "When I first did it, I didn't think I would actually be good at it. It's really fun to do. You meet all these people at meets."
The racer who flew through the finish line on her way to an extra lap is the same one who, in her first elementary school race in Grade 2, stopped short of the end.
Following the pace-setter, known as a rabbit — essentially a teacher in a bunny suit who charted the course at the annual Trout Lake meet — Lewis was too polite to pass the slower adult. When the pace-setter stopped several meters before the end of the course, so did Lewis. She relinquished a substantial lead and took silver. 
"The rabbit, she was running ahead but then she just stopped. I wanted to go past her but I didn't pass her because I wasn't sure where to go," said Lewis, who was attending Queen Victoria Annex. "The finish line was there and she just stopped."
Lewis's mom remembers how her daughter appeared before any young runners were anticipated at the end of the short, lakeside course.
"No one was behind her. I was chatting with other moms and then there was Kendra," said Kathleen Lewis. "We didn't know she could run, she's a total bookworm."
At the recent Quilchena meet, she again showed up before expected.
"I don't think they'd really set up the finish line when I was finished," she said, noting her route also put her in the path of oncoming boys during their race. 
If Lewis had got her place marker, it would have been a clear sign she was No. 1.
Twitter and Instagram: @MHStewart