How many of Vancouver's fastest runners are among the top 10 in the province?
Two? Three? Five? More?
"If we all have stellar races, five of us can all finish in the top 10 — definitely top 15, possibly top 10," said Brodie Marshall, a Jules Verne secondary runner who finished fifth overall at the city championships on a hilly leaf-strewn trail around Fraserview Golf Course Oct. 28.
Marshall was 45 seconds behind the winner, Kieran Lumb who finished the 7.6 kilometres in 27 minutes, 38.25 seconds. Simeo Pont finished three seconds later, followed two seconds after that by Thomson Harris in third place. Crossing 13 seconds later was Thomas Nobbs, who pulled up with a strain on the final 400 metres.
In a competitive year, the field has no frontrunner, said the road and cross-country technical manager for B.C. Athletics, Maurice Wilson.
"It will be a close race for the senior boys this year, with no clear favourite, and any of half a dozen potential winners," he said.
Contenders from around the province include Sean Bergman, a Grade 11 racer from Kelowna who won gold in steeplechase at the high school track championships in June, Michael Milic, an accomplished triathlete from Delta, and Brendan Hoff a Campbell River-raised runner and national age group champion who moved to Victoria to train with a nation al team coach. 
Athletics Canada selected Bergman (steeplechase) and Hoff (1,500 metres) to the national team for the world youth championships in Colombia this summer.  
Lumb, Pont and Nobbs are also possible contenders said Wilson.
"I think all of us that finished in the top five [at the city championship] have a shot at it, at finishing in the top 10 in B.C. We've all got a chance at it," said Harris, a Kitsilano Blue Demon who spent his Grade 11 year in England but grew up competing against Lumb. The pair's friendly rivalry dates to Grade 4.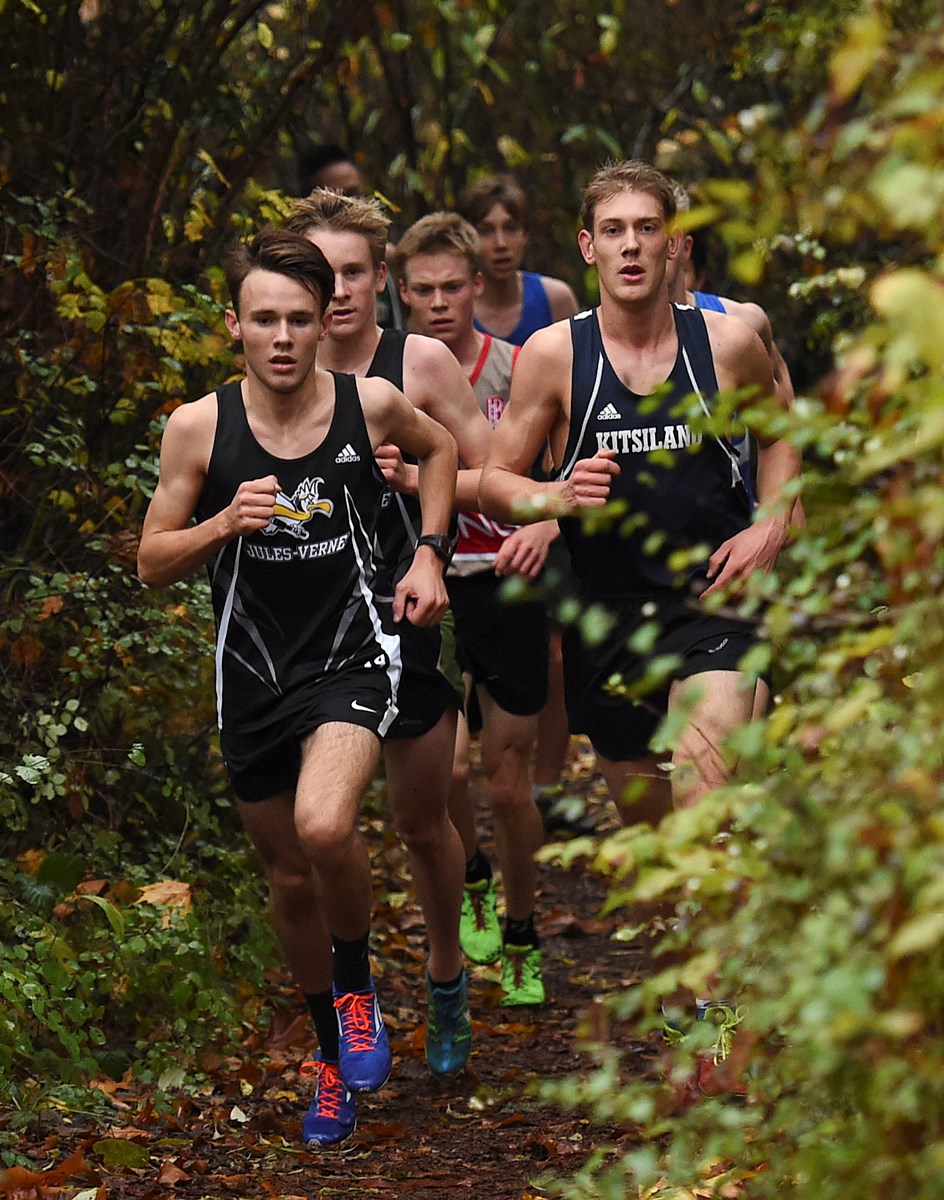 "It's been the most competitive year I think I've ever raced in for the school district," said Lumb. "I really enjoy it because it's nice to come first but I'd rather come second with competition. It really does make you better. Everyone pushes each other and everyone gets better."
With the city title, Lumb defended his feat from last season. As a Grade 11 student, the Lord Byng runner won the 2014 championship at Fraserview 13 seconds faster than this year when competition was closer.
"It feels really good. It was definitely a goal of mine so it feels good to have accomplished that," said Lumb. "I just really stayed relaxed on the first lap and I was able to conserve energy and then kick really hard for the last 500 metres. I took lead at the top of the hill. Everyone was right together: Thomson and Simeo and Thomas."
Saturday race schedule
The B.C. high school cross-country championship are hosted by West Point Grey Academy at Jericho Beach Park Saturday, Nov. 7.
Junior girls race at 10 a.m.
Junior boys at 10:45 a.m. 
Senior girls race at 11:30 a.m.
Senior boys race at 12:15 p.m.
Twitter and Instagram: @MHStewart