Fan favourite Eugenie Bouchard is returning to the Odlum Brown VanOpen tennis tournament Aug. 12-18, headlining a strong crew of Canadian stars set to hit centre court at West Vancouver's Hollyburn Country Club.
Canadians Vasek Pospisil, Rebecca Marino and Brayden Schnur will also take part in this year's VanOpen, organizers announced Tuesday.
Bouchard, backed by members of her Genie Army supporters group, returns to West Vancouver for her fourth VanOpen tournament, having played in 2010 and 2011 and then again in 2018. The 25-year-old Montreal native was formerly the No. 5-ranked player on the world. She has been named Tennis Canada's Female Player of the Year four times and is the first Canadian singles player to compete in a Grand Slam final, doing so at Wimbledon in 2014. She also made the semifinals at the Australian Open and French Open in 2014, and has twice earned the Bobbie Rosenfeld Award as Canadian female athlete of the year.
Pospisil, a native of Vernon, B.C., has also reached a ranking of No. 25 in the world, reaching the quarterfinals at Wimbledon in 2015 and the semifinals at the 2013 Rogers Cup. The 29-year-old has four career win over top-10 opponents and won the VanOpen in 2013.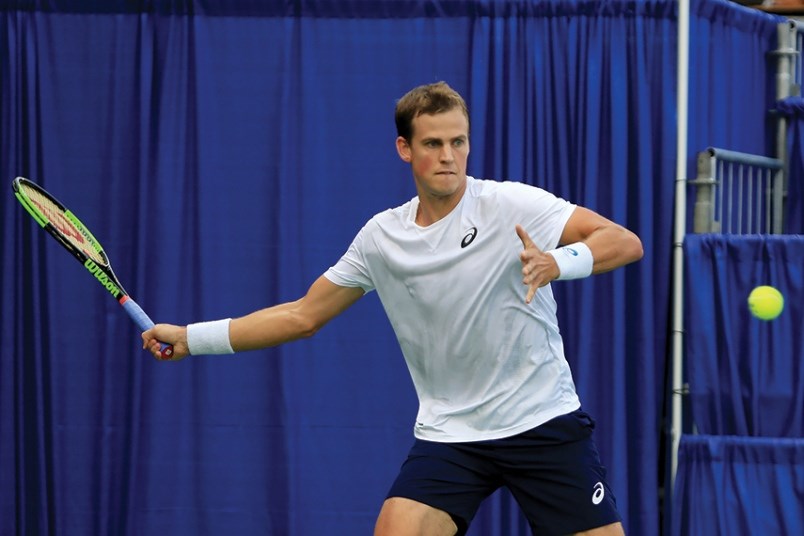 Marino, a Vancouver native, has been ranked as high as No. 38 in the world and was named Tennis Canada's Female Player of the Year in 2010 and 2011. She played at the VanOpen as a 16-year-old in 2006 and has returned several times since. She's currently the third-highest ranked Canadian woman in the world behind Bianca Andreescu and Bouchard.
Schnur made his Grand Slam men's singles debut at Wimbledon earlier this month. He is currently the fourth-highest ranked Canadian behind Milos Raonic, Felix Auger-Aliassime and Denis Shapovalov.
All four players took part in last year's VanOpen, with Bouchard and Marino both reaching the women's singles quarterfinals and Pospisil advancing to the men's singles semis.
"It is fantastic news to have Rebecca, Genie, Vasek and Brayden returning to our tournament," stated tournament director Rik de Voest in a release. "It is extremely rare to have some of the top Canadian men's and women's tennis players compete on the same court on the same day and we are thrilled to provide it to tennis fans in Vancouver.
Click here for more information on the tournament or to purchase tickets.