Figure skater Hannah Janda had nailed almost all the advanced double jumps, both the Lutz and flip, leaving just the difficult double Axel as the last target on her list.
But the 13-year-old athlete will never pull off the jump. Three months ago, Janda hung up her toe picks for a pair of hockey blades and joined the forward line of the bantam Vancouver Angels, the city's only all-girls hockey association.
"I love having a team," said the Churchill secondary Grade 8 student. "You win together and you lose together. If you don't do as well in figure skating, you're just on your own."
Her first skate at the Killarney rink on the Angels home ice came in September when the hockey association hosted a free clinic for inexperienced skaters. Janda was no novice since she'd been figure skating for 10 years, but otherwise she was a rookie in a new sport.
Her centre of gravity was thrown off and keeping perfect posture didn't help her balance. The serrated edge of a figure skate blade was wiped smooth, a round toe in the place of a poise-preserving pick.
"I kept falling forward," she said. "That was really weird. It was like learning to skate all over again."
But years of technical precision, on- and off-ice drills, fine motor skill development and major muscle group strength training meant, on skates of any kind, Janda had a high level of physical intelligence. Between hockey players and figure skaters, the latter are considered stronger — and better — on the ice because of their technical training.
In a column written during the Sochi Olympic Games suitably called "Figure skating offers more physical challenges than ice hockey," Washington Post sports columnist Sally Jenkins asked which is the stronger skater before she easily reached a conclusion.
"Some guys get all pursy around the mouth when you suggest this, but figure skating is infinitely harder than ice hockey," wrote Jenkins in the Feb. 13 column.
To illustrate her point, she imagined the impossible: "In a contest between Alex Ovechkin and gold medal pairs skater Maxim Trankov, I'll take Trankov every time, even though he wears more hair tonic than a silent film star. It's a hypothetical argument, of course, but just for fun, let's make a comparison: Who would look sillier if they changed disciplines, Trankov with a hockey stick in his hand or Ovechkin if he had to lift a woman over his head and carry her around like a spinning dinner plate while sliding across the ice on a pair of kitchen knives?"
Hoisting a sequinned-spangled partner aside, hockey players have a lot to learn and a rising number of amateur and elite athletes are signing up to learn from figure skaters.
Power skating programs — once the realm of figure skaters who, in a few strides, must have enough velocity to leap, spin and land safely — are filling up with hockey players. Susy Bando, the arena programmer at the Britannia Rink, estimated 50 to 60 per cent of students who take Vancouver Park Board power skating are hockey players.
The trend is new and the numbers are increasing, said Bando.
"It's called figure skating lessons but they are more engaged with power skating, which is an off-shoot of the figure skating program that is developed through Skate Canada. It is really working on the fundamental of skating. It has been for at least 10 years that there has been a push through figure skating clubs to have these power skating programs," she said, noting students taking these lessons through the park board are mostly recreational players.
"As hockey players, you go and you practise team drills but really don't focus on skating, which does not have to be as technical as in figure skating. [The course] breaks down the skating skills and looks at turning, edging, stopping properly, all of the things that you take for granted when you're going through a drill with your stick and a puck," she said.
Bando would know. She grew up in Port Coquitlam as a competitive figure skater but joined a co-ed hockey team in her early 20s.
"I have a bunch of colleagues in the same situation," said the left-winger. "You become an adult and there is really no recreational adult figure skating. If you want to continue skating, you play hockey."
Does learning strength and speed from a figure skating coach bring the sequined sport more respect from the helmeted body-checkers who are more likely to throw a punch than pirouette?
"Appreciation? I don't so," said Bando. "It's very different. When I stated teaching a power skating course with the city, we made sure we put on our hockey skates as instructors. We focus on the skating, and we didn't make mention of the figure skating part of it. We were cognisant that we weren't going to change the minds of people. There's no spinning."
Skate Canada, the national sport organization, trains and certifies coaches to teach skating and its CanSkate program goes back to basics for beginner lessons by drawing from Sport Canada's long-term athlete development principles. This means all beginners, whether they want to speed skate, ice dance, goaltend or triple Salchow, learn the same fundamentals. But figure skaters develop their technique like no one else.
Numerous NHL teams hire specialists, many of them former competitive figure skaters, to work with pros. Laura Stamm pioneered the practice, at first somewhat secretly, in the 1970s and today, Cathy Andrade, is in demand around the league.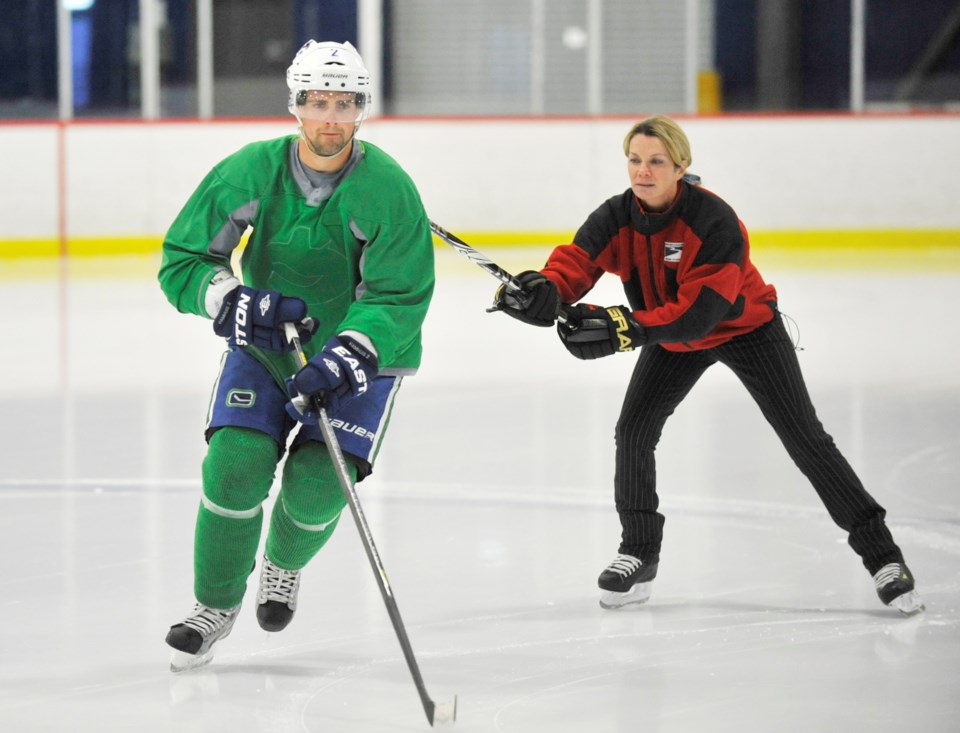 The Canucks are on board, too. Barb Aidelbaum, a three-time national figure skating gold medallist, has also coached elite professional players, including Canuck Dan Hamhuis and Canuck-now-Canadien Manny Malhotra. Respected around the NHL, Aidelbaum laces up hockey skates and uses many techniques drawn from figure skating to improve a hockey player's stride, power and balance.
"After two full years of training with Barb, my only regret is that I didn't start working with her earlier," Malhotra wrote in a testimonial about Aidelbaum, who grew up skating at the Arbutus Club. "She has as an incredible ability to tweak certain aspects of my skating game, which I have found to make me a more powerful, balanced and efficient skater. Barb is flat-out the most knowledgeable and technically sound skating coach I've ever worked with."
NHL rookie of the year, Jeff Skinner, started as a figure skater. He was a juvenile national champion before his 63 points in 2011 netted him the Calder Memorial Trophy. His former figure skating instructor called him artistic.
"I think you see little bits of figure skating in the way I skate in hockey," he told NHL.com in 2011. "I think it helped me a lot. Just being on the ice that much as a kid helps you be comfortable on your skates. It's obviously given me a unique skating style that is sort of different from other guys. From my experience, it definitely helps."
Janda was the same age as Skinner when she picked up a hockey stick. On the wing, she can't quite get her timing down to avoid an offside call but she's finally adjusted to the meat-packer feel of hockey skates.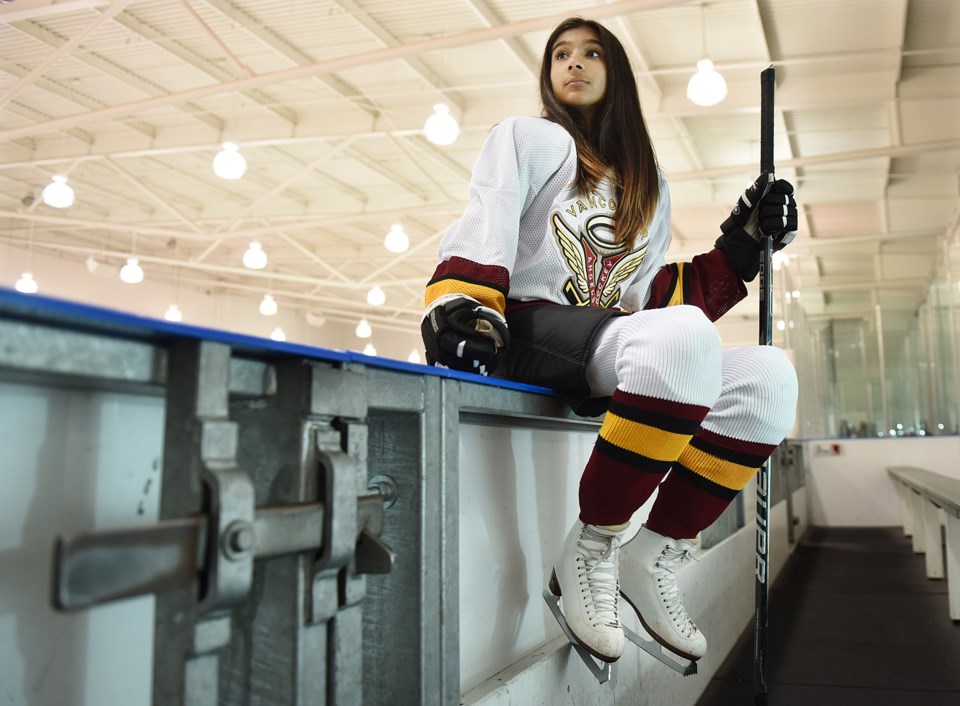 "I'm way more comfortable in figure skates because they're moulded to my feet. They feel like slippers," said Janda, a comfortable hybrid of girly-girl and tomboy, whose feet cramped like she'd "been walking for miles" during her early stints in hockey skates. Her father drives the Zamboni at the Agrodome, and the Janda family spends an incredible amount of time at ice rinks. Janda and her younger brother Josh both play hockey and in summer, they return to many of the same ice-less rinks to play box lacrosse.
Although not the fastest on her bantam team, Janda is one of the speediest and strongest skaters. She misses the make-up and hair styling of figure skating's glitz — "You can't do your hair and the put on a helmet," she said — and she would opt for figure skates if she ever competed on CBC's former smash hit, Battle of the Blades, but Janda is now more hockey player than anything else.
"My teammates are really welcoming. If I did something differently, they say, 'Ok Hannah, you've got to do it like this, not like that.' Skating is one less thing off my shoulders, now I just have to work on my puck handing."