Lions Gate Bridge was a little busier than usual first thing Saturday morning.
A crowd of maybe a dozen gathered on the north end of the bridge to watch more than 4,500 cyclists set off on the GranFondo race, which started at 7 a.m. sharp in Stanley Park. Participants then crossed Lions Gate Bridge en route to the finish line in Whistler.
From Lions Gate Bridge, cyclists will travel up Taylor Way and Cypress Bowl Road and proceed along Highway 1 and Highway 99 on the Sea-to-Sky Highway before reaching Whistler.
The first batch of riders are expected to arrive in Whistler by 10 a.m., according to the GranFondo Whistler event page. The finish line officially closes at 4 p.m. Saturday afternoon.
September 7, 2019
The B.C. Ministry of Transportation and Infrastructure is warning drivers to expect heavy traffic delays of up to three hours between West Vancouver and Whistler all day.
Gran Fondos, an Italian expression meaning the "big ride," originated in the 1970s as a form of long-distance road cycling defined as a more than 120-kilometre biking event.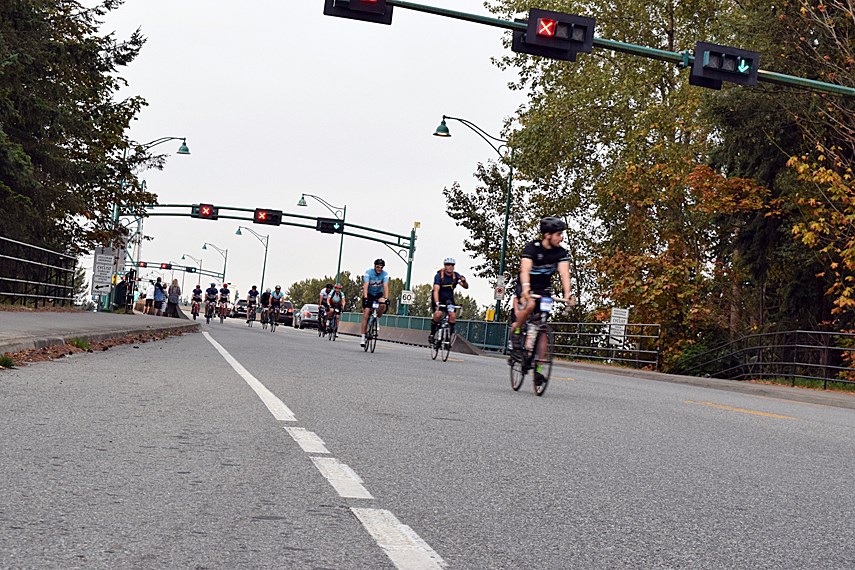 The gruelling 122-km GranFondo Whistler bike trek is celebrating its 10th anniversary this year.
The event includes riders representing 45 countries, according to organizers.
Complete race results are available here.