The hallways at Britannia secondary were buzzing last week before tipoff in the 42nd annual invitational basketball tournament, one of the first in B.C. to host senior boys and girls at the same time, same place.
The excitement was about that place, specifically the Bruins basketball court and its flanking bleachers, and about one person, a coach who since 1980 has made that gym a second home not only for himself but also a welcoming and safe space for hundreds of teenage athletes.
On Jan. 14 before the senior girls won their own tournament for a ninth time in 11 years, the school paid special tribute to Bruins coach Mike Evans. They named the place after him.
Read more and see the Photo Gallery: Bruins win Britannia invitational tournament
More than 120 former student-athletes and numerous retired teachers dressed in red and walked out on the floor. The stands were already packed. As Evans led the Bruins in a pre-game pep talk under blue banners for city and regional championships and their cherished 2012 B.C. AA title, the players made sure to hold his attention and keep his back to the larger crowd. Tina Turner's "Simply the Best" blared on the PA. The reveal was a surprise.
Evans, whose first day as a counsellor at Britannia was in 1980, turned around to see a few words newly printed on the wall: Mike Evans Gymnasium.
"I wonder if it's legal, but anyway…" Evans said a few days later, characteristically humble and funny. "It was overwhelming and as it turns out, it was a well-kept secret."
Mitra Tshan, the bantam and junior girls coach as well as a community educator at Britannia, organized the ceremony with Trevor Stokes, who coaches with Evans and teachers in the Streetfront alternative school, and Bob Fitzpatrick, an I.B. teacher and student council sponsor. The name reveal was public knowledge and widely shared on social media, but Evans said he was none the wiser.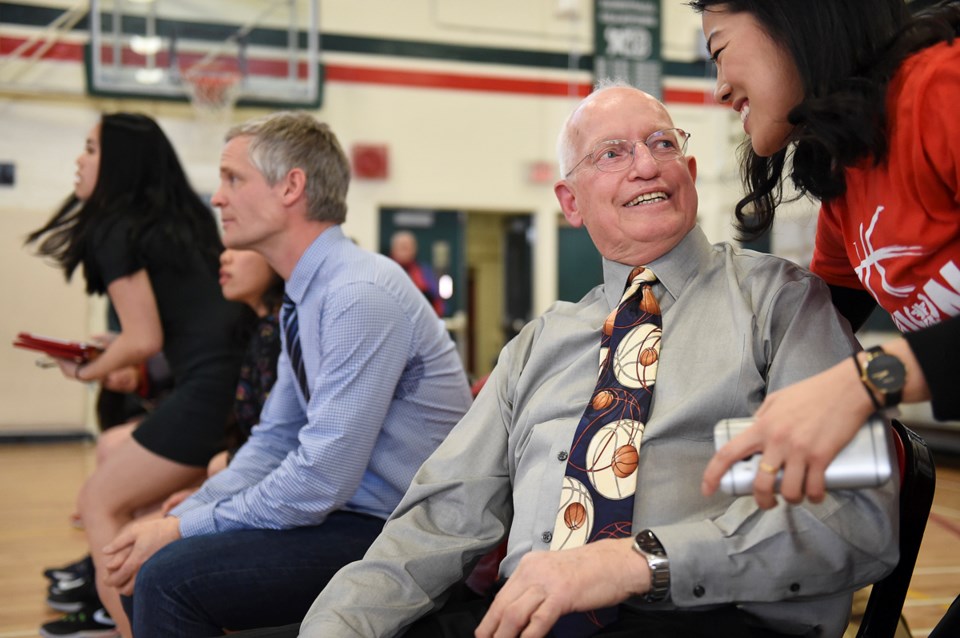 "It was a complete surprise and a shock at first. You could probably list quite a few people, some of whom have retired long ago who have put in a lot of time and who are legendary in the history of this school. The gym was built in the '50s even though the school itself is 100 or so years old. I feel very humbled that there are some pretty famous people who did not have a gym named after them. There are other worthy people, too," said Evans.
"I'm aware of other schools where gyms have been named after people, who I knew as well. Maybe it's a little unusual that I'm not a PE teacher. Others tended to be PE teachers who lived in the gym, though I lived there, too."
Evans, a NCAA Div. 1 middle-distance sprinter, came to Britannia in 1980 as a counsellor and began to build a broad network for students, including the many immigrants and refugees who arrived in Canada in the '70s and '80s from Southeast Asia and China. According to biography prepared by Stokes, 30 years ago Evans "set the standard for how a school was to going to best address the specific needs and desires for these vulnerable students. His work with the ESL Project is still commented on and used as an example."
He coached the senior boys basketball team — as well as many others since he identified sports as an effective and meaningful way to engage students — and in 1987 he was approached by a few young women. "That one nervous request started his legacy," wrote Stokes.
"I have been teaching here for 42 years and we will never see the likes of Mike Evans again at Britannia secondary," said Fitzpatrick in an interview Tuesday.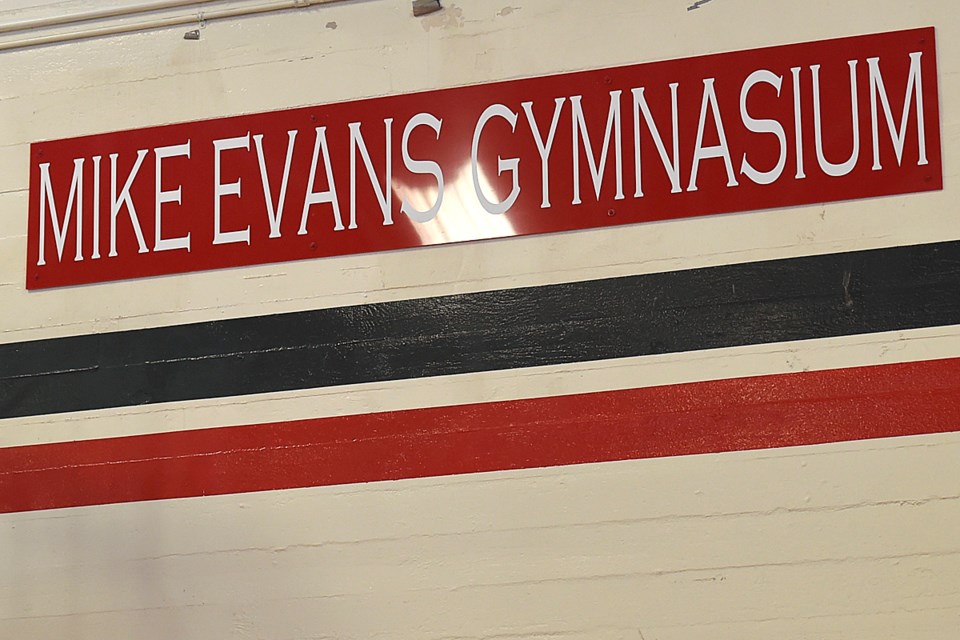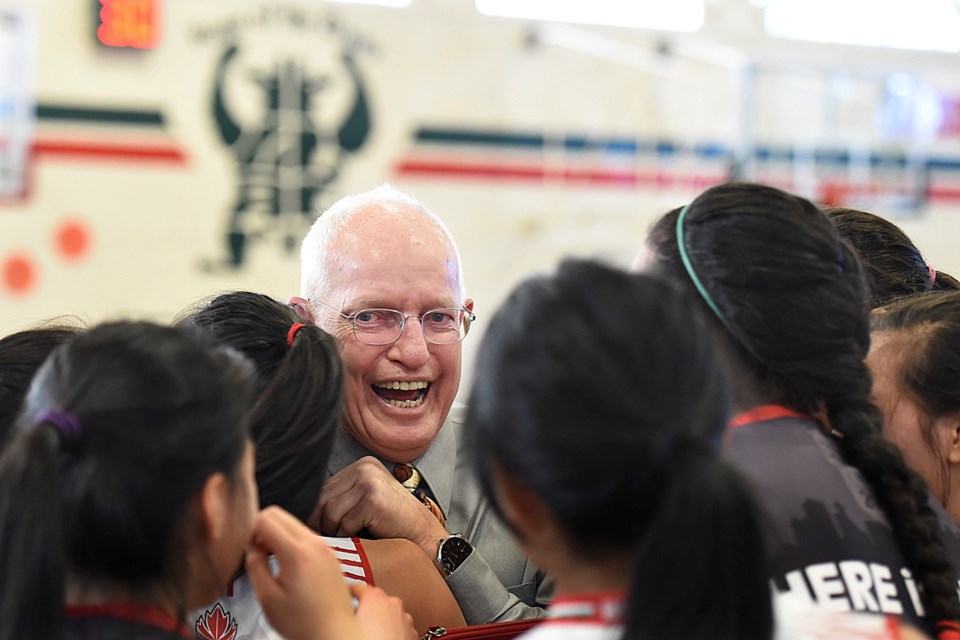 He added that Evans has high expectations for his players. "He treats them as equal. He's a no-nonsense basketball coach. He does not allow them to play any cards, if you know what I mean. And it's no surprise that many of these basketball players are also excellent students."
Fitzpatrick described a coach who works 24 hours a day, seven days a week to help kids succeed.
"This has carried over to the men's team because success breeds success and it's also carried over to keeping kids in school. It helps keep marginalized kids in school because they are experiencing success," he said. "Mike is a coach, not a critic."
Evans was a counsellor until 2002 and then became a community school education coordinator for the high school and its associated elementary schools. He retired in August and for nearly 40 years has lived in Ladner with his wife, Pat. Their daughter is an elementary school teacher in Vancouver.
Now in his 70s, Evans will continue coaching the Bruins and is taking the year to work out an adjusted schedule. "If there's a practice at 3:30 p.m., I leave for the school at 2 p.m. If there's a practice at 5 p.m., I leave at 2 p.m.," he said. "Because of the traffic."
He is part of the Britannia Support Society, which raises money to enrich the lives of students. And he is also on the board of CLICK (Contributing to the Lives of Inner City Kids).
"Plus I'm coaching," he said. "I don't really see an end in sight."
Honour Roll
At Vancouver secondary schools, the Mike Evans Gymnasium is on a short list of gyms named for influential coaches. Evans was a counsellor and in the case of these five other schools, the coaches whose names are now on the gymnasiums were also respected teachers.
Eric Hamber secondary: Norma McDermott and Bruce Ashdown
John Oliver secondary: Hugh Marshall and Mary Macdonald
Killarney secondary: Dave Renwick and the main basketball court named after Tom Tagami
Kitsilano secondary: Stan Lawson and Loma McKenzie
Prince of Wales secondary: Bill Seggie and Darlene Currie
Twitter and Instagram: @MHStewart