The little boy was born in Iran, but when he was two-and-a-half his parents, afraid of being thrown in jail and limiting their son's future, fled to Turkey where they were put in refugee purgatory. All they wanted was to find a free and safe country to live in.
Finally, Canada, a country they knew next to nothing about, took them in and they ended up in Burnaby when the boy was old enough for kindergarten.
At first, it was hard on him because he didn't know the language, although within a month or so he began to connect with other students. Turns out he's quite sociable. One day, his class at Forest Grove Elementary went ice skating. Although he struggled to skate, he loved it. He went home and told his parents they'd learned about hockey.
"What's hockey?" they asked.
He told them and asked, maybe even pleaded, "Mom, can I play?"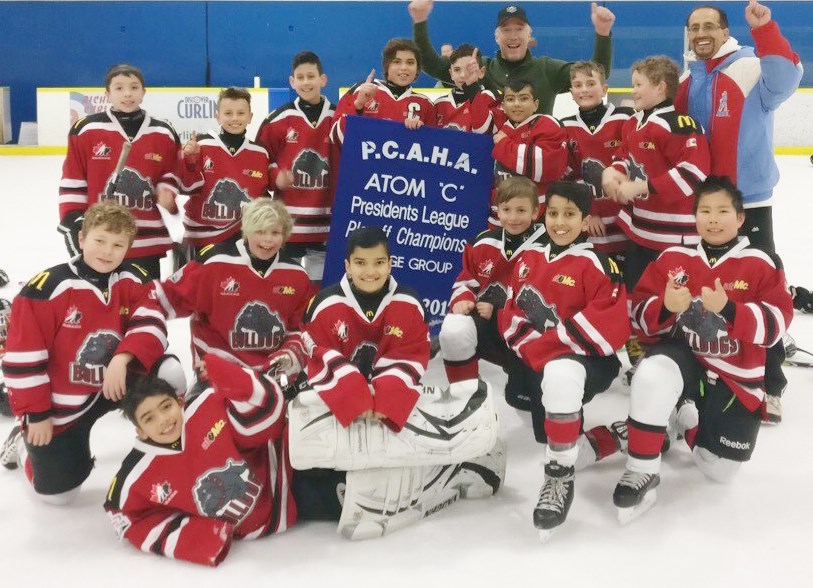 New home on the ice
Seyed Hosseindoosttaleshani is one of many young refugee and immigrant converts to Canada's national obsession playing in the Burnaby Minor Hockey Association (BMHA). They come from countries like Brazil, Lebanon and Iran, where the only ice is found in drinks. Others are from the likes of Korea, China or India.
"What I've seen is what's happening in the community is reflective of what's happening to (the association)," says BMHA executive administrator Larry Hayes. "More people are coming into the community from various countries, with various backgrounds and for various reasons. We are seeing it's reflective of our registration. 
"I have heard on numerous occasions, and usually a lot of it's from those non-traditional hockey countries, that the kids and the parents want to feel a part of the Canadian experience, and being part of Canada, they see hockey as being a big part of that.
"The vast majority have never seen an ice rink, never mind ever played the game before. I would say, 98 per cent, if not higher, this is their first experience.
"For a lot of them that have come, especially the ones that have come here as refugees or are coming to make a better life or leaving a country where they perhaps don't have as many freedoms, they're just embracing it. The reality is that ice sports and hockey are a big part of what the rest of the world sees of Canada."
Hockey 'unique'
Hosseindoosttaleshani started at Kensington Arena and learned to skate in about six months. His teacher suggested to his parents Hanif and Maryam that they register him for hockey, so they did. 
"The first time I came to Canada, we didn't have a TV. Once we got a TV, we started looking at sports and we started watching hockey and all-star games and all that. I just liked how unique it was and how you can win and how big you can grow," says Hosseindoosttaleshani, who plays goal for the BMHA atom C6 team. "The first time I put on skates it was a really exciting moment that I could be on skates. If my parents didn't help me get out of (Iran) I wouldn't be at this level that I am right now."
Red Tape Mountain
Getting kids like Hosseindoosttaleshani on the ice for a practice, let alone a game, isn't easy.
It's a long, drawn-out process fraught with red tape.
Any kid not born in Canada who wants to play hockey has to have his or her application go up a mountainous bureaucratic chain, and then back down again, says Hayes, who estimates he's processed about 30 applications in the past three years.
First it goes to the Pacific Coast Amateur Hockey Association, then to B.C. Hockey and Hockey Canada. The national body then passes it on to the International Ice Hockey Federation. Before the IIHF signs off, it contacts the ice hockey organization in the country in which the player was born. Then it goes back down the chain. The whole process can take many months.
"It's somewhat cumbersome," says Hayes. "They have to provide documentation, which would include birth certificates, their visas as to the reasons they are here, landed immigrant documents. The majority of them are coming here permanently, but we also get international students that come in and want to play for a year or two while they are here. But that is still a process as well."
Hayes said one girl from Lebanon had to wait for the process to be completed even though her birth country doesn't have an ice hockey federation.
"Of course, it frustrates people," says Hayes. "I certainly give them kudos for hanging in there because if they want to play, I tell them, unfortunately, this is a necessary evil. But I soften the blow of having to wait and the fact there is this bureaucracy by telling them each country, especially those that are members of the IIHF, want to keep track of who their natural-born athletes are. 
"So it gets a smile from the parents and kids every time I say that, one day, if you're a good player, you might get a call from the hockey organization in the country you were born asking you if you want to play for them in the Olympics. Which is a reality. That's certainly one of the reasons each of these countries want to keep track of where their potential Olympic athletes are in the world."
Team like family
Hosseindoosttaleshani's team has kids from many different backgrounds, he says, including Japanese, Chinese and Italian.
"Friendship-wise we do get along. The team is like a family to me. You have to trust your teammates. No trust, no gain," says Hosseindoosttaleshani, already well-versed in hockey-speak.
"When you're starting to learn hockey, you're learning new words, like shot, that you wouldn't learn in school, hockey kind of words. When you play a game, coaches use really big, meaningful words."
Last year, the team won an atom C division championship.
"It was fun throwing the gloves and having that five minutes of fame, like the Stanley Cup kind of thing."
Something to celebrate
Despite the bureaucratic maze Hayes has to navigate, despite all the assurances he has to give to parents and despite all the frustrations of waiting and waiting and waiting, giving kids from far-away lands the opportunity to experience Canada's hockey obsession is something he celebrates. 
"Oh, big time," says Hayes. "As far as Burnaby Minor Hockey is concerned, probably our days of winning provincials with my Joe Sakic teams are behind us. The system is not set up that way any more for community organizations to win championships.
"But I have said to so many people that we should be proud of the fact we have our doors open to anybody that wants to play, whether they're from Korea, Estonia, India, Lebanon, Brazil, China, whatever, that there is a place for them.
"And I'm very proud of that fact that us as a community organization can say that and provide those opportunities in the sport to kids who probably never dreamed in their wildest dreams that they'd be playing hockey in Canada – and having a great time at it."
Since hockey is an expensive sport, BMHA does assist players whose families are financially strapped with registration fees, and there are many organizations – including KidSport Burnaby, JumpStart and Athletics for Kids – that also help out. 
Dreaming on
Like many other Canadian kids, Hosseindoosttaleshani wants to play in the NHL.
Sometimes, says Maryam, when he has a game, she'll wake up during the night and see him watching a hockey video.
His favourite teams are Las Vegas – because it's new and has his favourite player, goalie Marc-Andre Fleury – and the Vancouver Canucks. His enthusiasm has rubbed off.
"Now my daughter is four years old and we ask her what does she want to play," says Maryam, "and she say for sure hockey, 'because my brother is a hockey player and I want to be one too.' It has changed our life. Sometimes we have fun, we go to hockey matches."
Just like a lot of Canadian families.