Coming into Wednesday night's game, just two points separated Arizona and Vancouver in the NHL's Western Conference. With Calgary beating Columbus in overtime to pad their lead in the Pacific Division, both squads were desperate to earn those precious two points: Vancouver needed to bolster its advantage, and Arizona needed to push its way into a wild card spot. 
It's fitting that, in a game with the Desert Dogs, the highlight of the evening was a second-intermission race featuring a handful of condo dogs. What these semi-famous furbabies may lack in size, ferocity, focus and ability to breathe through their noses, they made up for with cuteness and pure dogitude.
So, were the Canucks able to fetch a couple of points, or did they continue their slide into the Western Conference doghouse? You could answer that question by simply reading the above title, or, alternatively, you could read this article that I wrote while I watched this game.
Rookie defender phenom Quinn Hughes was rumoured to miss this game due to nagging soreness, but he managed to play anyway, probably on account of being one of those youths. I'm glad he dressed; frankly, (and I hope I don't get too technical here) it's better when hockey is fun.
The Coyotes opened the scoring on a truly bizarre play. With the Canucks shorthanded, Oscar Fantanberg tried to clear a puck from behind the net, but it deflected off Carl Soderberg and through a tiny gap over Thatcher Demko's shoulder for the early lead.
I don't want to be too hard on Demko for that (or any) goal, because he was steady. He had many must-saves, including a fast glove on Lawson Crouse from close range that would have doubled Arizona's lead. Demko stopped 16 shots in the first period alone, and 36 of 39 in total. The real problem was not netminding; instead, Vancouver was hurt by their inability to reliably limit Arizona's chances and generate quality shots of their own.
The Canucks put up a decent effort. They put up a healthy 38 shots on Darcy Kuemper, but few of those were real scoring chances, and on the chances they did have they looked snakebitten. Their first two periods looked like a snapshot of me, post-college: goalless and seemingly unable to score.
Kuemper was very good, but it's important to credit a self-sacrificial defensive effort by Arizona. Vancouver largely controlled the play, but every time they looked at the net, they saw four or five Arizona sweaters blocking the lane. Desert Dogs? More like Desert Clogs.
Jake Virtanen had a great game. He began with a wonderful, second-period opportunity. After Soderberg rang a puck off the inside post, Brandon Sutter managed to send Virtanen on a clean breakaway, before he was bested by Darcy "Known Beer Hater" Kuemper.
Jake wasn't done there. He had multiple quality chances in the second period, including a blocker rebound that landed right on his stick. He ended the night with six shots, an assist, and (most importantly) a solid win by his dog, Donny Virtanen. Encouragingly, he showed further signs of playing to his apparent strengths.
It's safe to say Thatcher Demko may not be the biggest Taylor Hall fan after this game. The star winger was in Vancouver's crease all game. Hall attempted to go five-hole after flying past a flat-footed Troy Stecher, but Demko stood firm and patiently nullified the shot.
Later, Chris Tanev slowed up a rushing Hall, and the pair collided with Demko. During that collision, Hall's skate blade impacted dangerously with the poorly protected back of Demko's leg. Here's a look at the play:
Thatcher Demko gets taken down awkwardly pic.twitter.com/wN6uXkkNOG

— /Cam Robinson/ (@Hockey_Robinson) March 5, 2020
That kind of looks like a slew foot by Hall. What do you think, would we call that a slew foot?
Blatant slew foot by Hall there

— Patrick Johnston (@risingaction) March 5, 2020
Demko was shaken up but was luckily able to continue playing. Can you imagine losing two NHL goaltenders in just a few weeks? Twitter user Chris Conte perhaps put it best:
I'm not ready for the Louis Domingue era...

— Chris Conte (@ChrisConte79) March 5, 2020
DID YOU SAY DOG RACES? Honestly, thank goodness for the dog races. You need a momentum shift? Dog races! Fans are tuned out? Dog races! You are weeping and rocking back and forth while maintaining the fetal position? Dog races, (and maybe a hug and a Snickers bar.)
Here is the aforementioned dog race in all its glory:
Donny Virtanen with a HUGE win tonight.#ShotgunJake #Canucks pic.twitter.com/0dKCzFW0do

— Bailey Broadbent (@BaileyBroadcast) March 5, 2020
The winner? Donny Virtanen, exhibiting characteristic Virtanen foot speed and two-way skills (by which I mean he ran off in at least two different directions.)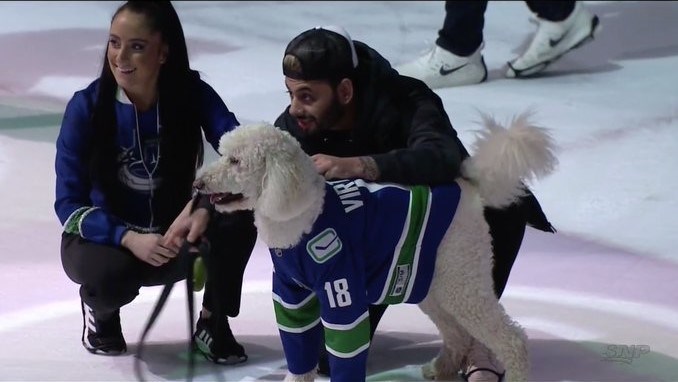 It's also extremely important I mention that Riley Tanev was the "Wooferee".
Riley Tanev the wooferee pic.twitter.com/7IGpErBJeU

— danielle (@danihuntley) March 5, 2020
So there you go! There were dogs and everyone was happy, good times were had by all! What were we doing again?
Tyler Toffoli broke the shutout in the third period with an incredible, momentum-shifting tally. Clayton Keller took a penalty after losing his helmet in a scrum with Virtanen. On the ensuing penalty, J.T. Miller found Toffoli beside the net. Tyler, who is clearly a Hitchhiker's Guide fan, spent a moment or two to calculate every possible shot in every possible universe before he roofed the puck from an infinitely improbable angle. Check it out.
WHAT. A. SHOT. ☝️ @tytoff16 pic.twitter.com/4T2DMti6Wx

— Vancouver #Canucks (@Canucks) March 5, 2020
Moments later, Jake Virtanen rushed in on net, with Tanner Pearson riding shotgun with Jake. Virtanen passed through the crease to a net-crashing Pearson, who deflected the puck off a skate for the lead. Jake's assist on the play was a much deserved reward for a largely brilliant effort.
The inverse of Virtanen was probably poor Troy Stecher. Arizona tied things up halfway through the third after the puck bounced off Stecher's skate to a waiting Carl Soderberg, who fed Nick Schmaltz for a rebound goal. Stecher had a total of five giveaways and you could see the frustration on his face; he's normally steady, but this outing was a dog's breakfast.
The Coyotes weren't done. Vinny Hinostroza rushed into the zone, carried the play around the net, and chucked it to Oliver Ekman-Larsson at the blueline. Lawson Crouse tipped the Arizona captain's point shot past Demko for a one-goal lead.
The game ended in a furious finish. With Demko pulled, Brad Richardson nearly potted an empty net goal, but Alex Edler (who has honestly always been at least 30 per cent goalie) put his body on the line to step in front of the net, block the shot, and keep the score close. Bo Horvat and Antoine Roussel then traded fabulous late chances, with Roussel almost banging in the puck from up close.
This late push was not enough. Ekman-Larsson finally sealed the game with a 200-foot empty netter for a 4-2 Arizona victory, and the Canucks suffered their fourth loss in a row. Vancouver now clings precariously to the final wild-card spot in the conference. With just 16 games remaining in the season, they'll need to string together some steady efforts and convincing wins to stay in the playoff conversation. Otherwise, these dogs… are pooched.