Watching a Thunderbirds linebacker run around cones has rarely drawn so much interest. Nor have so many volunteered to place the laces away from a kicker's foot.
But when football scouts with the NFL and CFL travelled to Thunderbird Stadium March 30 to assess Terrell Davis and Quinn van Gylswyk, two positional specialists staring down a future in professional sport, dozens came out to watch, to help, to report, or just to admire. 
"There is nothing bigger than the NFL. To have them here is a big deal," said strength and conditioning coach Joe McCullum. "These other kids all jumped at the chance to just long-snap for our punter. This is a great opportunity — I bet you a million kids in Canada would give anything to be them in this moment."
The NFL scouts are believed to be the first to travel to Vancouver to observe UBC footballers. The Seattle Seahawks and Oakland Raiders sent scouts to see the two players, while retired slotback and three-time Grey Cup winner Geroy Simon was on hand for the B.C. Lions and the Toronto Argonauts sent their Canadian scouting coordinator, Vince Magri.
Davis, in his third year with the Canadian Interuniversity Sport after transferring to UBC from Arizona State in 2014, ran drills that tested his acceleration and agility in addition to his raw speed. He covered the 40-yard dash in 4.7 seconds, repeating his performance at the CFL combine held in Toronto March 11 to 13.
Ranked 40th for Canadian linebackers eligible for the CFL draft, the polite and friendly Davis said he wanted to clock a faster time.
"I was hoping to improve on that but it's OK being consistent," said the six-foot, 222-pound former high school player of the year. "I'm hoping to get a bit better but I'll take the 4.7."
From the CFL combine, he improved his vertical jump and also increased his bench press from 13 to 18 reps at 225 pounds.
"It's definitely great having a couple NFL teams out here watching us, but it's not too nerve-wracking because we're at home and it's a nice day to come run around for some guys. It's not too bad — it's just football guys hanging out, taking notes."
Player pro-days and combines test performance under pressure. Meeting, and surpassing, expectations is one more ability that scouts assess.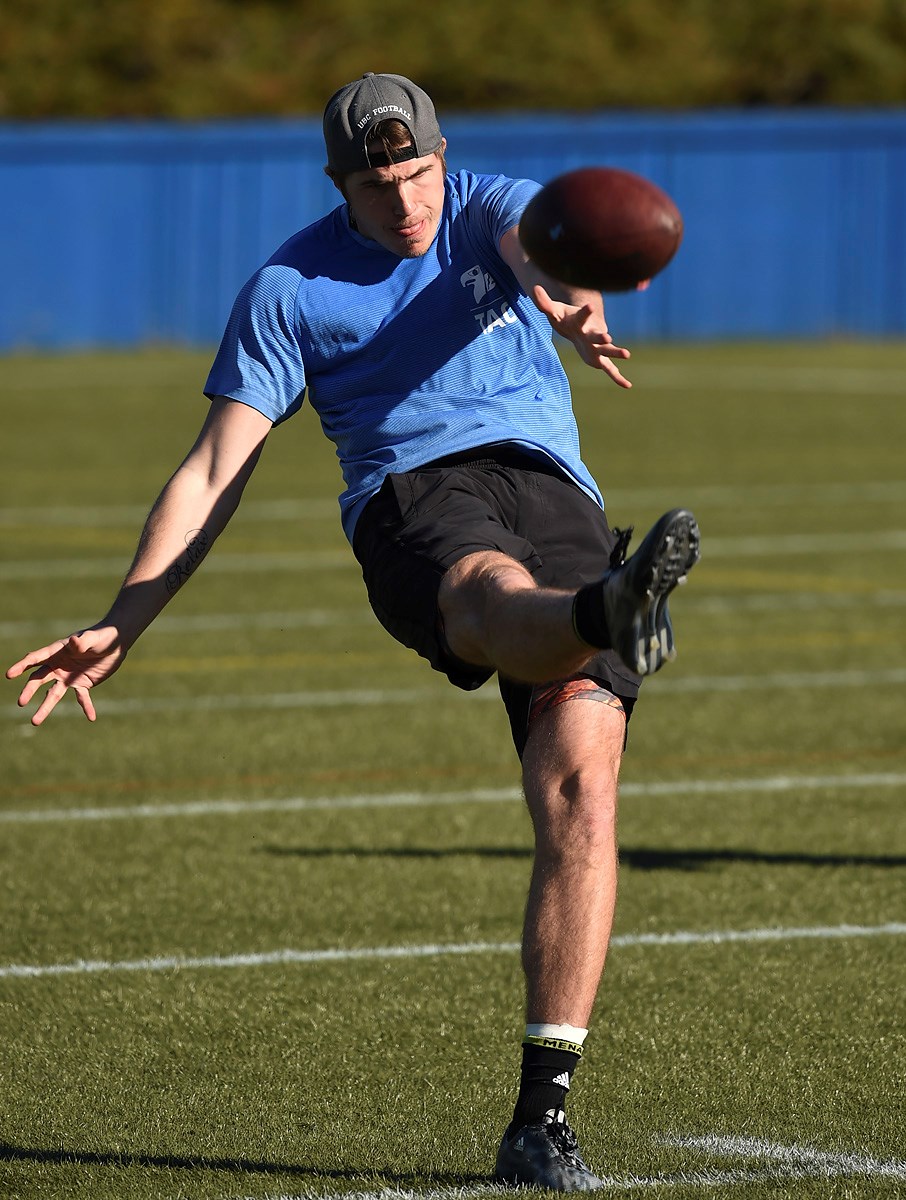 In the case of van Gylswyk, the six-foot-three kicker who, like Davis grew up on Vancouver Island, had the longest punting average in the CIS but showed he is more than an impressive stat when he reacted to a snap that was fired high and to his right. In front of the scouts, van Gylswyk put his athleticism front and centre by snatching the misfired ball and releasing a soaring punt into the end zone more than 60 yards downfield.
On other attempts, he swore loudly when kicks wobbled or didn't hang as long as he'd like. He made field goals from 50 yards, but came just short from 55, at the centreline of Thunderbird Stadium. During the 2015 season, van Gylswyk led all CIS punters with a 43.6-yard average with a season best of 75 yards, the second-longest in the CIS after a Laval punter hit a 79-yard bomb. His longest field goal was 47 yards and he scored 89 points for the T-Birds, the third-most in the league.
The Argos' Magri said consistency is an essential trait to demonstrate.
"If you can't handle this, then you might have trouble in front of 80,000 people," he told reporters. "We probably track about 150 to 200 players every year, and in reality 63 get drafted," said Magri.
Roughly 18 NFL scouts descended on Winnipeg earlier in the month to check out Bisons' defensive lineman David Onyemata, a 23-year-old who'd never played football before joining the university team but could now be the first Manitoban drafted by an NFL team. Manitoba's coach told the press the scouts were thoroughly impressed, saying Onyemata's "numbers throughout the day have been crazy."
Playing for the Thunderbirds, Davis and van Gylswyk contributed to UBC's first Vanier Cup since 1997, a tremendous success under first-year coach Blake Nill that rewarded the private donors backing the program but also cemented the school as a magnate for recruits and scouts. That 1997 team also included one of the last T-Birds to draw NFL attention, linesman Bob Beveridge who attended a New England Patriots training camp before joining the CFL. He has two Grey Cups to his name and returned to UBC the offensive line coach.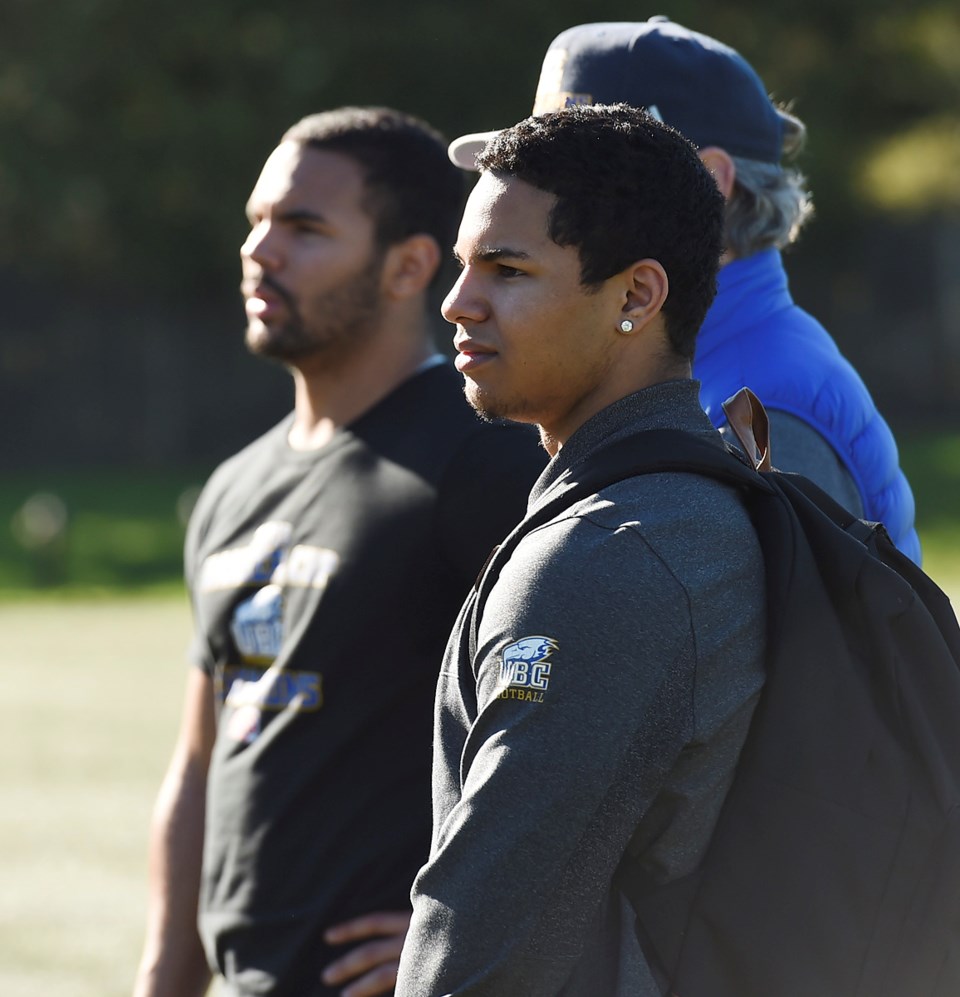 Vancouver College graduate Christian Covington didn't just make his mark for NFL scouts as a player for Rice University, he was selected in the sixth round of the 2015 NFL draft and had eight tackles and two sacks last season as a defensive tackle for the Houston Texans.
As Davis prepared to run the line with scouts standing at 10- and 20-yard intervals to measure is splits, there was one particularly keen spectator watching from a distance — his younger brother, Marcus.
"It's pretty cool to experience all this and see this other side of football and what the next step is," said the second-year tail back with 106 rushing yards last season.
Drawing scouts to Thunderbird Stadium has opened his sense of possibility. "It means with the NFL teams, if you're good enough, they will find you and that is why they're out here looking at our two top recruits for this year."
The elder Davis added, "In the years to come, I think we'll see a lot of NFL teams take interest in kids in the CIS."
Twitter: @MHStewart