Vancouver boxer Leo Sammarelli was well on his way to turning pro when a bullet pierced the eighth vertebra in his back and left him paralyzed.
Now, an adaptive form of the sport is giving him purpose.
On March 21, the North Vancouver native and former national lightweight champion will lead a small contingent of wheelchair boxers into the ring at Coquitlam's Hard Rock Casino to demonstrate the adaptive version of their sport as part of the Hard Knocks at the Hard Rock professional card.
It's a twist in Sammarelli's life path he never would have envisioned three years ago as he dragged his shattered body, bleeding from four bullet wounds to his torso, back and leg across a North Vancouver road to the safety of his car.
Sammarelli, 25, admits his life had taken a dark turn after his father passed away suddenly in 2015 while on vacation in Italy. Sammarelli started partying a lot and hanging out with the "wrong crowd" as he struggled to come to terms with his loss. And though he continued to train to compete at the 2017 nationals, he said his heart wasn't in it.
Sammarelli, who was then working in home renovations and landscaping, said he was a victim of mistaken identity. Police said he was one of two shooting victims within an hour of each other, both believed to be targeted — the other, a 29-year-old known gangster Brinderjeet Justin Bhangu, died in Surrey.
While a suspect was arrested in Bhangu's shooting and eventually convicted of manslaughter, Sammarelli said his case remains unsolved. Sgt. Peter DeVries of the North Vancouver RCMP confirmed there's been no update to the incident.
Sammarelli said as he recovered from his wounds, his athlete's instinct to get up, brush himself off and get back into the ring convinced him he would be able to walk out of the hospital in a month.
"The hard truth was accepting that I wouldn't," said Sammarelli, who endured several surgeries to repair damage to his abdomen but could do nothing for the paralysis in his legs.
Sammarelli's journey to recovery started small. He did bicep curls in his bed with a three pound weight. Then he moved on to the next challenge, and then the next.
"It had a snowball effect," he said.
Though Sammarelli had slimmed to 90 pounds while at G.F. Strong Rehabilitation Centre in Vancouver, friends and family encouraged him to keep working to strengthen his body. The regimen also bolstered his spirit as every workout rewarded him with a sense of accomplishment.
"Getting these victories brought me back to the fire I'd had before," he said.
Passion for the ring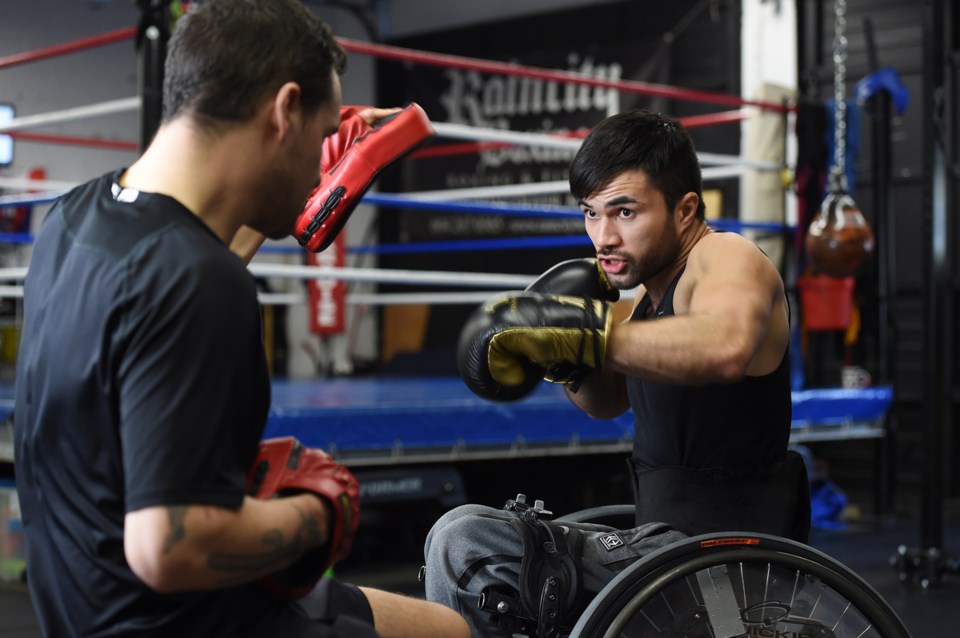 Sammarelli's love for boxing was ignited when he was 15 and living with an uncle in Italy's Puglia region. He played soccer and other team sports but it was a visit to a tiny boxing gym that really set ablaze his athletic passion.
Sammarelli said he thrived on testing himself in training, hitting the heavy bag, taking instruction from the coach — an old friend of his father — then translating that to sparring sessions.
"There was nothing better than the sense of individual accomplishment," he said.
Sammarelli had immediate success in the ring. He won an inter-regional competition in Italy. He stopped all five of his opponents from around the southern part of the country and cemented his commitment to the sport.
"It really pushed me in a way that encouraged me to do more," he said.
Upon his return to Canada to finish high school, Sammarelli started training at the North Burnaby Boxing Club. He won provincial Golden Gloves titles and, in 2014, he became Canada's WBC national amateur lightweight champion. He set his sights on the 2016 Summer Olympics in Rio de Janeiro, Brazil and, possibly, a pro career after that.
To take his training to another level, Sammarelli packed his gym bag and headed to California so he could learn at the famed Wild Card Boxing Club in Hollywood that had produced champions such as Julio Cesar Chavez and Manny Pacquiao. A chance to spar with two-time Olympic gold medallist and double world champion Vasyl Lomachenko told him he was on the right path.
"It was like going against Muhammad Ali or Michael Jordan, or shooting golf against Tiger Woods," Sammarelli said. "It taught me the lessons of being determined and staying hungry."
Seeking solace
Sammarelli's gunshot wounds healed into scars, but the hurt in his soul persisted.
Seeking solace, he travelled with a friend to Cambodia to help distribute medical supplies, a task close to his heart as his late father had worked in the medical field. Sammarelli said it was an eye-opening experience.
"It transformed the mentality I was having," he said. "It showed me a lot was possible."
When he returned to North Vancouver, Sammarelli found peace in nature. He strapped himself into a fibreglass seat and took up paranordic skiing along nearby mountain trails. He eventually got so good at it, he won a silver medal at the Canada Winter Games and bronze medals at the U.S. paranordic national championships.
"It was super important to feel competitive again, to get a victory for myself," Sammarelli said, adding he also took up hand cycling so he could ride in the 122-km Whistler Gran Fondo. Last September, he completed the ride in just over eight hours.
It was some of Sammarelli's old boxing friends who encouraged him to return to the gym. He said he had no idea how that would work with his wheelchair, but as he started hitting the bags, his old instincts came back.
"I found a different way to train," he said. "It was a way to keep pushing myself and boundaries."
A new challenge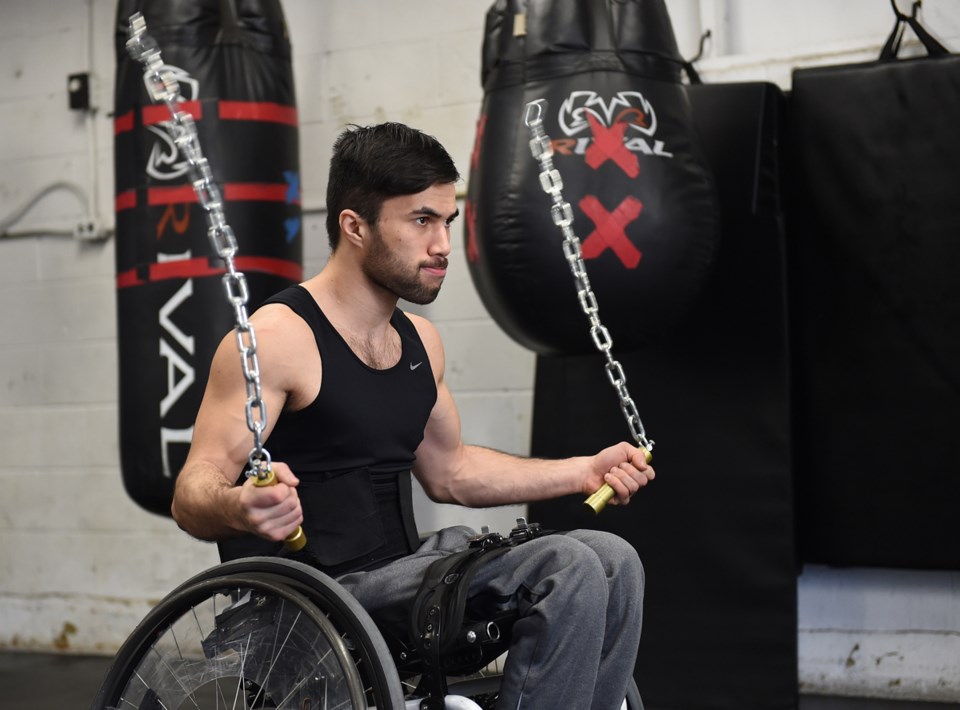 Sammarelli said he didn't know adaptive boxing was a possibility until he connected through social media with the Adaptive Boxing Organization, which is advocating for the sport to be recognized in the Paralympics.
Sammarelli said he has met — online — wheelchair boxers from Africa, India and across North America and Europe. He said while the sport is still working to codify a common set of rules to take into account the various levels of disability, bouts are structured just like amateur able-bodied matches, with combatants donning 12-ounce gloves for three three-minute rounds. Other than being strapped into a lightweight sports chair with cambered wheels and an anti-tip mechanism at the back, fighters duck, weave, jab and defend just like their fully-mobile counterparts.
Sammarelli said the biggest adjustment was learning to generate power entirely from his upper body rather than using the rotation of his hips to transfer energy from his legs.
"It totally transformed my perception of boxing," he said. "You have to develop the chair skills because, without them, you're a sitting duck. You have to keep your head moving."
Last year, Sammarelli launched the non-profit West Coast Wheelchair Adaptive Boxing Society to promote the sport and provide opportunities to adaptive athletes, some of whom will be at the Hard Rock event to showcase their skills and raise awareness. Partial proceeds will go towards attaining proper equipment and coaching.
Sammarelli said while the gunman may have cut down his aspirations to become a professional boxer, his journey back to the sport he loves is helping him deal with that loss while providing him a new path forward.
"When I leave the gym, I leave refreshed," he said. "The boxing community is what helped me get to where I am, and this is the way I can help them. We don't want to turn anyone away who wants to box."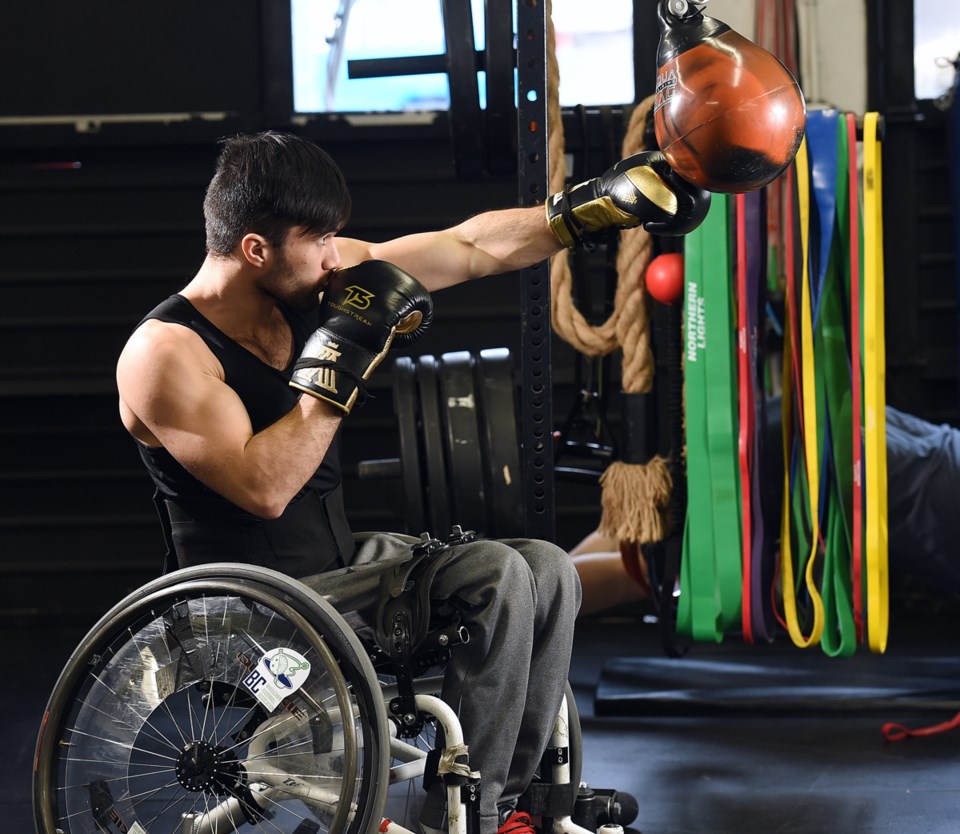 Hard Knocks at the Hard Rock will feature several local boxers, including Canadian light heavyweight champions Sabri Faruk of Maple Ridge making his pro debut. Tickets are available via ticketmaster.ca.
mbartel@tricitynews.com