When you are a two-time provincial and national cycling champion and your teammate causes you to crash your $15,000 bike a week before a race, who are you going to call?
If you are Vincent Marcotte, the person at the other end of your S.O.S. is Phil Liu.
Marcotte contacted Liu this past Sunday after his bike was damaged during a practice run. By the next afternoon, the Langlois Brown racing team member was walking out of Liu's Veloholic bike shop fully prepared for this weekend's Spring Classic in Abbotsford.
"Be careful the next time," Liu calls out in camaraderie as Marcotte leaves the shop at Fraser and 41st.
It's this level of customer service, as well as the ready availability of components from some of the world's most coveted bike manufacturers, that have made Marcotte a Veloholic convert.
Liu helped Marcotte create his race bike using components that can't be bought off the shelf anywhere else in Vancouver, and would be hard to find anywhere in Canada. The seat is hand-built in Italy. The wheels (which cost $4,000 alone), stems and handlebars are hand-built in the United States and the cranks and carbon-fibre reinforced chain ring are hand-built in Spain.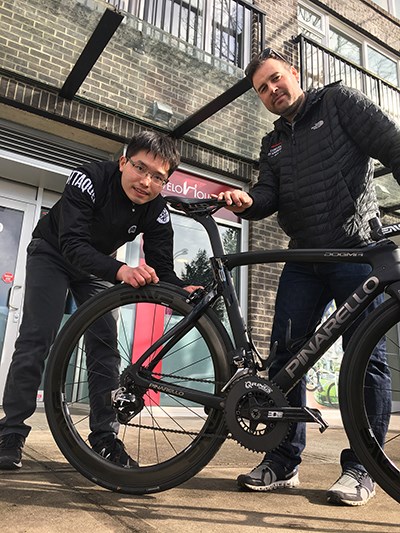 About half of the components are brands that Marcotte represents as a salesperson — Enve, Rotor and Pivot — and the others were found at the shop. That's part of what makes Veloholic so unique, Marcotte says. At other bike shops you might be able to get the components as special orders that take days or weeks to arrive. Cipollini, Basso, Sarto, Wilier and Colnago frames are all in stock (and hung on the wall like museum pieces) at Veloholic, as well as components such as Campagnolo wheels and Kask helmets from Italy, Ceramic Speed bearings from Denmark, Cycling Ceramics from France and Astute saddles from Italy.
"If you're going to make that sort of investment, it's nice to see the bike in person — touch it, understand it, see what it feels like," Marcotte says of the difference it makes to be able to walk into a shop where everything's available rather than choose from options on a computer screen. "These are bikes you aspire to get one day. They're dream bikes. These bikes are about passion."
He looks down at his ride and says, "Other bikes don't have the soul this bike has."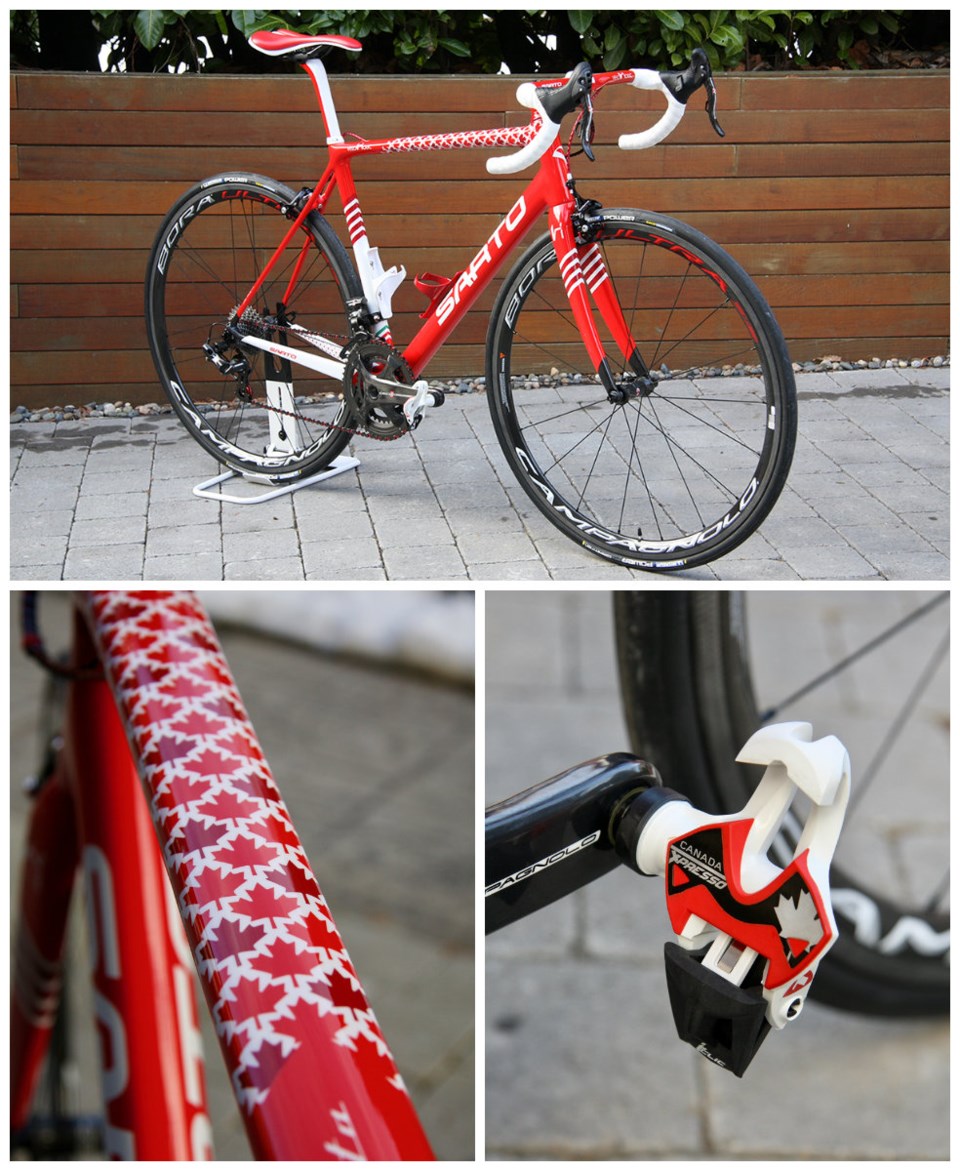 If the bikes at Veloholic are the stuff of dreams for cyclists, then Veloholic is the shop of dreams for Liu. He was 12 years old when his parents, worried that he and his younger brother Peter were spending too much time on computers, encouraged them to start cycling. They were living in Taiwan, where bike shops are like community centres. Bike enthusiasts gather there to socialize and while you sometimes buy something, that's not what the owner expects every time you walk in.
"There is no pressure to buy," Liu says, moments before a customer drops by Veloholic with his five-year-old daughter just to chat and drop off a box of Timbits. "The cycling culture there is lifestyle. It's a social sport."
Liu's family moved to Vancouver in 2002. A straight-A student, he studied engineering at UBC for two years to live up to his parents' expectations. Once he proved to them that he could excel at university, however, he quit to study manufacturing engineering to be a CNC machinist/programmer at BCIT. "I wanted to do something with my hands," he says. "It makes me feel satisfied and proud. I like the feeling that I am creating something."
He worked for a Richmond manufacturer that makes parts for Boeing and then turned to making particle accelerators for a national laboratory. It was there he found he's quite good at repairing things and solving problems. "I have the ability to make something work and challenge myself."
However, he also realized that in 10 to 20 years, his job will be replaced by a robot. He needed a Plan-B career. An avid cyclist, he went to all the bike shops in Vancouver but couldn't find what he wanted, either in the types of components that were on offer or the spirit of community he yearned for. That's when he and Peter decided to open Veloholic last April. "I just jumped right in."
Phil is trained to do the repairs while Peter concentrates on maintenance. They have invested heavily not only in the components but in the specialized tools needed to fix them, as well as building relationships with the manufacturers so Liu can act as a bridge with his customers.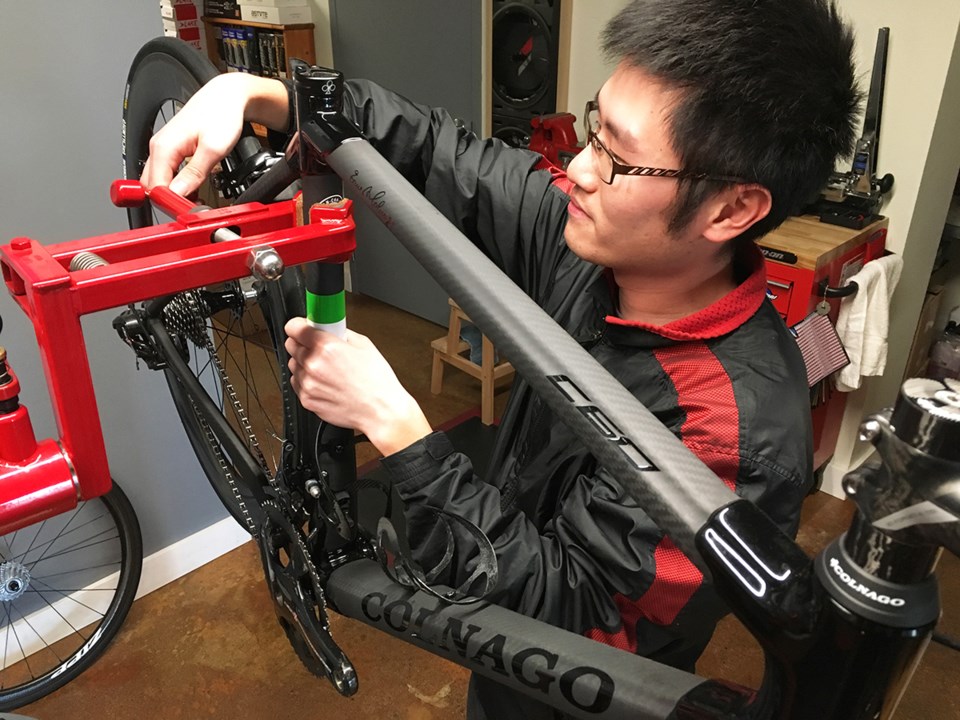 Kelly Ma and her husband walk into the shop with a part from the bike that Liu custom-made for her. Ma is 5'4" and slightly built. She got into cycling three years ago but had trouble finding the right fit for her petite frame. Liu helped her build a bike that she feels comfortable riding both up and down Cypress Mountain.
"It's like a pair of high-heeled shoes," she says, gesturing at her four-inch heels as Peter listens in while he's working on her bike part. "If you have a good design you can walk for 100 miles."
Liu custom-fit the brake handles so Ma's small hands can easily grasp them and shortened the bar width. The frame is so light that she's not pedaling extra weight climbing hills. When she's coming down the hill, she can trust the bike is stable.
Liu says, "A bike is not just a bike. It's an extension of yourself. Every bike I build is different. I want to know the customer's personality and what their needs are. Even the colour of the bike has to fit their personality."
He chose manufacturers that share this artisanal passion. "They care and we care."
Everything comes at a cost, of course. A finished bike can cost upwards of $20,000 to $30,000.
"When you buy a bike you have three options: strong, light and cheap. You can only have two of them at one time," Marcotte says. The Veloholic bike is for the Honda driver who aspires to one-day owning a Ferrari.
He credits the Lius for bringing this level of product to Vancouver. "They're pioneering a lot of the brands and sourcing out new and innovative designs…  They have taken the risk to buy the product before it gets sold. That's why it hasn't been done to this depth in Vancouver."
But Liu doesn't want people to think that Veloholic is for cycling snobs with a lot of money to spend. The store's just a couple of blocks down from a Salvation Army thrift store and he doesn't care if you drop by the store to look or just talk bikes. (He also chose the location because, ironically, it has free parking out front for customers.) He knows his bikes are expensive and he doesn't pressure anyone into thinking they have to make such an investment.
Every Monday night Veloholic hosts a group ride, with destinations such as the 70-km round-trip ride to Horseshoe Bay. It's as much about the social as it is about challenging each other to ride faster longer.
"We need a strong, healthy cycling community," Liu says. "My work blends into my lifestyle now. It's a community here. We're not just talking about bikes, we're talking about family."