Running for six days through sand, sun and wind on a still-secret trail through the Sahara Desert won't be the hardest thing Pushpa Chandra has done in her life. It will be one of many hard things, and the ultra-marathon runner embraces the matter as fact. The race is difficult and that's the point.
"I would not really call anything hard. As an adventure runner, the challenges are always what you are looking for," she said in March, a week before flying to Europe to then travel on to Morocco for the famed Marathon Des Sables, a 250-plus-kilometre, self-supporting stage race with six days of running a route that has changed every year since the inaugural event in 1986 when 23 runners took off together.
The sparsely marked trail over dunes and rocky, technical hills called djebels will be revealed only moments before the race begins on April 9. The first stage this year is 33.8 km. The longest leg comes on day four, at 81.5 km.
"I will run, I will walk, I will crawl if have to," she said. Chandra will finish.
Racing the world
It's a mental and physical battering that comes with the risk of serious injury and tests a runner's deepest reserves. Besides, this race can kill.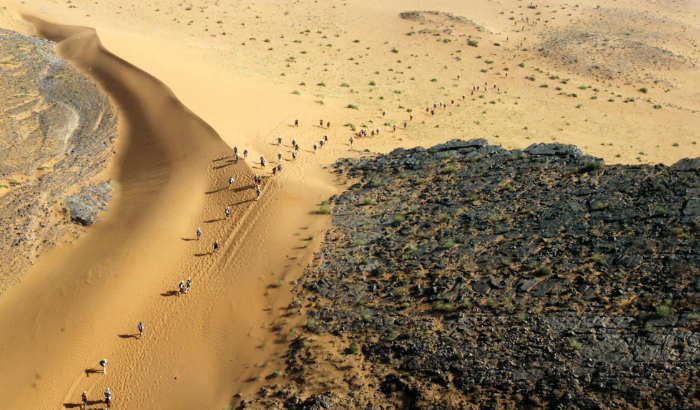 Participants in the Marathon Des Sables are advised to have their vaccinations updated because, according to race organizers, polio is "still rampant in the area." Runners are encouraged to carry anti-venom kits and are given specific quantities of water each day, depending on the length of the stage, from 30 to 81 kilometres.
When a sandstorm hits, runners must stay where they are and wait for instructions to avoid drifting off track where they could be swallowed by the desert. The worst storms can last eight hours. In the short history of the Marathon Des Sables, the "marathon of the sands" in French, three people have perished. The Discovery Channel labelled this ultra-marathon the toughest foot race on Earth. To prepare for the Marathon Des Sables, Chandra maxed out her training at 312 km a week, running inside on a treadmill to help acclimatize to exercising in the heat. "You want to run as much as your body can tolerate," she said. "At this distance, we go by how many hours we run. Most of us know our pace by now, training anywhere from four to 12 hours a day."
And there is something more. Chandra is 59 years old.
"For this race, I was feeling, like, Oh my gosh, I am so old," she said, wondering if the ultra-marathon was even possible for her. Yes, she determined it was.
"Running is not just another form of exercise. It offers so much more than exercise," she said. "It has transformed me to another level. I call it moving meditation. It offers me countless hours of solitude and silence and all I hear is the steady pounding of my feet. There are all these thoughts about life and the big picture of our lives."
The grandmother is often among the oldest participants and one of the few women to run multi-stage races on every continent, including the Antarctica 100 as the first Canadian to take it on. She set a record that stood for four years. Running at the other end of the Earth, she took the women's title in the North Pole Marathon in 2009. She's taken on the Mount Everest Marathon, the Amsterdam 100, and run 250-km self-supported races in Madagascar and the Gobi Desert.
Chandra signs up to wander into the unknown, on the trail and in herself.
"The ultimate journey is about not knowing what the risks will be and that is what really empowers you. I want to go through the journey of not knowing… I know I can do it but I don't know what changes I am going to go through. There is this risk of unknown that you want to explore," she said.
Follow Chandra live online as she works towards completing the Marathon Des Sables. She is runner no. 709.
A backpack to rule them all
In seven kilograms on her back, Chandra will carry almost everything she needs to sustain and shelter herself over six days and 250 kilometres in the Sahara Desert. In this race, preparation is absolutely everything.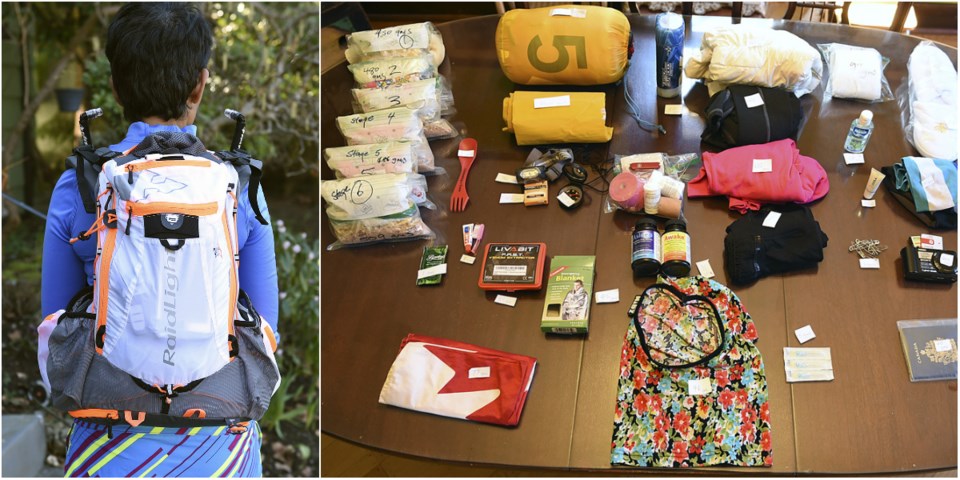 Weighing slightly more than a large can of paint, her backpack will be carefully loaded with high-protein macadamia nuts and freeze-dried vegetarian lasagne, each serving tightly packed, the caloric counts on display, and labelled for days one through six. She will heat water under the desert sun to cook her food and will truck around mandatory equipment like a headlamp and extra batteries, 10 safety pins, and at least 200 euros. Required safety equipment includes a compass, whistle, signalling mirror and tropical disinfectant. She'll also have an anti-venom pump to treat any poisonous bite from a desert horned viper.
She will carry a photograph of her mom. 
She won't double-up on any equipment but said she "just invested in the lightest and strongest gear and tested it over a few months in advance."
Water bottles will attach to the shoulder straps, the stras within reach of her mouth for hadns-free and consistent hydration.
She'll carry a slim sleeping bag when the over-night temperature drops to 14C degrees, tights and merino wool for nighttime as well as a balaclava, which "is also for sand storms," she said. She will have the most simple toiletries of a toothbrush head and soap tablets. There will be no showers until the seventh day and she will tend to her feet with "lots of blister prevention and treatment supplies, including tapes and needles for popping blisters daily." Taking care of her foot health is one of the most inportant daily tasks (a chore, really) she will face. Blisters are the top  injury among all runners.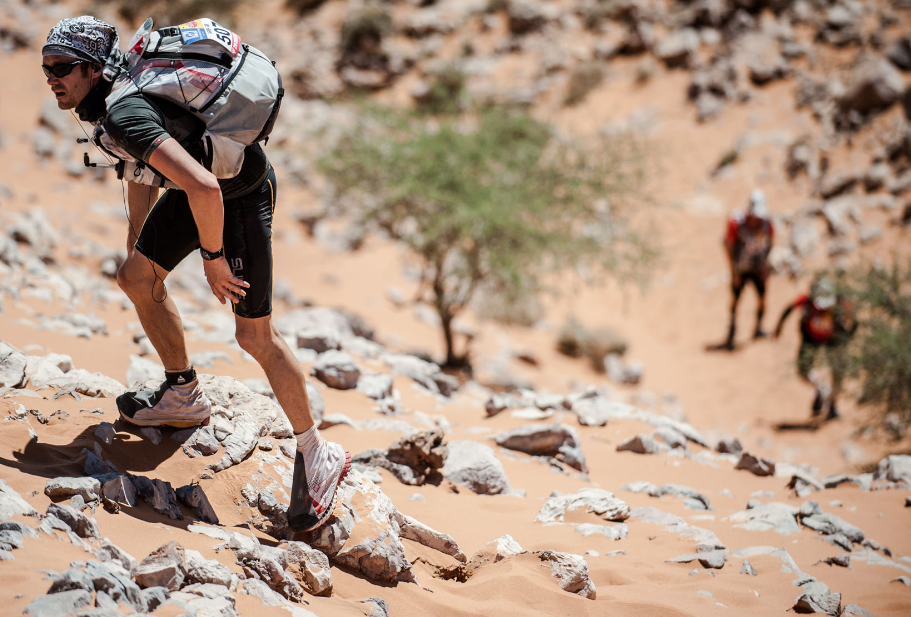 At night, Chandra will sleep on the ground in an eight-person Berber tent made from goat's hair. She will bunk with seven women from the UK whom she met on a training trip in the Canary Islands, a new group of friends that make better bunk-mates than men, whose loud snores and especially smelly feet have previously disrupted her sleep. She will take a natural sleep aid because rest will be essential but fleeting.
Each day she will get a prescribed amount of water to drink and use for cooking. Runners suffer time penalties if they toss any trash in the Sahara, fail a random equipment check, or carry a bag weighing more than 15kg. 
Crocodiles of the mind
During the 150-km, six-stage Racing Madagascar event three years ago, Chandra became severely dehydrated and was at risk of heat stroke. As a retired registered nurse and practising naturopathic doctor, she recognized the dangerous warning signs of nausea, dizziness and hyper-ventilation. "You can't put one foot forward," she said.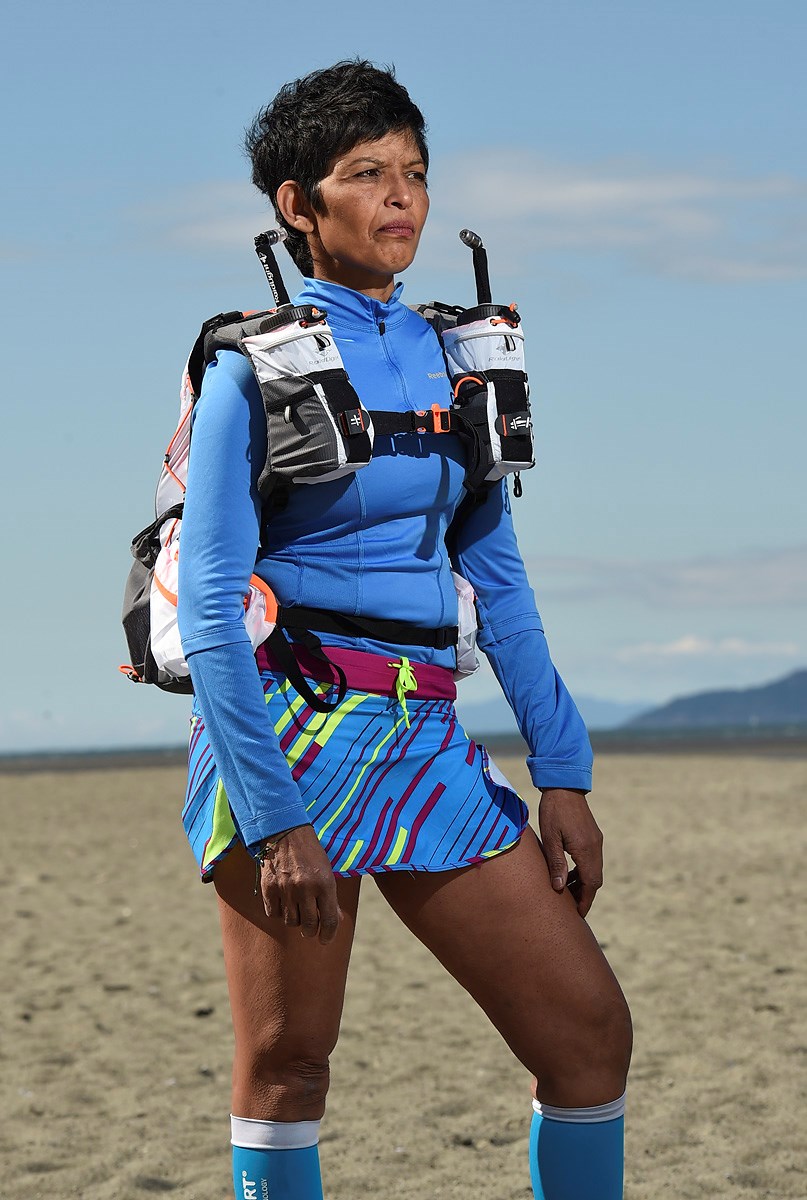 Accepting medical intervention from the on-site first-responders would mean immediate withdrawal from the race. Similarly, if they determined she was not fit to continue, her race would be over. Still on the very first stage and resolute to continue, Chandra treated her symptoms on her own.
To slow her breathing despite the 45C temperature, she folded herself over a small tree and poured water over her head. The afternoon heat was reaching its peak, so she counted herself lucky she neared the end of the 20-km stage and could walk to the finish line in 30 minutes. In what would have been an uncharacteristic first, she was ready to pull out of the race that night.
"The next morning, I woke up and I didn't think I could survive this next passage because the terrain was so gruelling," she said of the 26-km facing her that day. "Something came up in my mind. Remember, you don't have a choice to pull out… You have to wait for someone else to tell you to pull out. That is one of the mantras I practise. This is part of that discipline that comes with going through those landscapes. It is a power that answers, You can do this. Someone else has to tell you can't do this."
It gave her no choice but to go on. If no one else was going to stop her for safety reasons, she sure as sunlight was not stopping herself.
The second stage was even harder. But in Madagascar, she got on with it, telling herself, "I am not over with this. I can go. And that is what I did," she said. "That is when we crossed a lake with crocodiles in it."
For the girls
Chandra has been running since she was a child. At the age of five or six, she said she pocketed her bus money and ran the eight miles to school so she could spend the coins on popsicles. "Running always came with a reward," Chandra said she learned. She ran back home, too, all of that distance covered barefoot. "It took me an hour. Not bad for a little girl," she said.
Raised by subsistence farmers in Fiji, Chandra grew up in poverty but did not suffer the same sexist expectations that marred the life of her older sister, who was denied an education because she was required to fulfill domestic chores while her siblings went to class.
"Poverty is a cycle that is very hard to break," said Chandra, who moved to Vancouver more than 40 years ago and lives in Point Grey. "There are 62 million girls in the world that do not go to school. That could have been one of me. Education is really a gift for us in Fiji. Only the privileged get this gift, it is not like in Canada or the developed countries where education is for everyone.
"My sister had to stay home to help my mom get things done so we could go to school, so I could go to school. She made wrong choices in her life, and this is the power of education. It is an intangible that will empower women to make the right choices."
Chandra is running in support of Plan International, a charity that uses education as the main tool to break the cycle of poverty through campaigns such as I Am A Girl. Her fundraising goal is $1,000.
Run like water
With the motivation to move society forward and closer to deep and lasting equality, Chandra runs and runs as if to spin the axis of the planet and reach the future she believes is coming. One that sees girls and women lifted out of poverty and servitude through the opportunities, agency and self-determination that come with education. A retired nurse who worked in critical care at B.C. Children's Hospital and now practises naturopathic medicine, Chandra knows the difference education makes in a girl's life.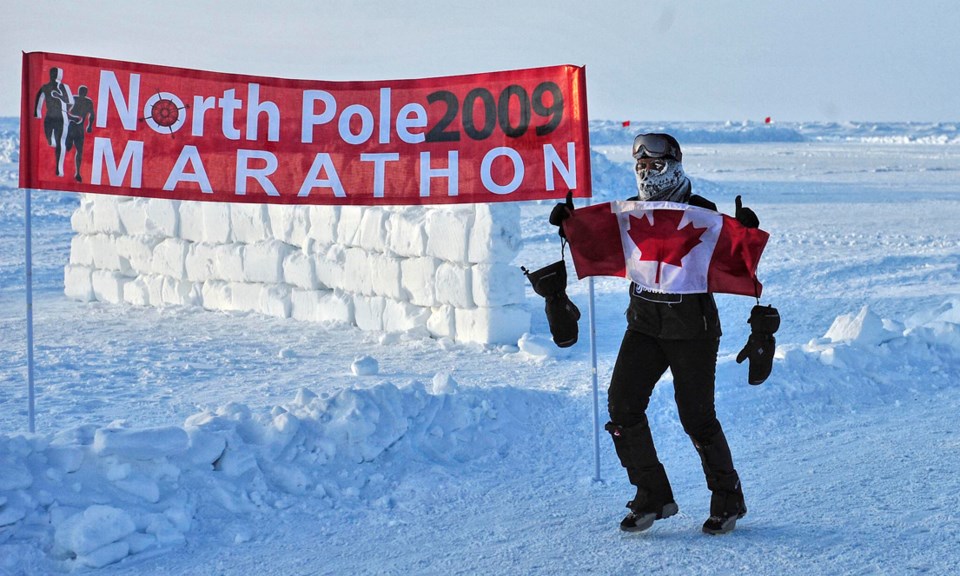 When she keeps to a path or takes step after step on a treadmill, Chandra lets her mind wander free. The "moving meditation" she describes is an effortless surrender. "There is no trying," she said. "It is spontaneous."
She says it's like water flowing from a tap. Once you start, you don't need to do a thing more. "The water starts running," she said. "You put that one foot forward."
Don't mistake her, however. Running hundreds of kilometres is not easy. Remember, the point is that it's difficult. It's in the struggle of these moments where Chandra says she finds herself.
"There will be times when you will be going through pain and you learn about this extraordinary discipline," she said, explaining the "mental games" that keep the tap open and the water running.

"Why are you self-willingly wanting to suffer? When I get to the place of pain and doubting myself, it is really hard when you are there. I look at anything I can see — that tree, or the next rock — and I say, Move one leg in front of the other. Get to that rock. Reach the tree. That is how present you get. I've got this rock now, now I'm going to the next one."
She recites mantras and imagines the pleasure of stopping once she's reached the finish line and does not have to keep pushing, slogging, hurting. "As soon as you are finished, it's done. All of the will power, the entire journey, it becomes a springboard for enlightenment. Honestly, you come back a different person. I always feel I am so Zenned out."
She says the small things don't bother her. Her patience endures. The weather does not drag her down. "I come back with such a different picture about life, the big picture of life," she said.
This gives her energy, and she finds her way to seeing the whole forest by looking at a single tree, the next one on the path towards her destination.
Twitter: @MHStewart