Teenage hockey officials in B.C. could soon be following the lead of referees and linesmen calling games for the Vancouver Thunderbirds Minor Hockey Association.
Since 2011, the decades-old amateur sports organization has developed a system to mentor novice referees, the youngest who are 12 and who are stepping on the ice for the first time in the black and white stripes of the game's authority.
Developed largely by three teenage officials and players, one of whom is now the assistant referee in chief for the Thunderbirds, the program aims to bolster the confidence of maturing referees through supervision, assessment, feedback and reassurance in a sport that can detonate hot-headed passion from otherwise cool spectators.
"Honestly, the younger the children that are playing, oftentimes the worse the behaviour of the parent," said Dan Hanoomansingh, who helped create the referee mentoring system for the association.
"We want to build a program in Vancouver that gives the officials that support so they enjoy it as much as they enjoyed it playing as kids."
Parent trap
Ejection. Bans. Police. Shutting the lights off at the ice rink. To calm overheated hockey parents and spectators, Vancouver referees have resorted to these strategies and more.
Last week, the Vancouver Island Amateur Minor Hockey Association proposed a "drastic" measure of its own that would affect hockey arenas from Sooke to Campbell River to Port Alberni. 
"The problem of spectators abusing on-ice officials and players during minor hockey games has become such a serious issue that VIAHA Executive Committee members are considering a 'Spectator Free Weekend,'" wrote the association president on Jan. 16.
"… the vast majority of parents and other fans are supportive and positive toward players and game officials however, a very small minority feel they have the right to verbally abuse and harass young men and women, frequently little older than the players in the games they are officiating. The vindictiveness is resulting in a loss of both promising young officials and senior officials alike, as well as making the game difficult for the players to have fun."
The proposed ban would limit spectators to the "dry" areas of an arena away from the ice.
READ PART 2: Confidence key for young hockey referees
Paul Willing, the referee development coordinator and an assignor for the Pacific Coast Amateur Hockey Association — the equivalent to VIAHA but for southwest B.C. including Vancouver — said what all Canadians know. From peewee through bantam and beyond, the behaviour of hockey spectators isn't getting worse. It's just not getting better. 
"I don't really think it's too different than it has been for many, many, many years," said Wiling, who is also a longtime volunteer and past president of the Thunderbirds organization. "It hits a high point and we say we need to do something about it and we talk about it but we don't do anything about it."
Willing's wife Pat is also a referee and coach. Their three children grew up playing, coaching and refereeing the sport that 68-year-old Willing only learned once he was an adult. ("I never thought I'd skate backwards," said the man whose family has been recognized in Canada's Hockey Hall of Fame.)
One of the worst flare-ups he remembers in this city happened "about the late '80s or early '90s" at Trout Lake — then the Grandview community centre, he said. "I remember the referee said this game is too out of control. It won't continue until everybody is out. All the parents filed out into the waiting area and the game went on." The players were about 16 years old. The ref about 20.
In a country that supplies roughly half of all active NHL players, many Canadians hold tight to the belief their son will be one of those professional athletes, maybe even a million-dollar star, maybe even or a national team gold-medal game-winning goal-scorer. The expectations are as unreasonable as the pressure.
"They have no patience for their own kid so why would they have patience for somebody else's kid who is calling a penalty," said Willing. "In every hockey game, my contention has always been that there are games you do during the year that you enjoy. Those games you would do for free. Other games, I contend, you would not do it for $2,000."
My shadow
The PCAHA counts about 2,050 referees. More than half — roughly 1,200 — are 15 years old and working as a Level 1 official, the lowest of six certification tiers. A Level 6 referee will do international games and the Olympics, but is not necessarily equipped for the NHL. There are approximately 70 active Level 6 referees working in Canada at any given time.
In addition to strong skating skills and an exceptional ability to assess and apply rules on the fly, a good official is confident and thick-skinned. They are effective communicators because the right word at the right time can dampen the erupting explosion of a bench boss, maybe even a Tortorella. Maybe not.
The Vancouver Thunderbirds are investing time and resources to develop young referees. Even if the majority won't continue into adulthood, their experience may be better because their training is more thorough, their skills sharper and their confidence higher.
Dan Hanoomansingh, the T-Birds assistant referee in chief and one of the creators of the association's three-year-old officiating mentorship program, said what they do is rare in B.C. and hopes other hockey clubs will follow suit.
Young referees are trained in two ways. For the newest officials ages 12 to 15 who are calling games for atom teams and players under 10, a "shadow" joins them on the ice. The shadow is a more experienced albeit still teenage referee who dresses in black and does not have a whistle because they are not an active part of the game. For more experienced teenage referees, a supervisor will watch from the stands to provide the necessary constructive criticism it takes to improve.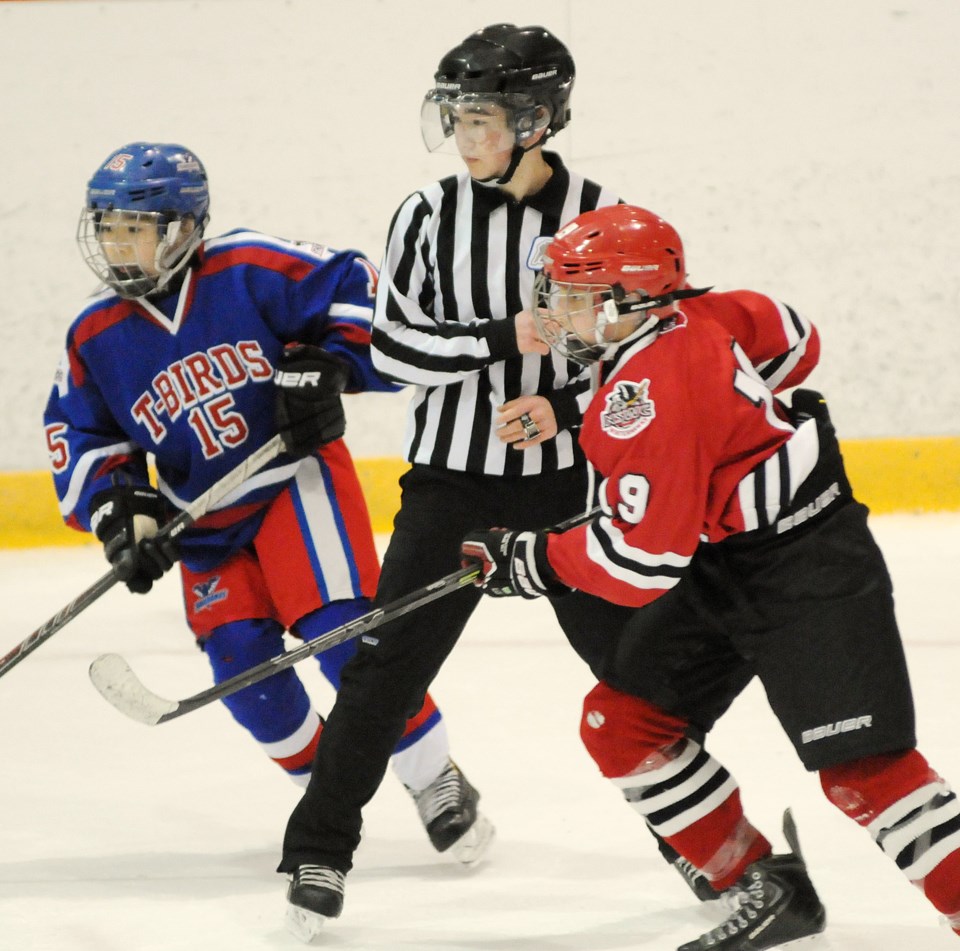 "The idea is not to interfere or overrule what they do," said Hanoomansingh. "The shadow will follow the new official around the ice and help with the little things, like where to stand, what signals they need to be making. It's the sort of things the official has learned in class but in a game situation, it's tough to remember all that stuff as you're being forced to recall it all at once. The shadow helps remind them and makes them feel more comfortable."
Ryan Kondo, 14, refs about three games a week for the Thunderbirds and on Wednesday night he was one of two linesmen on a peewee rep game at Kitsilano community centre. Kieran Evans, 17, was the second linesman, officiating players who were barely taller than the goal's crossbar. They were paid $16, and the 28-year-old referee made $27 for the game.
"When I first started, I wasn't very good," said Evans. "I blew a lot of calls. Parents would yell at me — I don't blame them. But now I don't yell at refs myself."
Working the bantam game afterwards, veteran referee Tim Dodds is one of a dozen supervisors in Hanoomansingh's mentorship program.
"If the officiating isn't as good as it can be," he said, "then the game isn't as good as it can be."