Forget the niceties of a pre-fight bow, the artistry of kung fu, or any aspirations of being the next UFC champion.
Jonathan Fader and Borhan Jiang have seen violence first-hand and have honed a fighting system to counter those situations in 30 seconds or less.
The pair co-owns Urban Tactics Krav Maga, a company founded in 2013 with the central goal of teaching an individual to neutralize any and all personal threats in the most ruthlessly efficient ways possible.
"Krav Maga is a self-defence system," Fader said. "When you use the term martial art, it's kind of a loaded term for some people. They think of a sensei. Respect and all that kind of stuff. Not that there isn't respect in Krav Maga, but we try to keep it simple and not teach things that aren't necessary to your survival."
Krav Maga was developed in the 1940s by a Hungarian-Israeli solider named Imre Lichtenfeld. He combined his training in wrestling and boxing with street-oriented fight concepts and became chief instructor for physical fitness when the state of Israel was founded in 1948.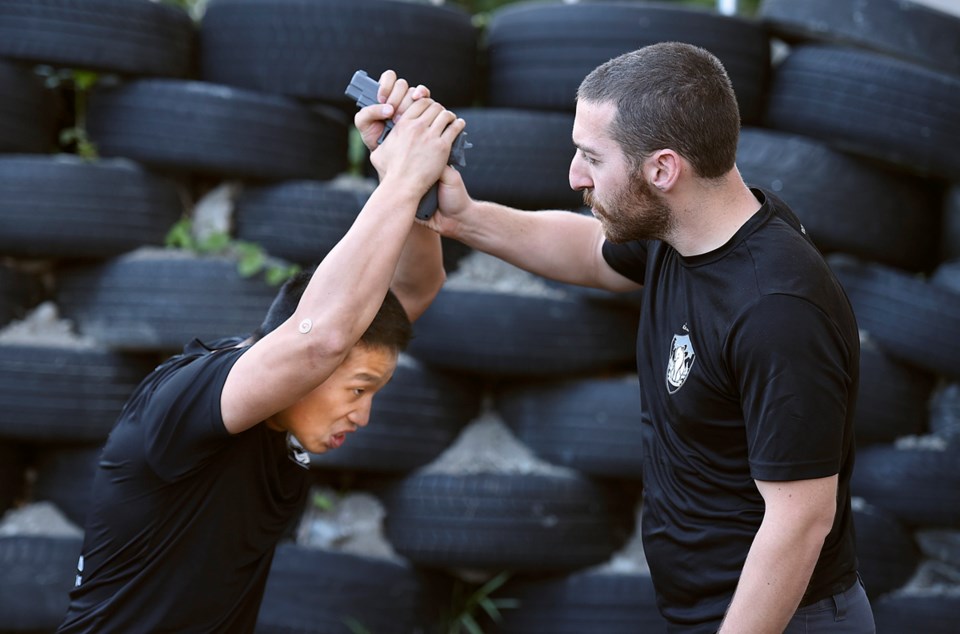 "Turning lambs into lions" is the motto Fader and Jiang adopted for their company and it's a credo that links their lives with Lichtenfeld's: all three served in the Israeli Defense Forces but before that they were bullied from a young age and wanted to do something about it.
Born in Taiwan, Jiang remembers his years in grades 7 through 9 as a constant sore spot.
"I was consistently bullied very badly for three years of my life — it was terrible," he said. "Trying to talk myself out of situations didn't work. If diplomacy worked all the time, we wouldn't need armies or war."
At its core, Krav Maga is about simplicity and situational awareness. Its methods of attack and counterattack are borrowed from other systems of martial arts, coupled with military and policing tactics.
There are no competitions, hierarchical belts or high-profile fight cards. Standard rules of engagement are non-existent, and sportsmanship is far from encouraged. Strikes to the body's most vulnerable areas — knees, throat, eyes, groin and fingers — are not only encouraged, they are commonplace.
Fader and Jiang have trained everyone from beginners with no previous experience to RCMP officers, border agents and bodyguards. Their school covers specific, situational-based scenarios that can play out on the street or battlefield, such as defending against a knife, gun, blunt object or multiple attackers.
"This is real life — real people drink, real people do drugs, and real people make bad decisions," Fader said. "If you are going to engage an opponent, you engage as hard as you can, as fast as you can, and you destroy that person. If you're a 100-pound girl facing a 300-pound guy, that's the only option you have if you can't run away."
Fader and Jiang stress avoidance above all else, and that is the first of four phases in assessing what level of self-defence is required: avoidance, evasion, diffusion, and reactive self-defence. Any threat should be neutralized in 30 seconds or less, save for situations involving multiple assailants.
"I find Canadians get stuck on the diffusion point, where people try to talk their way out things," Fader said. "There are a lot of cultures and countries across the world, and I have seen this first hand, wherein you can talk all you want but they're going to kill you. You have to strike first because action is faster than reaction."
The pair say their clientele range in age between eight and 60, and Jiang estimates about a third of their 120 students are women. Their students attend classes for both reactive and proactive reasons.
Vancouver's Yvonne Lu has been training with the duo for two years and felt reasonably proficient within nine months. The 35-year-old fitness coach has progressed to the point that she's now training to become an assistant instructor.
"It's tied to real life," she said. "There are moves that I can use if I get myself into emergency situations but I'm lucky that I haven't encountered anything like that in my life so far. It teaches you to not be afraid, to go ahead and live your life and if you're in a bad situation, you learn how to save your life."
Twitter: @JohnKurucz