The 11th Annual International Burlesque Festival is in Vancouver this weekend, and it's going to be pretty spectacular! To help kick things off, we've put together a list of the top 10 reasons you should check out Canada's most prestigious and longest running burlesque festival.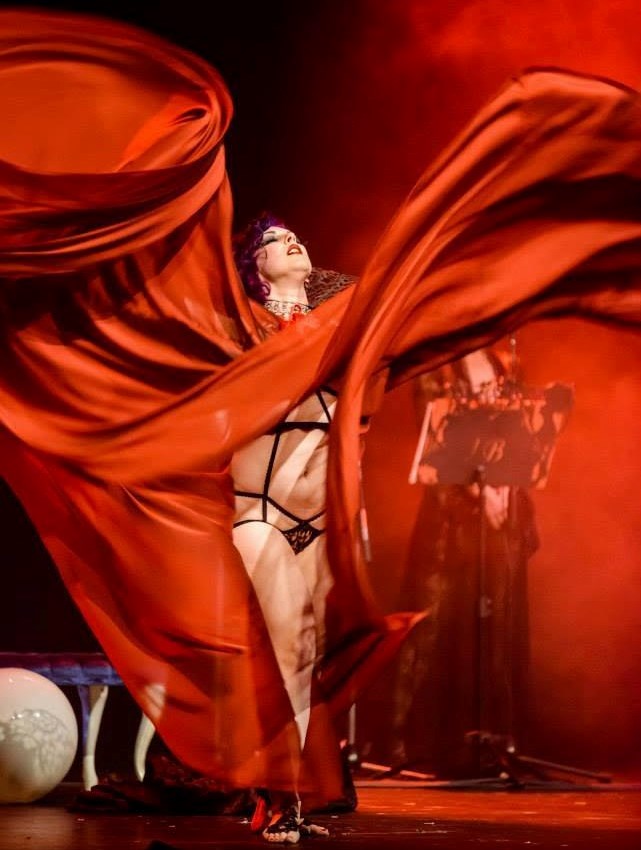 10. Vancouver has a long, rich and diverse history of Burlesque. Dating back to the 1920's and running rampant and lively all the way into the 70's, venues such as The Cave, The Pantages Theater and The Penthouse were hot spots - not only for local and international performers of Burlesque and Vaudeville, but for audiences of all kinds, including many famous celebrities!
9. Vancouver's Neo Burlesque revival is alive and thriving - and has been for 15 years! New performers join the ranks of the established neo-burlesque pioneers here in VanCity every year as the industry and art form continues to grow. With over 17 troupes / regular shows being produced about town, Vancouver has a well-earned reputation of being an international hotspot for modern burlesque. The scene's diverse talent and events range from large scale theatre productions to life drawing classes and nerdlesque to burlesque wrestling! Within the community of local performers they embody every style imaginable - classic, neo, comedic, theatrical - from dark and sensual to the coquettish and flirty - and even highly political!
8. Vancouver Burlesque is accessible, diverse, powerful and tantalizing! You can find a show with highly talented performers to suit your tastes all year round! From the glamourous stages of the Vogue to the rumble in the underground at the Keefer Bar. Its inclusive performance style means an inclusive audience - always a perfect evening for friends and dates, and being around people that celebrate the zest and bounty of life!
7. They have a HUGE annual International Festival that is in its 11th year! Run by a volunteer board of directors the Vancouver International Burlesque Festival is a smorgasbord of sensational talent from all over the world! Every year the festival seeks out the hottest and most dazzling international performers to bring to the stage as headliners and features, then opens up applications to the community at large. What comes of that is a cavalcade of talent under one roof over one weekend. A hot ticket for performers, fans and the "always been curious about this Burlesque stuff" alike!
6. You can learn the art form yourself! Whether you want to try it on stage, in a dance studio or just in your living room / bedroom at home, Vancouver has several studios you can go to learn this scrumptious art! The Vancouver International Burlesque Festival also brings together an education program of 10 workshops you can attend.
5. Nothing beats interactive, subversive, intelligent, witty and glamorous live performance! Vancouver Burlesque brings you this all year round on stages big and small, but they also seek to inform and transcend stigmas surrounding their art, creative process and values. Many performers write and many also give talks. This year, the Festival has added a unique event called TIT Talks, a TED style evening of industry powerhouses, performers and academics presenting on topics from history, to gender, to sexuality to safe spaces. This is an event they plan to continue throughout the year.
4. They honour their legends and the ones who paved the way to be able to do this art form. Every year the festival hires a Burlesque Legend to perform and teach. That's right, one of their astounding and racy foremothers graces the stage with the same power and elegance as she did in the heyday of her career. With the new documentary "League of Exotique Dancers" coming to town one week after the festival - it's a perfect way to get your blood pumping and see the roots of this incredible and unique industry.
3. Burlesque allows a wholly unique set of body politics to be viewed and embraced on a mass scale. Unlike other disciplines of dance and performance, burlesque gives space to the empowerment of body, beauty standards, age, and gender norms. Free from the confines of societal projections of perfection, performers in burlesque invite their audience to see them as they are - powerful artists who create whimsical, hilarious and enticing acts for the viewing pleasure of their audiences. The art of burlesque breaks the 4th wall and invites audiences in - allowing them to become part of the act, part of the feeling, and part of the movement. Watchers of burlesque are then left feeling empowered in their own right through the combination of skill, bravery, and wild abandon of the performers on stage.
2. Vancouver boasts a plethora of top talent that is booked worldwide - in fact 3 of the local features at this year's festival (Lola Frost, April O'Peel and Melody Mangler) have awards from the Burlesque Hall of Fame in Las Vegas! Vancouver has had a solid representation at the BHoF for over 9 years!
1. Vancouver is Burlesque! Come see for yourself at their 2 incredible showcase nights:
The International Cabaret on May 6th and Vancouver Uncovered on May 7th at The Vancouver Playhouse.