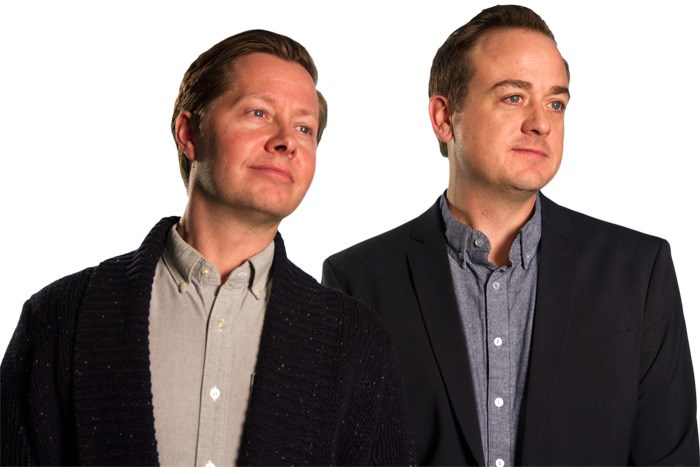 When we sit down to interview people for V.I.A., we usually are the ones asking the questions. But when we sat down with Pat Kelly and Peter Oldring of CBC's This Is That, who are here doing a live version of their show for the Northwest Comedy Festival, they had questions for us... or rather for Vancouver.
1. Who's taller: you or Victoria?
2. Has Vancouver always been here in this location?
3. Is Vancouver franchisable? We'd like to open one in Manitoba.
4. Is it legal for someone from East Vancouver to marry someone from Kitsalano?
5. Is 6 hours an acceptable time to do the Grouse Grind in?
6. How close to the sky does the SkyTrain go?
7. True or False. Creek?
8. Where's the best place to get a cedar plank scone?
9. Are there any coffee shops in this city?
10. Which is more family friendly on a Saturday night? Granvile Island or Street?
11. Is now a good time to buy?
12. Captain Vancouver or Captain Morgan?
13. Earl's, Cactus Club, Joey's, Milestones, Moxie's or Chambar?
14. Did anybody grow up here?
15. Are you coming to our show on Saturday, Feb 27 at the Vogue Theatre at 3pm?
16. Was that 15 questions?
Catch This Is That Live on Saturday, Feb 27 at 2pm at the Vogue Theatre as part of the JFL Northwest Comedy Festival. Learn more here.