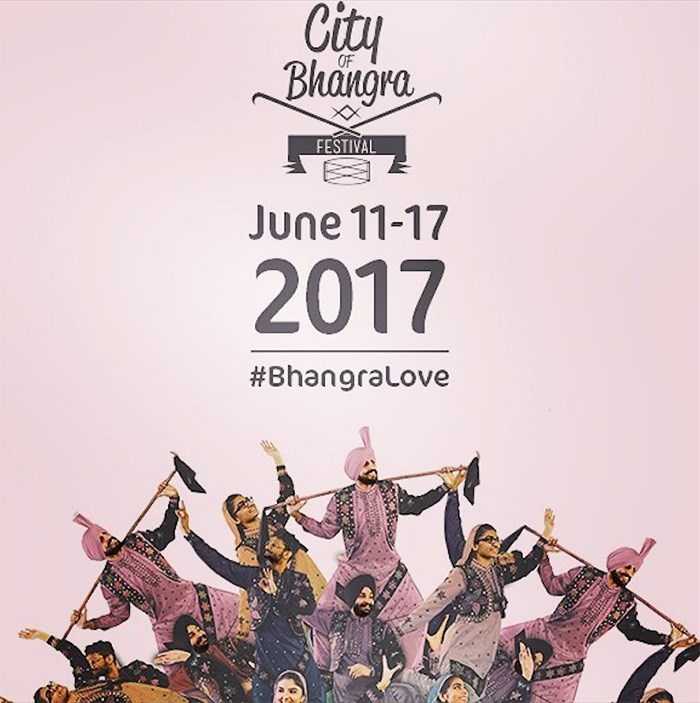 Bhangra is a folk art from Punjab and is the core inspiration for City of Bhangra Festival, Vancouver's all-out celebration of South Asian culture happening June 11-17! This year is all about intersectional identity and highlighting how takes on Bhangra, Punjabi folk arts and South Asian youth culture can help us recognize that we are not simply one identity, but a complex amalgamation of many.
There's so much going on at this year's fest, but here's what we're most excited about:
1. June 11: VIBC's Desi Music Incubator at the Surrey Arts Centre
A special one-day series of skill-building and networking for youth interested in music, production and music business. The Desi Music Incubator features a music production workshop with India's EDM superstar Nucleya, a lyric workshop with Horsepowar, a DJing workshop with DJ Khanvict, and an industry workshop with members of Music BC, Nimbus, and SOCAN.
2. June 12: Reel Bhangra at Vancity Theatre
City of Bhangra Festival introduces an inaugural evening of film spotlighting the voices of young South Asian voices in cinema. The evening features the world premiere of the much-anticipated documentary, Bhangra City produced by local band, Delhi 2 Dublin.
3. June 15 - 17: BHANGRA Funk Workshops at the South Asian Arts Society
Time to dance! Here's your chance to learn from the creators of Bhangra Funk themselves! With the fusion of Indian and Western styles becoming more popular, Shivani Bhagwan and Chaya Kumar became inspired to initiate the Bhangra Funk movement. Punjabi music with a Hip Hop twist is quickly making its way mainstream and inspired them to create Bhangra Funk, which combines elements of Hip Hop and traditional Bhangra moves.
4. June 15: Bhangra: We at Kwantlen Polytechnic University

Following the success of last year's groundbreaking panel, Bhangra: SHE, this year's festival delves deeper into the complexity of young South Asian identities. This year's panel includes a range of progressive female-identifying artists, academics, musicians, dancers and writers. Similar to last year, each participant will present their work and be followed by moderated discussion.
5. June 17: Downtown Bhangra at City Hall Plaza, Surrey
The main event! This full-day family celebration of Bhangra culture features world-class headliners, local Bhangra teams, talented BC artists, workshops, and more. 2017's Downtown Bhangra showcases the joy and diversity of Bhangra, and promises to be the fest's best day yet! Headliners include Zora Randhawa and Fateh.
Creativity, conversation, cutting edge art, and exciting events that celebrate Bhangra, the Punjabi folk arts, South Asian youth culture, connections and diversity - that's what's in store at City of Bhangra 2017.
City of Bhangra Festival
June 11 – 17, 2017
Visit City of Bhangra Festival online for more details. #BhangraLove