Each week we'll uncover some unusual and (hopefully) interesting facts about the city. This week we take on Vancouver's famed Orpheum Theatre.
1. Thousands of Vancouverites enjoyed the Orpheum before it officially opened
The luxurious theatre officially opened its doors to the public on November 7, 1927, but had already been worn-in during the soft opening the day prior. On that day, the theatre ran three shows consisting of vaudeville acts, films, news reels and musical performances, all of which ran continuously from 1:00pm – 11:00pm, dazzling and entertaining over 9,000 locals over the course of the day.
2. Admission wasn't cheap
Daytime admission for its 1,800 seats was 25 cents, children 15 cents. You could reserve a seat for 40 cents. Besides a movie, your 25 cents got you a vaudeville show. Even though these prices may sound like a deal now, it wasn't exactly cheap for Vancouverites in the 1920s, especially considering prices doubled in the evenings.
3. The Orpheum was almost turned into a multiplex movie theatre
In 1973, due to dwindling attendance and economic pressure, Famous Players decided to gut the inside of the Orpheum and change it into a multiplex movie theatre. A "Save the Orpheum" public protest and fundraising campaign was launched, which ultimately saved the institution. On March 19, 1974, the City of Vancouver bought the theatre for $7.1 million, with the remainder coming from the city itself, and each of the provincial and federal governments. The theatre was closed for renovations in 1975 and didn't reopen again until 1977.
4. The Orpheum's iconic mural wasn't in the budget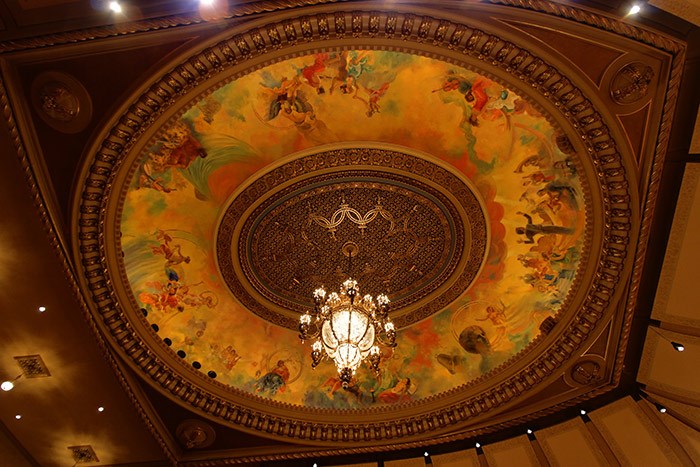 The Orpheum's spectacular ceiling mural was painted during the winter of 1975–76 on 24 large canvas panels that were then shipped from Los Angeles to Vancouver before being glued to the dome. Famed decorative artist and muralist, Tony Heinsbergen, painted it. Heinsbergen also helped decorate the Orpheum before it's original opening in 1927, making him an ideal candidate to see it through to its new life. Many of the mural's figures are based on real people. The bearded man serenading the muse is Paul Merrick (the Orpheum's design architect), who worked closely with Heinsbergen throughout the theatre's history. The originally restoration budget did not account for a mural but Heinsbergen fought for what would be come the Orpheum's signature detail.
5. The Orpheum reopened as the new home of the VSO in 1977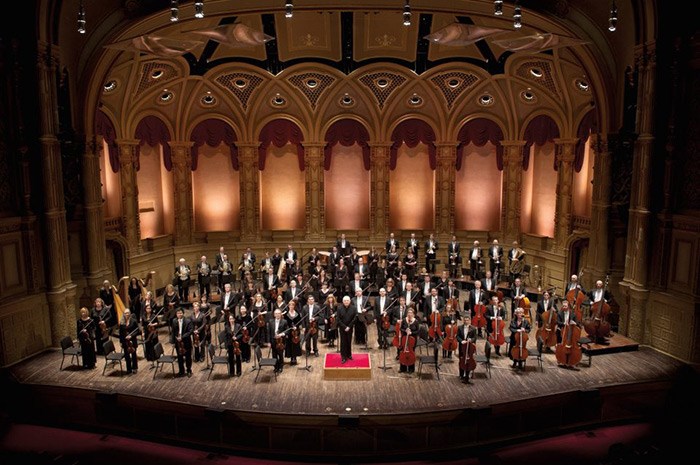 Following the city's "rescue", The Orpheum Theatre reopened on April 2, 1977 as the permanent home of the Vancouver Symphony Orchestra. The theatre was lovingly renovated and refurbished to its former glory, ushering in a new era of art and culture in Vancouver.
Read more from our "5 Things You Didn't Know" series HERE.