Afternoon host for 93.7 JRFM Barbara Beam's donation, The Baby-sitters Club by Ann M. Martin (or "BSC" for all you die-hard fans), is the perfect example of art imitating life: "My childhood best friend and I were the neighbourhood babysitters."
Growing up in BC housing meant that the enterprising childminding duo, much like the characters of the novel, were never short on adventure. Thanks to this series of stories that so meaningfully resonated with her at the time, she developed an insatiable appetite for all things babysitter, and more importantly, for reading!
[soundcloud url="https://api.soundcloud.com/tracks/119108472" width="100%" height="166" iframe="true" /]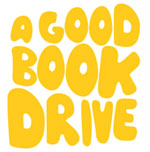 A Good Book Drive is an annual book drive to bring stories to a new generation of readers, and support kids in need of new books. Running through the month of November, A Good Book Drive will be inspiring Vancouverites to purchase a new copy of their favorite kids' book and deliver it to set locations throughout the city. At these drop off locations you can personalize your donation with a special bookplate, sharing the story of why that book is special to you. All books will be donated to this year's book drive recipient, Frontier College Waiting Room Literacy Pilot Project. Share your favourite stories with A Good Book Drive on Twitter, Facebook and Instagram.