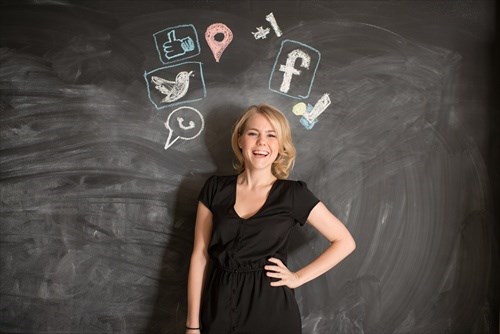 Mountains, ocean and nature. These are some of the things you think of when you think about our lovely city, Vancouver. Then you also think, expensive, no fun and not friendly. Right?
When I came to Vancouver 5 years ago, I arrived young and starry eyed after three ferocious years in the hustle and bustle of Toronto, a city known for it's excitement, but also known for it's lack of neighborliness.  I was lucky. I immediately fell in to several tight friend groups and it also helps that I am a pretty social person. This doesn't seem to be the case for everyone. Whenever I'm out with my friends, I always hear the same thing, it's hard to make new friends in this city. I hear about how Vancouverites are rude, don't make eye contact and don't want to offer even a smile. I found this surprising, as I was having the opposite experience. Here I am, five years later and I am still feeling the love in this gorgeous city.
After a lot of thought, I started to consider what I could do that would show other Vancouverites and others considering a move or a visit to our fine city, that Vancouver has some of the most generous, friendly, ambitious and kind people in the Country. The thought started when I was watching a documentary called 'Craigslist Joe' about a man who gets absolutely everything that he needs to live off of Craigslist.com. I won't get in to the details, (you'll have to check out the movie for yourself), but he ends up having some of the most profound experiences of his life. I knew that same generosity existed in this city, and that's when I decided to start a little social experiment.
#TweettoEat is Born
What is it? Anything I eat from April 15th until 5pm on April 28th MUST come exclusively from Twitter. HUH? You heard me. I cannot eat any food unless a fellow Twitterer has reached out to me on the social media platform, and from the goodness of their hearts offered to help support me for one meal, one snack, one bit of nutrition for the day.
When my friend Ajay heard about what I was doing, he decided I should have a little gift. A book that has recipes entirely sourced from Twitter! I would love someone to pick one of these recipes and give me the ingredients! How hilarious is that?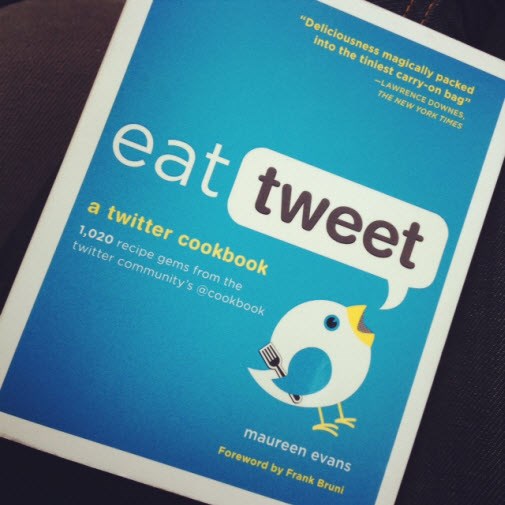 How does it work?
It's very simple (at least I hope so!). Tweet me @VancityAmy with hashtag #TweettoEat and let me know you want to join in and help. You can join in, in a several ways.
1) Donate some groceries (I am a vegetarian which makes this even more of a challenge). Think of things like, a bag of a apples, bananas, SPINACH for salads would be amazing, granola bars, cans of tomato soup, ANYTHING that I can have for those moments where no one is coming to my aid. I have a feeling breakfasts, lunch and snacks will be a bit tricky so having something at my disposal will be most wonderful!
2) Invite me over to experience one of your specialty home cooked meals. I want to meet you, see how you live and learn more about you. What better way than over dinner? Nothing fancy, just what you would normally do on a Tuesday night. Beggars can't be choosers.
3) Take me out to your favorite local gem, or a restaurant you've always wanted to go to! This is an excuse to try something new. I will order something cheap, or you can order for me! SURPRISES WELCOME!
4) Pack me a brown bag lunch of your favorite foods (unless that food is bacon, you can leave that out).
5) Re-tweet my tweets and spread the love! If you are able to follow and RT #TweettoEat that will really help.
So, what? You're eating for free for two weeks? What a jerk YOU must be!
Hey, hey, hey, I know what you're thinking. In an effort to give back, the money that I WOULD HAVE spent on groceries over the two week period (about $200), I will be donating towards Save On Meats sandwich tokens. After the experiment is all over, I will gather a group of individuals to distribute the tokens with me around the Downtown East Side. This will give us another opportunity to meet the people in our community and I can connect some of the people I meet on my journey. I would love to see a local business or two come in, get involved and MATCH my donation. If you are interested, I would love to hear from you.
Thank you to Bean Around the World at Main & 20th!
A huge thank you to Bean Around the World at Main St. and 20th Ave. who graciously reached out to me on twitter and offered to caffeinate me each morning. There is a catch though! Each morning, I will also surprise the person behind me with a coffee. I can't wait for this. Thanks for getting on board and please show them some love on their twitter page.
All of my experiences will be documented here, at Vancouverisawesome.com each day starting April 15th, and also please follow me on twitter @VancityAmy and the hashtag #TweettoEat to follow the journey and donate to the cause. I'm also on Instagram. I can't wait to meet everyone and taste some new things!