The 5th annual Accordion Noir Festival came to a crescendo last weekend with the six-act show, Panstereorama in the red-hued subterranean of the Waldorf.  The dimly lit basement was crowded with early-century-dressed men in bow-ties, suspenders, vests, and women in modest dresses. All seemed to be drinking a copious harvest of red wine carefully balancing their stemmed glasses as they swayed with the dense crowd.
The Tailor started the show with his slow crawling, biting whisper folk dusted with blues in a dream state under the shadows cast between stage lights.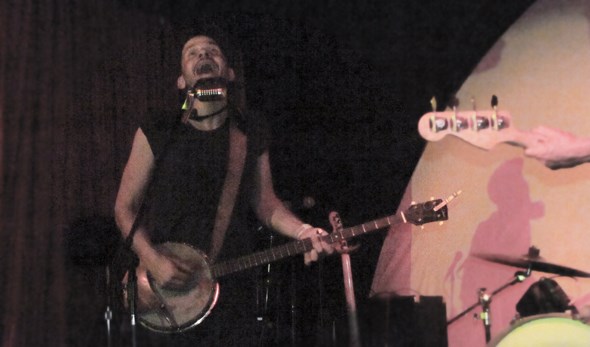 Maria in the Shower was decked out in bones, button-up shirts, and sequins.  They took the stage like it was the last night they'd ever perform; with high kicks and an upright bass played while hoisted into the air. They represent an imagined 1930's version of punk found in some dirty half-abandoned town with a wicked underground scene. Have you ever seen people moshing to accordion?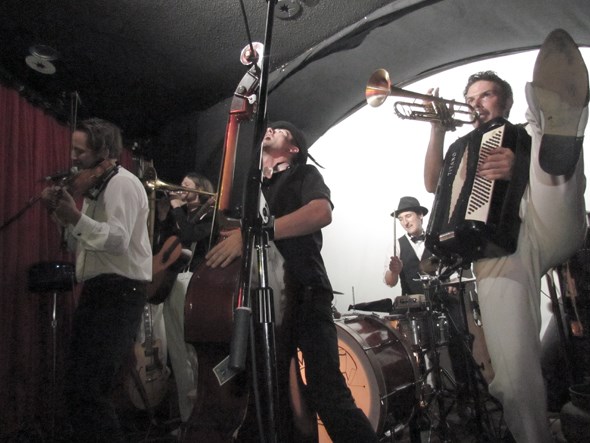 Glittering Kingdom kicked off their portion of the show including a kazoo-laden version of "Message to you, Rudy" (Dandy Livingstone) and continued a playful set of both original songs and covers that ranged from reflective to playful and silly, and included the darkest version of "The Loco-Motion" I've ever heard. Their array of instruments included accordion, guitar, kazoo, harmonica, and a saw.
Geoff Berner performed a quirky, cocky, and at some times sing-along set that was as sharp as it was catchy; and included a somewhat polka and very Vancouver rendition of "F*ck the Police."
At 11pm the night paused for "chickensh*t bingo." Imagine a lottery, but with the method of choosing the number to be determined by where a chicken chooses to relieve herself on a large bingo-marked board. "It's past her bedtime!" the announcer hollered,  " So imagine how you act at a racetrack… and please do the opposite!"  The crowd hushed, or at least did what passes for a hush when you have 40 drunk people outside.  Bets were taken on where exactly a chicken would poop on a grid, and almost immediately #99 took home the $100 prize.
And what's an alternative event in Vancouver lately without some burlesque?  Tristan Risk was there, nipple tassels and all, to perform a seductive and humorous dance that concluded with animatronic lady parts - with teeth!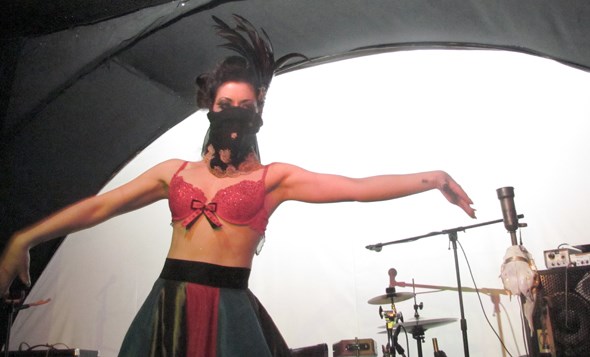 The night ended with a stomp as Renee de la Prade from San Fransisco. On a portable wooden platform she accented her performance with the might of her boots and a voice that transitions between feminine, childlike, and guttural effortlessly as she stomped and squeezeboxed her way through an entrancing and fun set which was a kind of French/Irish folk punk.
The next day was a full-on accordion day at the Anza club where they held an accordion workshop, and an underdog instrument grudge match, where accordion, banjo, and ukulele teams battled in music and wit to ultimately decide which instrument would be claimed as the winner.
The battle included a banjo version of "Summer of '69" (Nineteen hundred and sixty-nine) by Paul Silveria, a wise-cracking Jonas Shandel, and the painfully talented T. Nile, who froze the room with her song. Team accordion had Renee de la Prade (dressed for a barbarian war in deerskin) Jack Garton of Maria in the Shower, and magician Travis Berhardt.  Team ukulele dealt silly songs such as "Star Wars that I Used to Know" and non-stop witty slander to the other teams all night led by comedian John Barbour.  The match was judged by Accordion  Noir Festival spokesperson extraordinaire, Barbara Adler. In the end it was a 3-way love fest tie, and all instruments were declared winners.
The Accordion Noir Festival, which began on a Thursday and included an accordion dance party on Friday, is an event like none other in Vancouver. It really is a blissful, glimmering, and dirty dustbowl celebration of music.