Every week our friends at The Georgia Straight provide us with a preview of what you'll see on - and in – their paper that week. They are the source for lifestyle and entertainment in our city and along with their robust online presence they've always released a print edition, distributed everywhere each Thursday.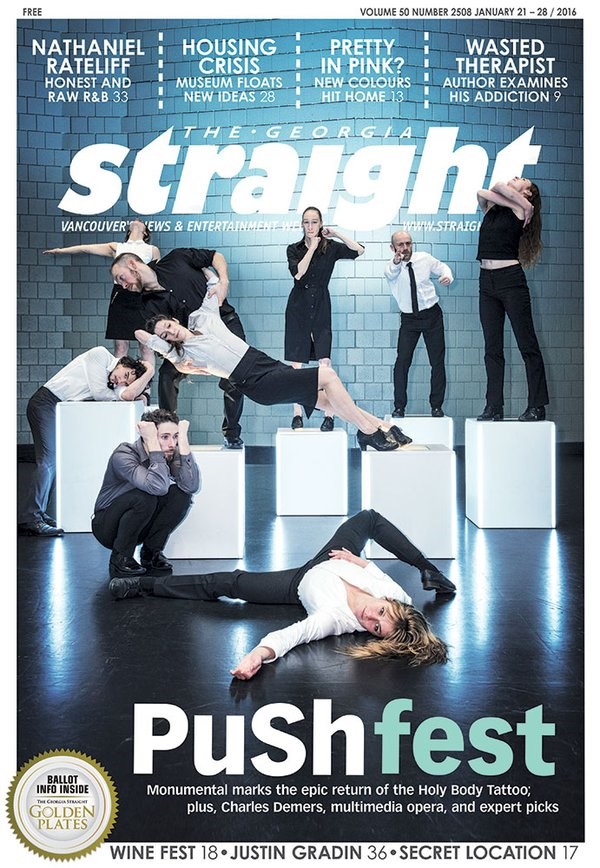 This is their 2,508th issue, and on the cover is the PuSh Festival. Monumental marks the epic return of the Holy Body Tattoo; plus, Charles Demers, multimedia opera, and expert pics.
Their guide to everything PuSh Fest is HERE.
Here are some links to the stories on the cover:
The Holy Body Tattoo makes a monumental comeback with Godspeed You! Black Emperor by Janet Smith (cover story)
Charles Demers exercises heart and brain alike in Leftovers by Adrian Mack
No longer discouraged, Nathaniel Rateliff hits hard with the Night Sweats by Mike Usinger
Museum of Vancouver show stirs up real-estate debate by Janet Smith
Pastel pink and blue go beyond the baby's room by Lucy Lau
In Wasted, flawed treatment system leads alcoholic therapist to seek better options for addiction by Travis Lupick
Make sure to grab a copy when it comes out tomorrow!